Hey guys, Beshka here! I think it goes without saying (but I am gonna say it anyway!), I am SO SO excited to be the July hybrid guest here at One Little Bird. I have been inspired by Peppermint's creations, both for OLB and her own albums for so long. Not to mention what her amazing team creates on a regular basis, their work is always inspiring me.
As a hybrid pocket scrapper I get pretty darn excited about the possibilities of taking digital elements to physical printed paper embellishments and cards that I can use in my own albums. There is a lot of flexibility when creating this way, which is one of my favorite things about creating hybrid pages. I can use items as they are or I can recreate them to fit my needs. Being able to change things up a bit also means I will use the digital items more often because I am able to create fresh and new bits from spread to spread with ease. As you can see, I could ramble on and on about my love for hybrid! I will stop there though and instead share with you a hybrid spread I created, my week 23.
A spread for me always starts with printing and gathering. This spread is about 90+% printed digital elements. I brought a round cork embellishment, a paper clip, and a piece of memorabilia to the table and the rest is printed OLB goods + photos. I printed my photos first which helped me figure out which digital elements would work best on my spread. Once I have photos and I know what I might want to use, I print out all the elements I think might work on my pages plus my journaling. I don't use everything I print but since I only print things I love I know that I can save them and use them on a future spread. I like having everything printed at once because once I start filling in my pockets I don't want to interrupt my creative flow by having to stop and print something out.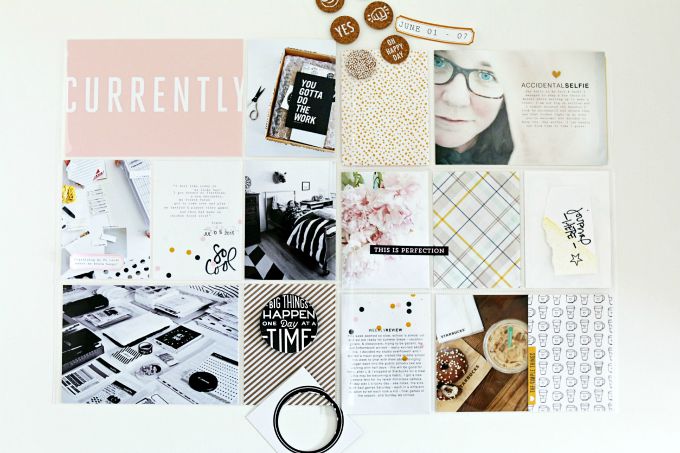 Once I have everything piled up on my desk I set to work filling in my pockets. The left side of my spread has lots of labels with the dates for the week and little bits of journaling. The labels are doing double duty on my spread working as journaling spots and as simple embellishments.The only other embellishment on this side is a piece of graphic packaging from a new planner that I received in the mail. I did include some stand alone journaling, something my son said to me that I really wanted to include and have stand on it's own. To create the journaling card I used PSE. I created a 3×4 canvas and the rest was done by dragging + dropping elements onto my canvas from the Scoop collection. Once done I added my text.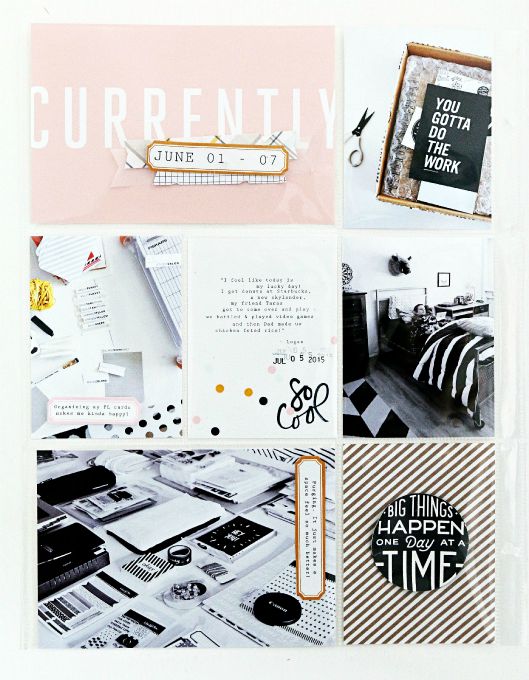 The right side of my spread is embellishment heavy with a cork embellishment and a paper clip. Ha. Ok, not really but it looks done right?! And I didn't use a lot, it is mostly a combination of printed elements and photos. I do a weekly review each week and created it the same way I created the journal card on the left, by dragging + dropping elements onto my canvas and then adding text. I also did a little extra journaling about my not so stellar reading habits and a bit of journaling on a photo. The graphic nature of all the elements I printed make these pages feel not only complete but pretty as well.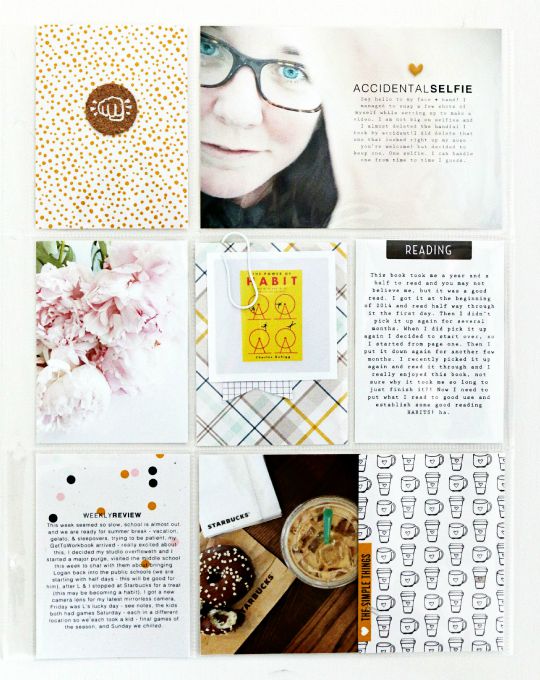 I like pages that are cohesive + colorful. I try to keep things simple so that the focus is more about the photos but I like the elements to pop as well and I don't think you have to use a ton of 'stuff' to achieve a spread that looks finished.
Thank you so much for joining me today, it has been such a treat being a guest here at One Little Bird. xx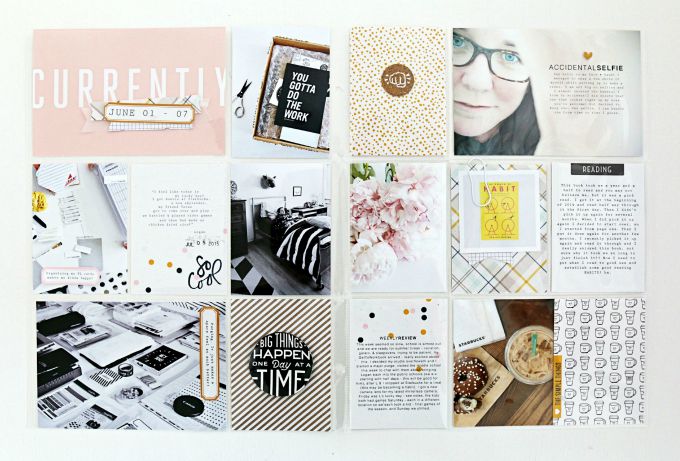 Supplies // Scoop digital kit, High Street Stories journaling cards, Currently journaling cards, paperclip from Poppin, cork fist bump from A Beautiful Mess.
[one_third last="no" class="" id=""]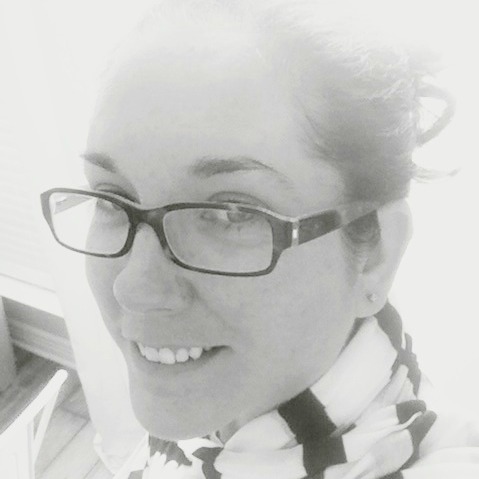 Blog | Instagram | Gallery
[/one_third]
About Beshka
I currently live in Germany with my kiddos Riley + Logan and my hubs, Chad. My husband's work brought us to Europe in 2013 and we just extended that stay until August of 2017. Woohoo! We spend a lot of our free time traveling and seeing as much of Europe as possible before this gig is up! I have been filling pocket with photos + paper since 2012 and love documenting our lives this way. When I am not busy traveling or creating I am usually engrossed in some new season of something I discovered that I cannot stop watching until I have seen every episode, at soccer practice, or staring off into space thinking about pie.