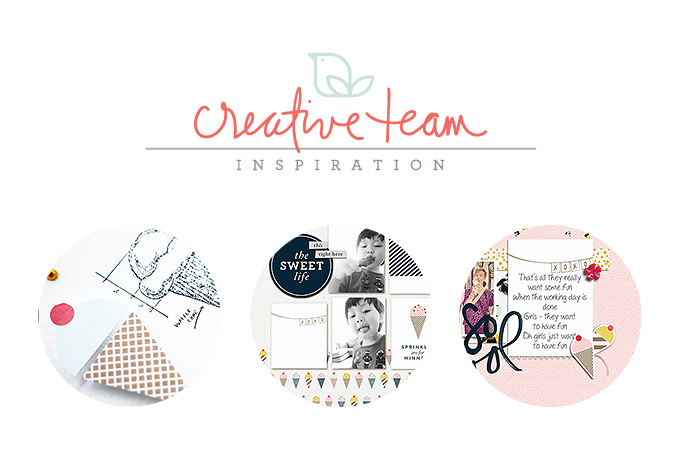 Happy Friday! I wanted to share a few more projects from the creative team with you today using the Scoop collection of products, new in the shop last week. They're just so amazing – I hope they spark a few ideas for you to use in your upcoming projects.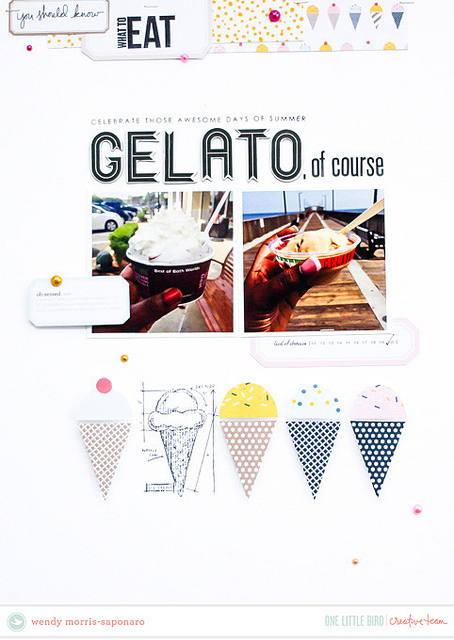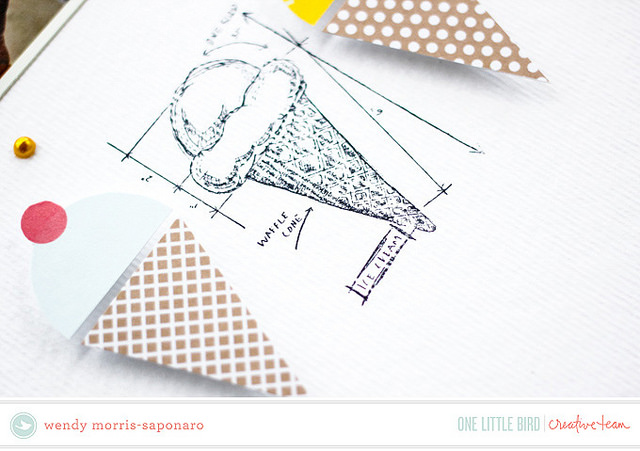 I wanted to start with this page by Wendy because I'm just in love with the layers, the dimension, the mixture of stamps and ink with elements that pop off the page. I feel like a broken record when I say how her projects practically make me fall out of my chair – but she's just so killing it at hybrid. I always jot down notes for future projects. For instance I'm always looking for "edge finishes" for a page, and I like what she did across the top of this page with a sort of call-and-response.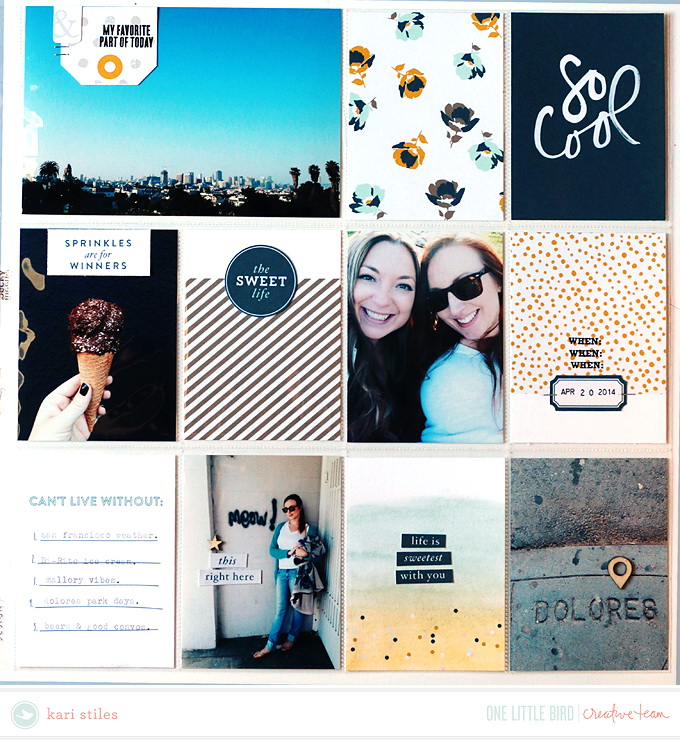 Kari made me laugh when she posted this page because she was so excited to have made her own project life card WITH the digital files (the watercolor card on the bottom), saying "i'm super proud of myself though….legit hybrid !!!!!!! whaaa :D" Which makes my heart LEGIT happy, because hybrid opens up so many new opportunities. I should also point out that she used a floral, which is another huge deal. I'm hoping all the subliminal messages that I'm piping into the creative team forum are finally taking effect! "You love florals … you want to use all the florals…"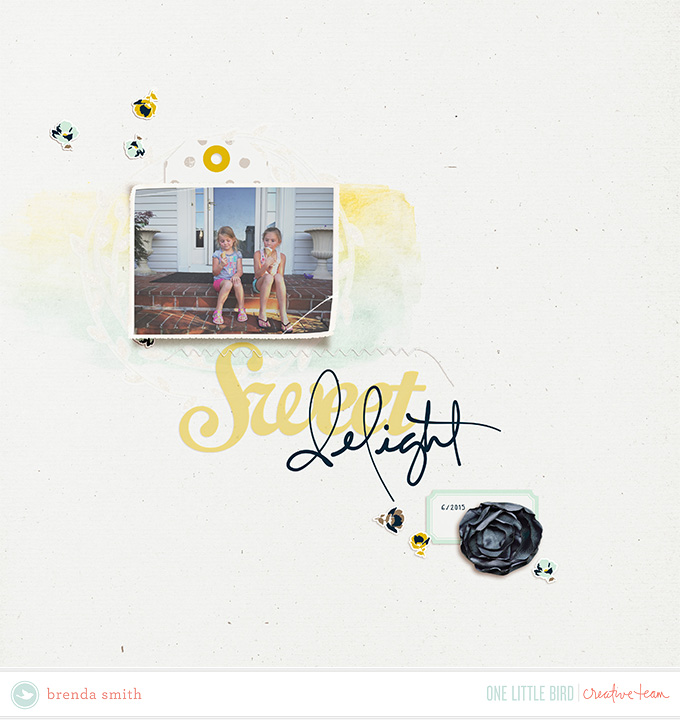 This sweet digital page by Brenda looks so much like a paper page that I thought she was trying to trick me. I love how she used that worn photo frame/overlay from the kit and then shadowed it to look as though it's curling up and away from the page.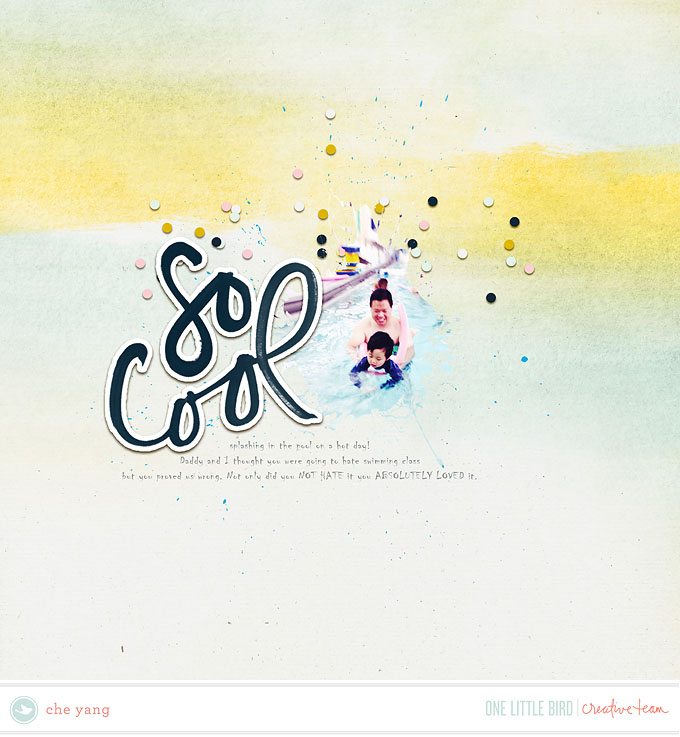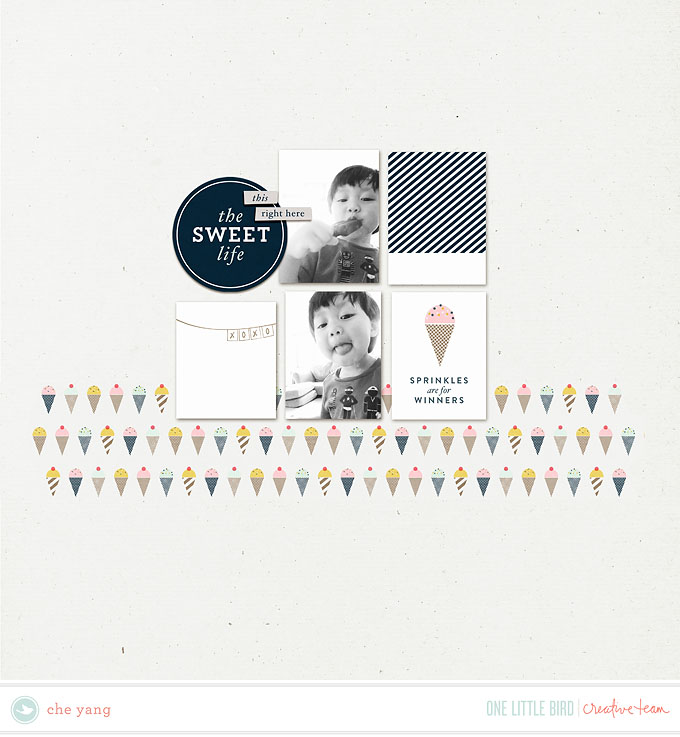 There are two pages from Che here, and I wanted to group them together because I love how they show her versatility as a page designer. The first one is so fluid and freeform, with the photo blended into an ink splat and the confetti scattered all around. But then her second is a classic grid layout (one of my faves!) so her photos are really the focal point. They're both brilliant.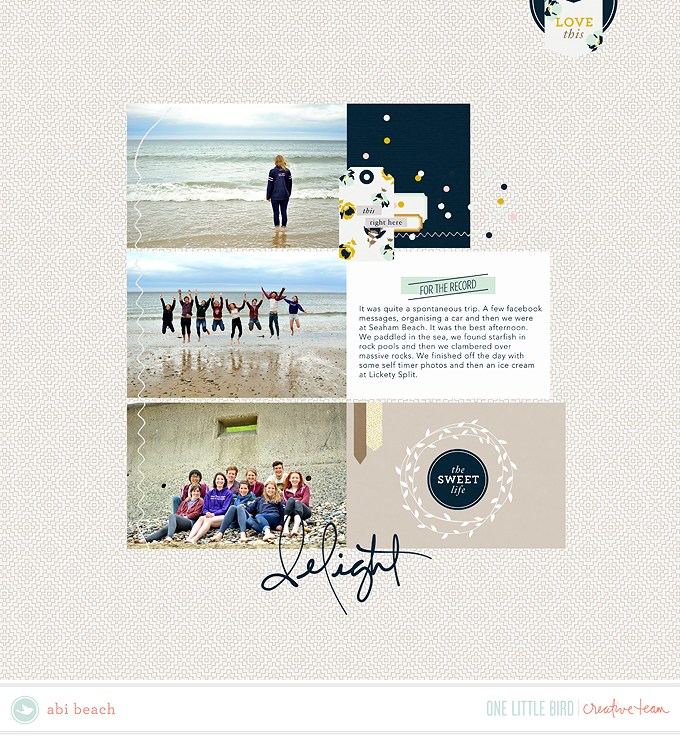 Abi is one of our July guests, and I think it's super cool how she used this geometric paper as her background. I also think it's really great how she "stepped" the spaced on the right side of her grid layout to break up the blockiness. (Is blockiness a word? Spell check says no.)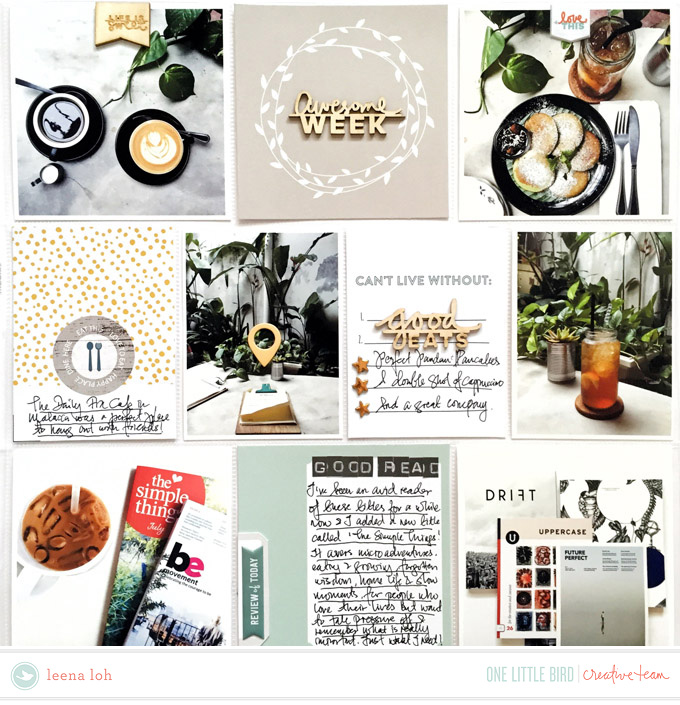 Leena's photos for this week all had some stark black in them, so I like that she kept her card choices more light and subtle. She hand writes her cards like I wish I could hand write my cards. There's a few Evalicious products in here, too. If you haven't checked out Eve's shop before, it's full of awesome little finishing touches for your pages. So many great things.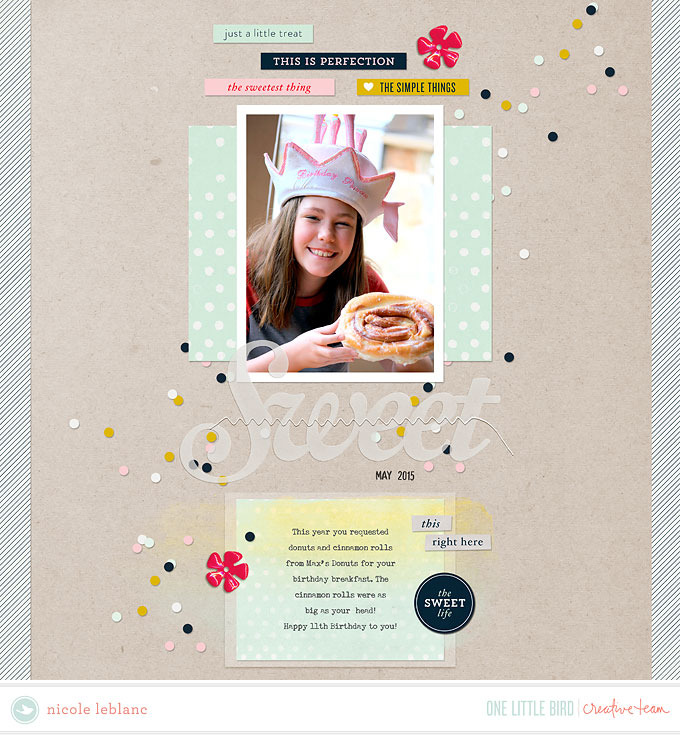 Such a fun layout from Nicole! Love all the little word snips scattered down her page. She makes such good use of small elements here.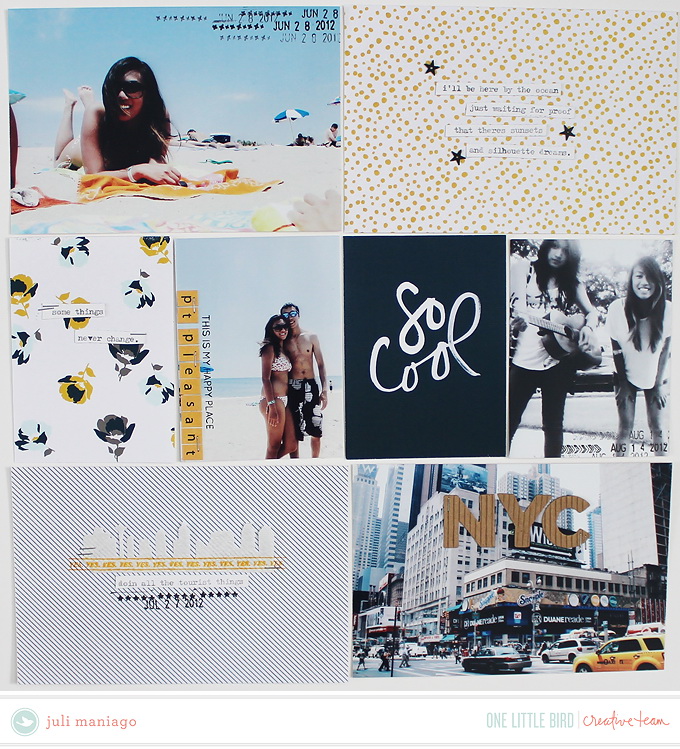 I'm all kinds of obsessed with that tiny little city skyline piece on the lower left side of Juli's page. I really enjoy studying the small details on her pages – on this one I was all "Yes! Messy date stamps! I need to do that!"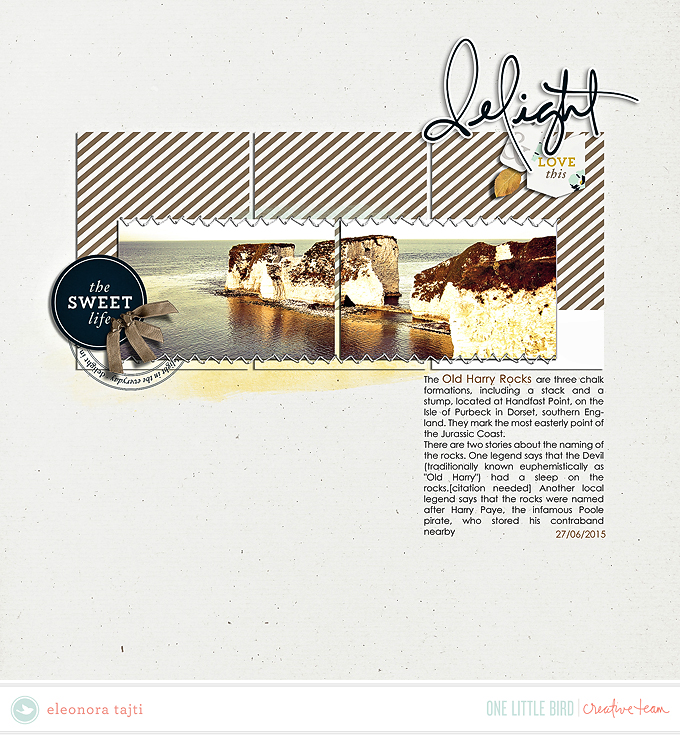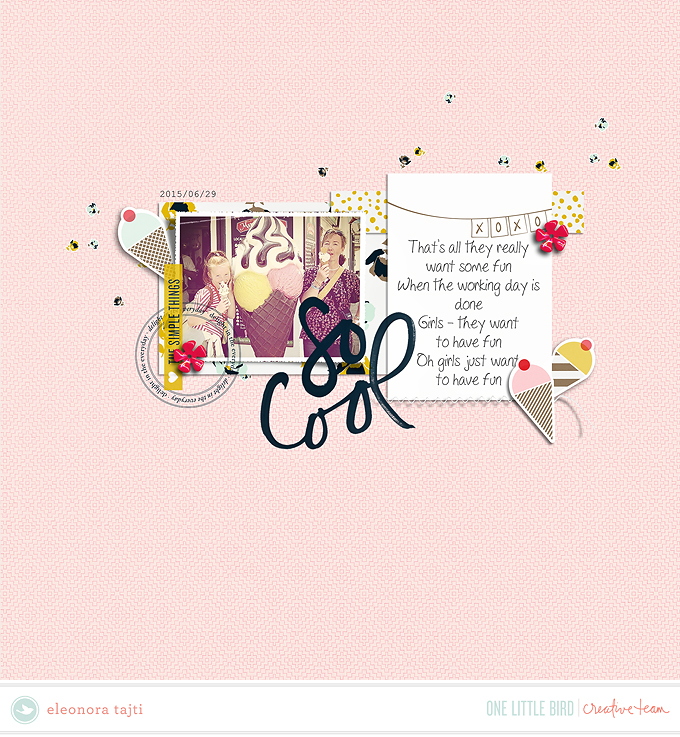 Eleonora is another one of our July guests. Our monthly guests are always such a joy – I love to get a feel for their creative style and see how they interpret the products. I love that Eleonora did one page that's more neutral and classic and it centered around the less themed elements to create her page. And then she followed it up with this pink, cheerful page that was totally on-theme with the ice cream portions of the kit.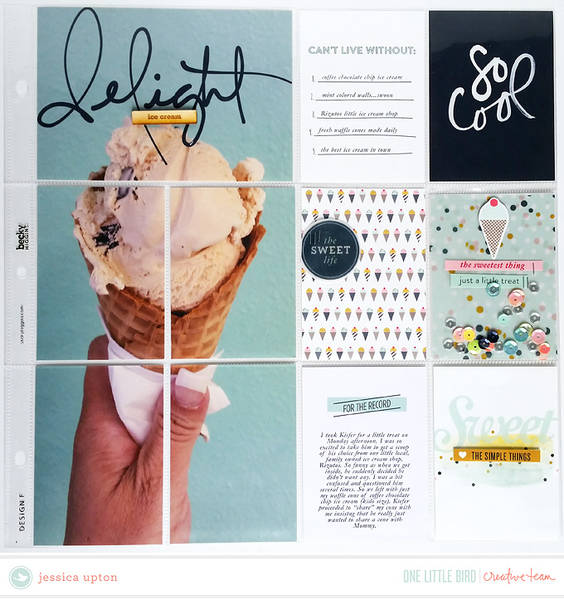 Jessica said that this was the first time she did one big photo across multiple pockets on a layout – it's an effect that I love. Especially an ice cream cone! That pocket full of sequins is just everything. I love so many things about this page. And that "Can't Live Without" card is one I definitely need to fill out, myself, to document my must-haves at this moment in time. Those little time capsules are so great.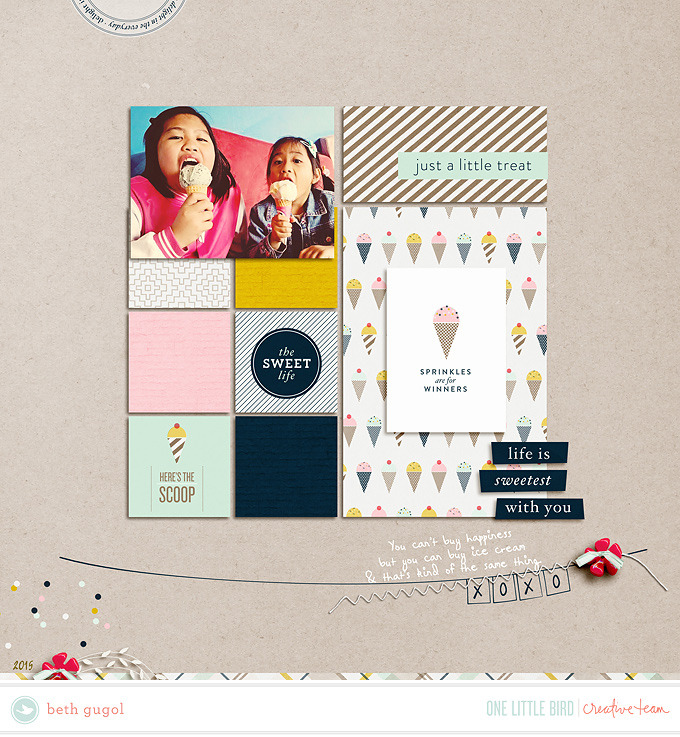 Beth is so good at adding finishing touches to a page. There are some elements that always stump me on my own projects – like page spanning elements. And I include them because I know so many people are masterful at using them. I really like how Beth included this one at the bottom of her page along with a few smaller, more delicate touches.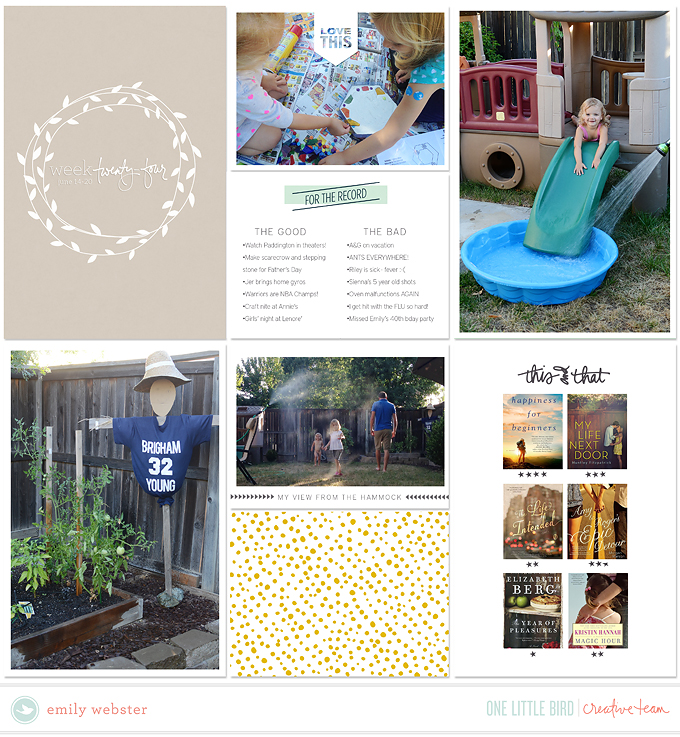 I think Emily's "The Good/The Bad" card is so cool – she included so many separate moments from her week on one card, and it's totally a 'this is real life' way to sum up the week. Ants and all.
Have a great weekend, everyone!