Hello everyone, I'm so happy to be here sharing a hybrid project with you all. I've been a big fan of Peppermint's work for quite awhile and have several One Little Bird designs in my digital library. When I was asked to create a hybrid project for this month I was super excited. I absolutely loved the Nosh set that Peppermint designed and I've always wanted to make a project just about food. Since my husband and I recently took a trip to Portland and I haven't had a chance to make anything with the photos yet I decided to work with those photos and it ended up working perfectly.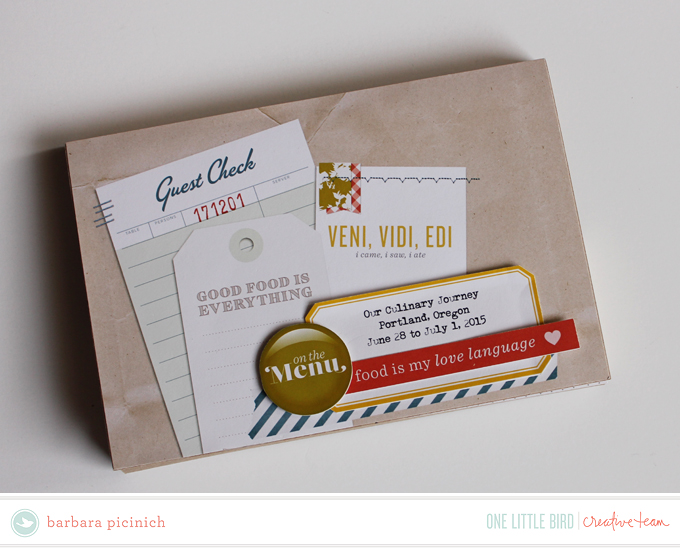 I was totally inspired by one particular journaling card in the collection and this became the jumping off point for the whole project. I thought it would be fun to make little post cards of all of our food images and collect them in a little pocket, sort of like a mini album but not bound in a traditional album.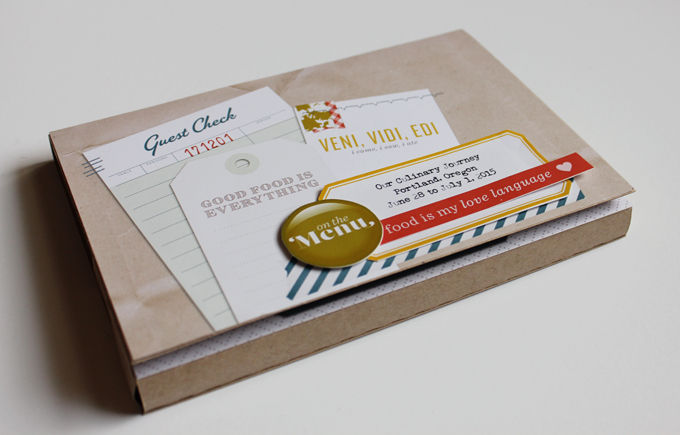 I used a cut file from my Silhouette Library but modified it a bit for my needs and started building the project from there. For the front cover I used the brown paper bag digital paper as my base and started layering cards on top. I just loved the texture and creases on this paper. The three cards in the back are printed flat and I layered the other elements on top for some dimension.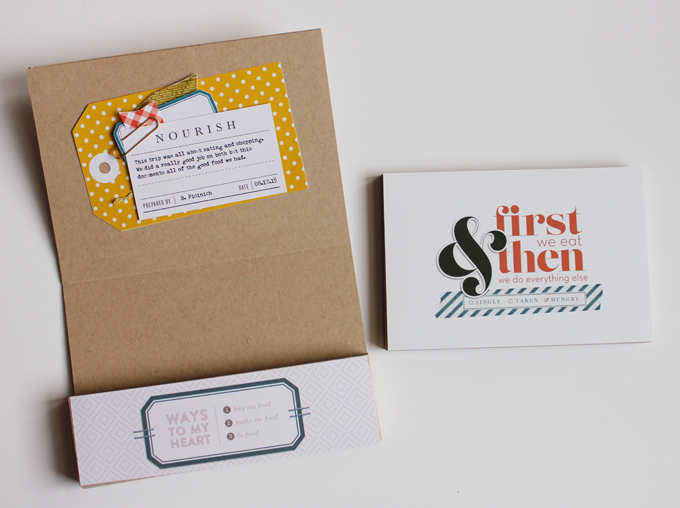 I dressed up the inside flap with more of the digital elements. These were all sized and then cut with my Silhouette Cameo and clipped together with a gold paper clip. The bottom pocket was covered with some digital paper and parts of one of the journaling cards. I loved the little tiny staples and used them a few times. I did end up beefing up the flap and back side of the pocket by sandwiching some thicker chip board between two layers of the Kraft paper because one layer of the Kraft paper didn't seem thick enough to hold up well over time. I also decided to make a cover page for my stack of photos purely because I really wanted to use that journaling card and that super cute ampersand so I had to find a way to get them in the project somehow.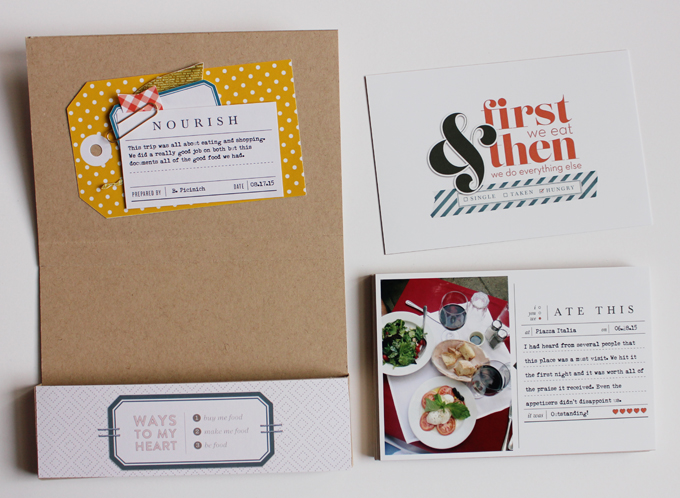 I then took that "Ate This" journaling card (the one that inspired the whole project) and added all of my food photos and typed in all of my journaling on each of the cards, there are 14 total. I also filled in the I, We, You bubbles and the heart ratings for each card using the color picker tool and the color from the orange label on the front cover. I used the fill tool to fill in each card before I printed them out. I decided to print each one on glossy photo paper because I like the vibrancy glossy photo paper has versus matte photo paper. Because of that I decided to back each of the photos with a piece of Kraft paper just so they didn't stick together too much. This also helped make the cards thicker and fill the pocket a bit better since it is a bit wider than 6 inches and there was some movement inside the pocket.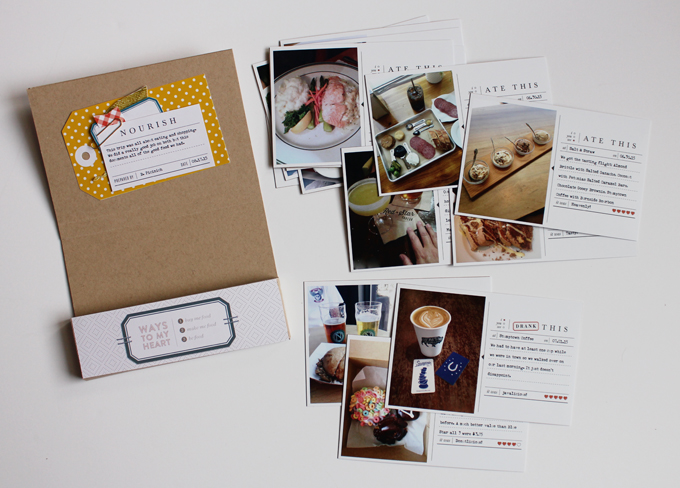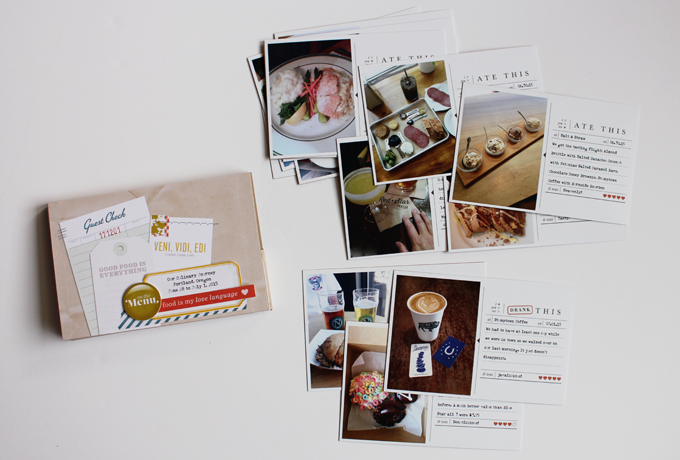 In some cases my photos were more about what we drank than ate so I just modified the card with one of the digital labels that I shrank down and added text on top of. I just layered this over the word Ate and it totally worked out. I could have also crossed out the word and written drank but I like the way the label looks.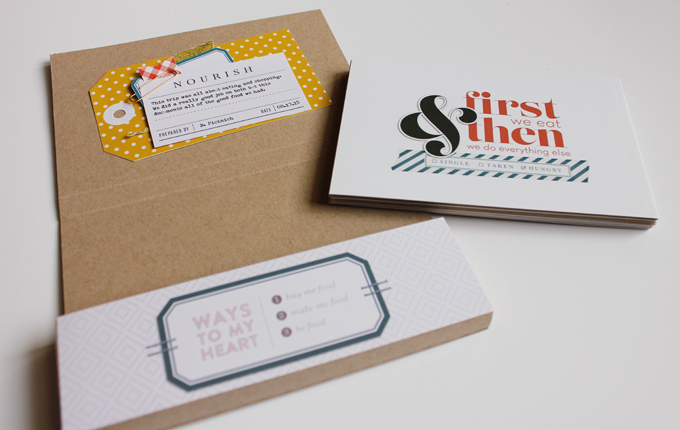 I absolutely love the dimension this project has and I love that it's so different from any of the other sizes and shapes of mini albums I have made in the past. This will tuck in well right next to all of the others and it will be so fun looking back on and remembering all of the yummy food we ate in Portland.
I hope this helps inspire you to use the supplies in new ways and hope that you try something like this yourself. It's been a pleasure being here, thank you so much for having me.
Supplies used:
Nosh Digital Kit
Nosh Journaling Cards
Silhouette Cut File
Bazzil Kraft Paper
[one_third last="no" class="" id=""]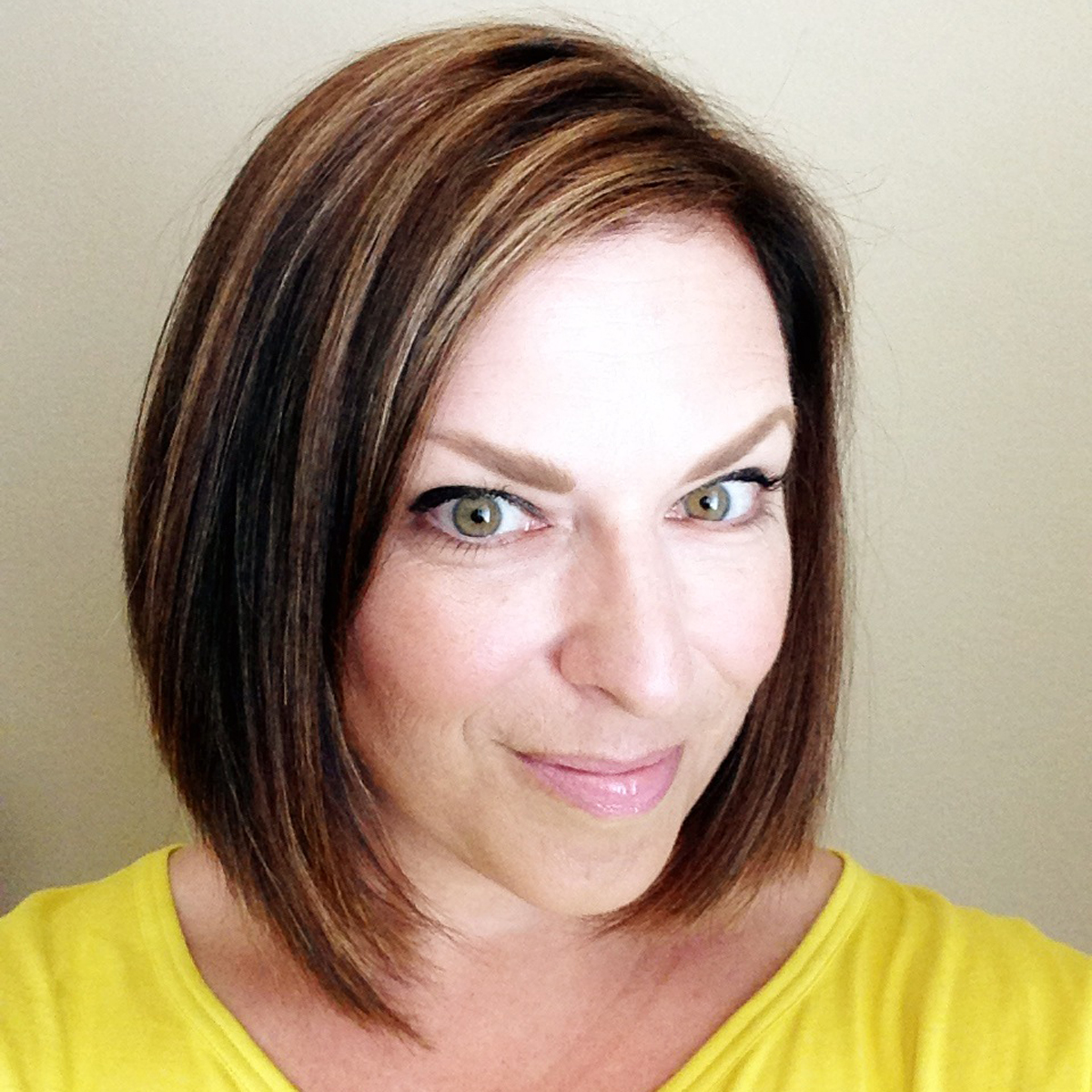 Blog | Instagram | Gallery
[/one_third]
About Barbara
I am a stay at home wife and mother. I have one daughter who is seven and my husband and I love to travel and take road trips and go on day movie dates while our daughter is in school. I have been scrapbooking since 1999 and was a paper scrapper for a long time and switched to digital in late 2007. I found it to be faster, especially with a new baby to take care of. These days my approach has become a hybrid of the two, some paper but a lot of digital. I love designing on the computer and love that you can take a digital element and turn it in to whatever you need it to be. My love of paper and digital scrapbooking has allowed me the pleasure of designing for and contributing to several online scrapbooking classes and brands the past few years. I'm also a lover of fashion and all things girly which is pretty evident in my pages. I also love to cook and entertain my large family and my close friends.