Hi there!!!  Jen here today with a couple spreads showcasing the Ready Set Go collection!  These pics are from a recent trip to upstate New York in the Adirondacks.  I loved how the blue skies went perfectly with the orange pop in these adventurous sets!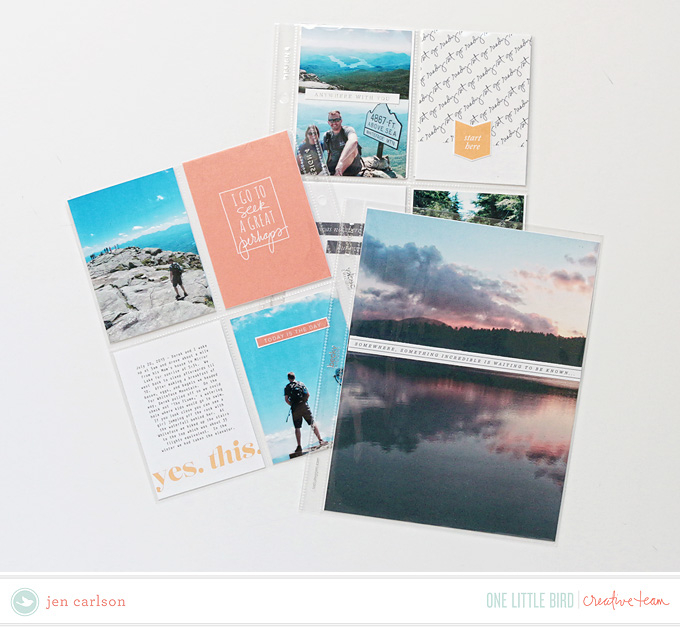 I started by printing off all the Ready Set Go journaling cards and moving them around with my photos til I found a good combination of color and balance.  I also knew I wanted to make a single page using my photo of Mirror Lake plus the "Somewhere, something incredible is waiting to be known…" strip from the Digital Kit.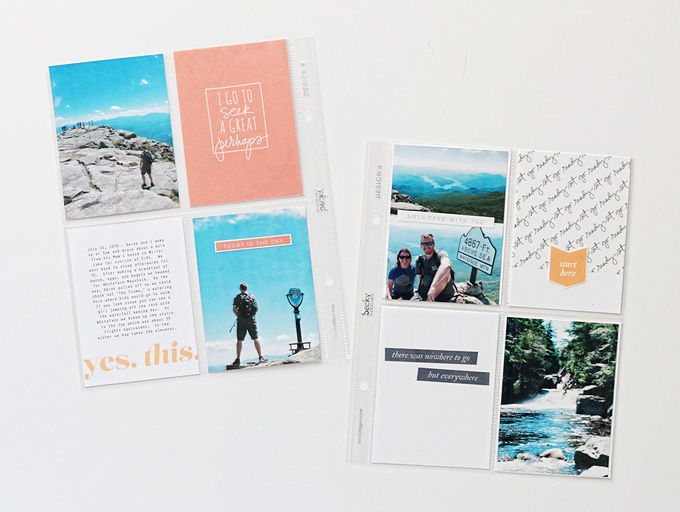 The card on the right above with the navy strips "there was nowhere to go but everywhere" was actually an element from the Digital Kit that I turned into a filler card.  The photo above on the top right was two 4×6 photos that I joined together using an app on my phone.  I don't usually have room for an entire 4×6 photo on my spreads, but I love to combine two into a 3×4 card.  This one I separated out using the "Anywhere with You" element from the Digital Kit.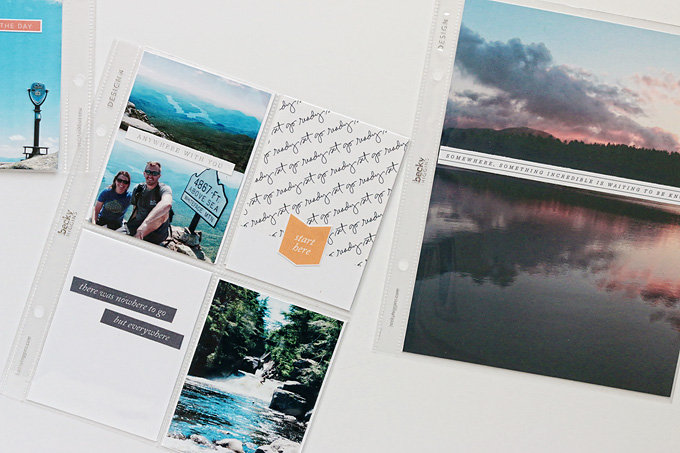 Above is a close up of some of the elements I used.  Love the bold look of a single photo with a clean linear embellishment!  That "Somewhere, something incredible…" phrase was perfect.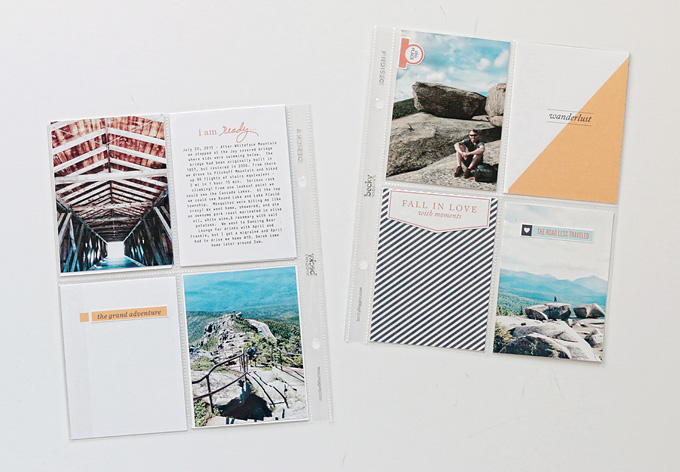 My second set of pages for Day 5 of the trip was a mix of patterned papers, journal cards, and elements.  The card on the left bottom started out as the "Today is the Day" journal card, but I wanted a pop of yellow to balance the spread so I cut out "the grand adventure" element and placed it on top.  I liked the orange striped patterned paper in the Digital Kit, but needed some blues so I changed the color in Photoshop, cropped it down to a 3×4, and added the "Fall in Love" element.
Thank you for stopping by to see my layouts!
I hope this inspires you to get out there on an adventure and explore everything!  And of course, when you're done, get back and put those pics in albums!  The Ready Set Go collection makes a great pair ;)
Hugs, Jen
About Jen
I started scrapbooking in 2000 as a result of a family trip to Europe. I create traditional 12×12 layouts and am a sucker for a good sketch. Last year I started Project Life and have been hooked on pocket pages ever since. I grew up in St. Louis, MO, but moved out to Northern California 10 years ago, where I work as a Process Engineer at a biopharmaceutical plant. I enjoy baking, cooking, brunching, exploring the coast, and loving on my boyfriend (Derek) and 3 fur kids (Beer, Gracie, and Winston).