Hello everyone, Nicole Reaves here! I'm thrilled to be the One Little Bird hybrid guest this month and am excited to share one of my recent Project Life spreads with you today.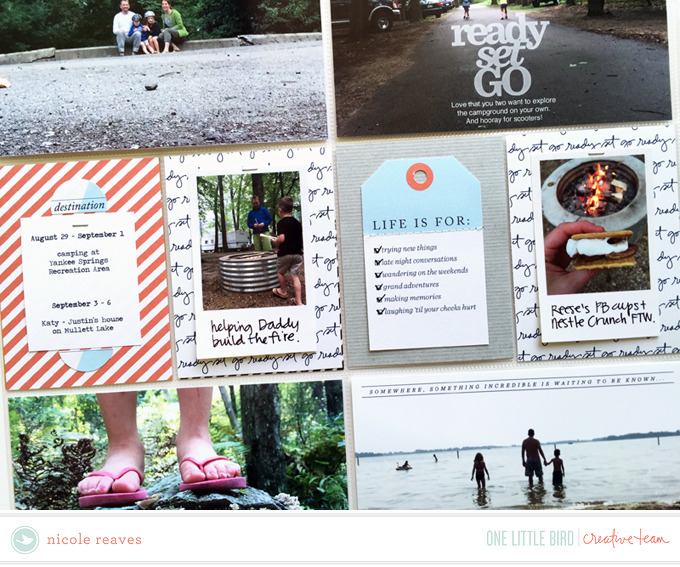 At the end of August, my little family and I left town for some adventures around the state. Camping, fishing, swimming, time with friends and time to relax. It was pretty darn perfect. I adore Peppermint's Ready Set Go release and decided to pair it with the Agenda journaling cards to document this two-week spread focused on our travels.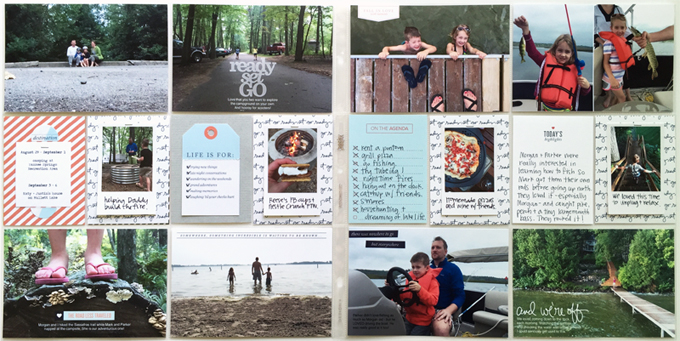 In my layouts, I always start with the photos. Once I've chosen eight 4×6 pictures that round out that time span, I like to add some typed journaling in the white space of the photo via Photoshop before I print them out at home. This allows me to write a little bit about that particular photo and saves space so I can add fun filler cards or other stories in the 3×4 pockets.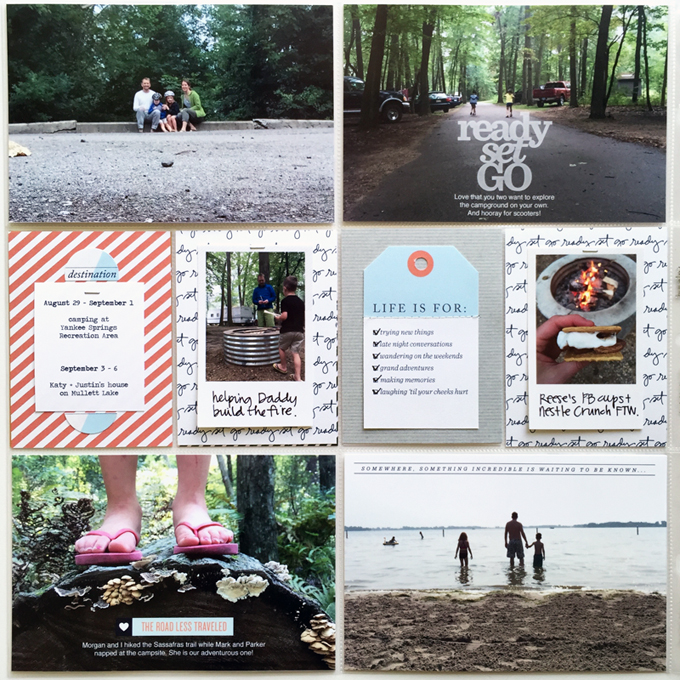 I also like to leave room around the journaling to I can add stamps or embellishments, and in this spread I used several of the digital stamps from the Ready Set Go set along with my text to dress up my photos and draw your eye to the additional journaling.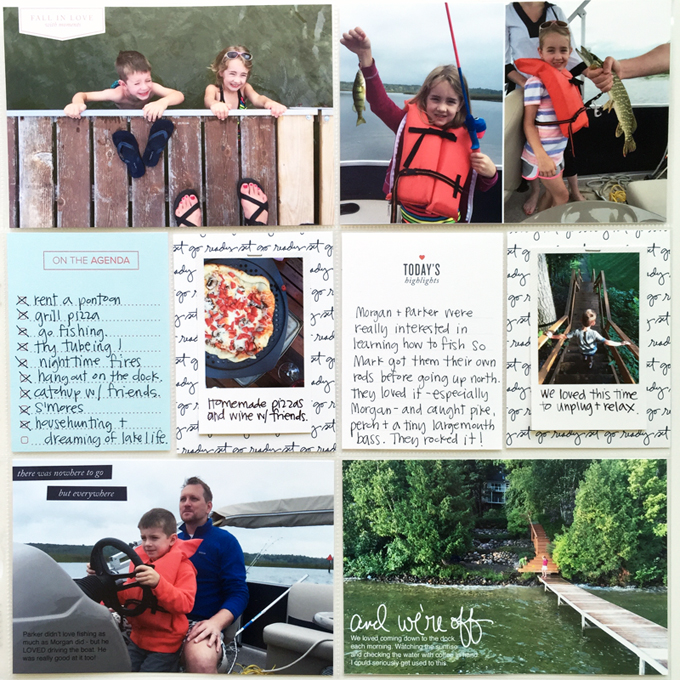 I typically don't add many photos to the 3×4 pockets, but because I had so many pictures from our vacation, it was hard not to include more. I love the little photo frames in the digital kit and chose the smaller of the two to create some faux-Instax prints. I used the layered template version, so I simply dragged my photo onto the frame, resized it a bit and then clipped my photo so it appeared behind the photo frame. I was able to fit two of these on a 4×6 piece of photo paper and trimmed them to size before stapling each one to a piece of digital patterned paper I printed on cardstock. Lastly, I added a short handwritten caption in the large bottom margin of each frame. I used the same pattern to back all four cards and love the end result. The photo frames are subtle against the black on white background, you can see peeks of Peppermint's handwritten 'ready set go' behind the photos, and it makes the overall spread more cohesive.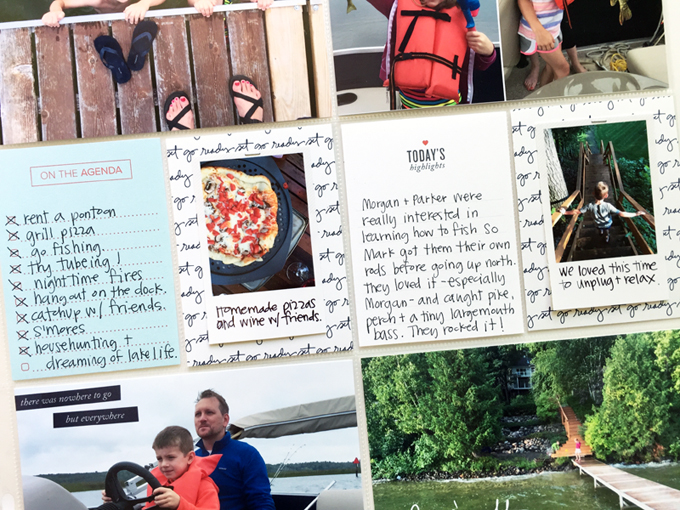 I love to use lists as a form of journaling in my layouts, so the Agenda journaling cards were perfect for doing just that in this spread. It's super simple, but I can see at a glance all of the fun things we did that week. These cards are a really nice compliment to the Ready Set Go collection too.
Thank you so much for checking out my layout! I hope it gave you some ideas on how to incorporate digital supplies in your own Project Life spreads. Thank you to Peppermint and the entire One Little Bird team for having me!
Products Used:  Agenda Journaling Cards, Ready Set Go digital kit
[one_third last="no" class="" id=""]
Blog | Instagram | Gallery | Shop
[/one_third]
About Nicole
Nicole Reaves is a wife + mama to one of each and resides in Michigan. She entered the world of paper crafts in 2001 and was big into cardmaking until 2005, when she spent three weeks in Europe and wanted some way to document it. Nicole has been doing Project Life since 2012 and also loves making themed albums and mini books about herself, her family and their travels. In an effort to use up her stash and tell more stories, Nicole has set a goal to create 50 scrapbook layouts in 2015, which she has been documenting on her blog. She also runs an Etsy shop and enjoys teaching and contributing to a variety of online classes.