Hi everyone, this is Janine Langer and I am so thrilled to be this month's hybrid guest here at One Little Bird! I am a huge fan of everything Peppermint creates and I always try to be one of the first to get all new releases. :)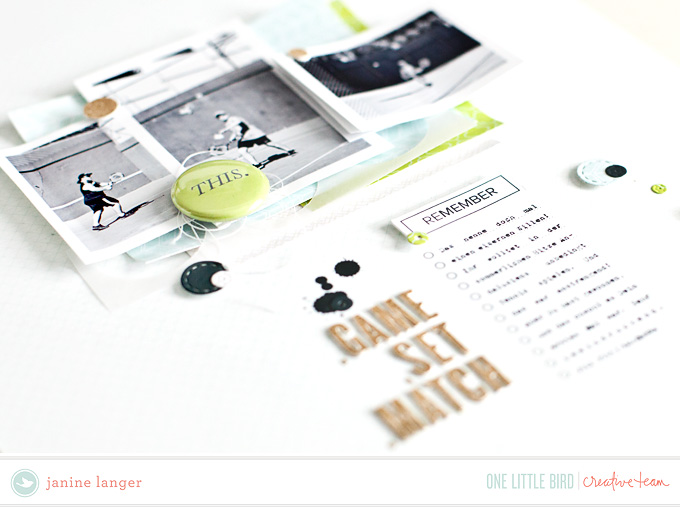 Today I'd love to show you my process when it comes to making hybrid pages. When I do get my hands on new kits, I always try to think about the story that I would love to tell with it. For the first layout that I would like to show you I used the Agenda Kit. I love its blue and green colors and it immediately reminded me of our vacation, when my husband and my son decided to play tennis in the Andalusian heat. They had so much fun, though they were quite exhausted afterwards.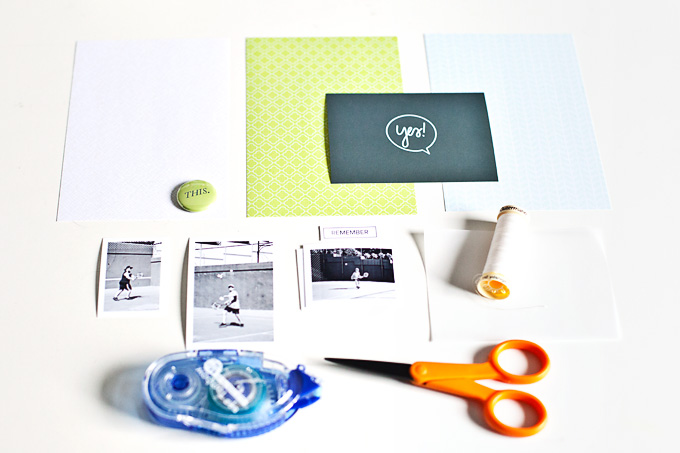 To start with the layout I printed different papers and elements from the kit as well as the photos that I thought would go well with the story I wanted to tell.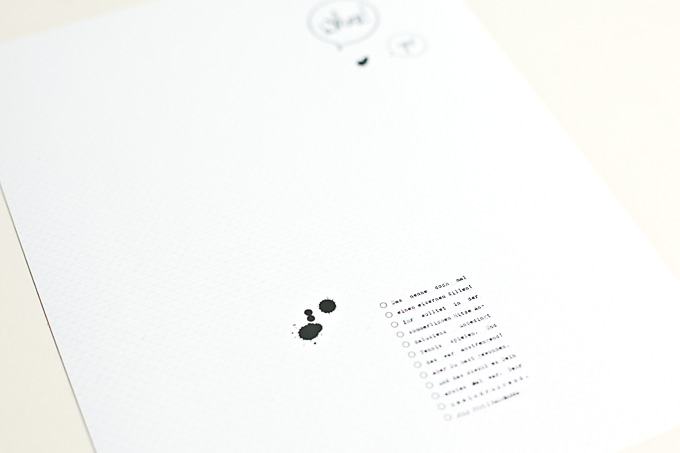 I already knew that I would layer the papers and the photos in the middle part of the layout, so I printed my journaling on the bottom and two speech bubbles on top. Then I randomly added some paint splatters.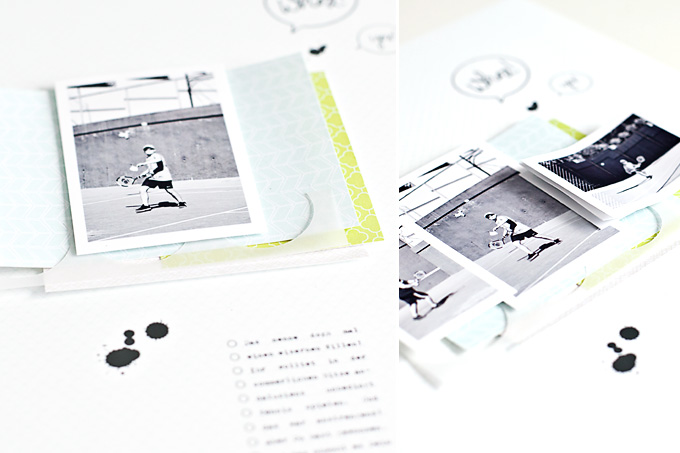 Now the fun part begins, the layering. I started to cut and layer the papers as I wanted them, then added some left-over vellum and secured everything by stapling it on a place where the photos would hide it. Then I layered my photos on top. To give it a bit more dimension, I decided to put the smallest photo three times on top of each other. I love the interest this adds!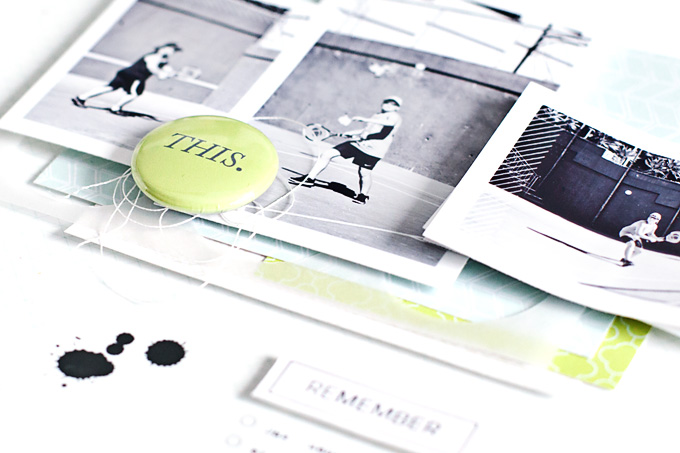 I needed some more embellishments so I added the flair button (that I made by printing the circle from the kit and using my button machine) with some thread beneath as well as the word strip.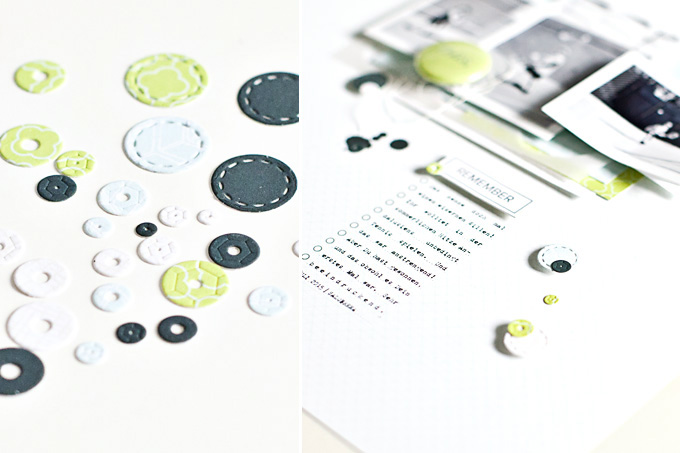 I really liked the way it turned out, but I had the feeling it was still missing something. I then decided to add some circles to emphasize the fact that they were playing tennis. But I wanted the circles to have some interest and structure. So I ran the paper through my Big Shot using a die that would cut the circles and add a nice stitched line. Love it!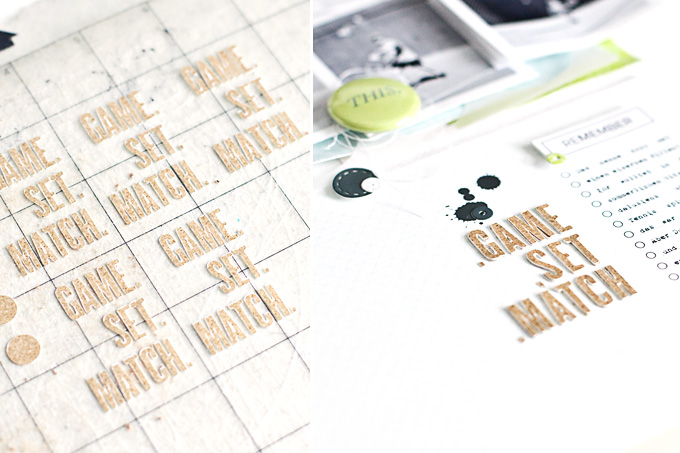 Now it was time for the title. I printed a solid brown digital paper from the Cabana kit  and cut the title and some more circles with my Silhouette Cameo. As you can see, I cut the title about five times. I wanted to give it some dimension, but as the letters are too small to use foam tape, I just glued the letters on top of each other before I adhered them to my layout.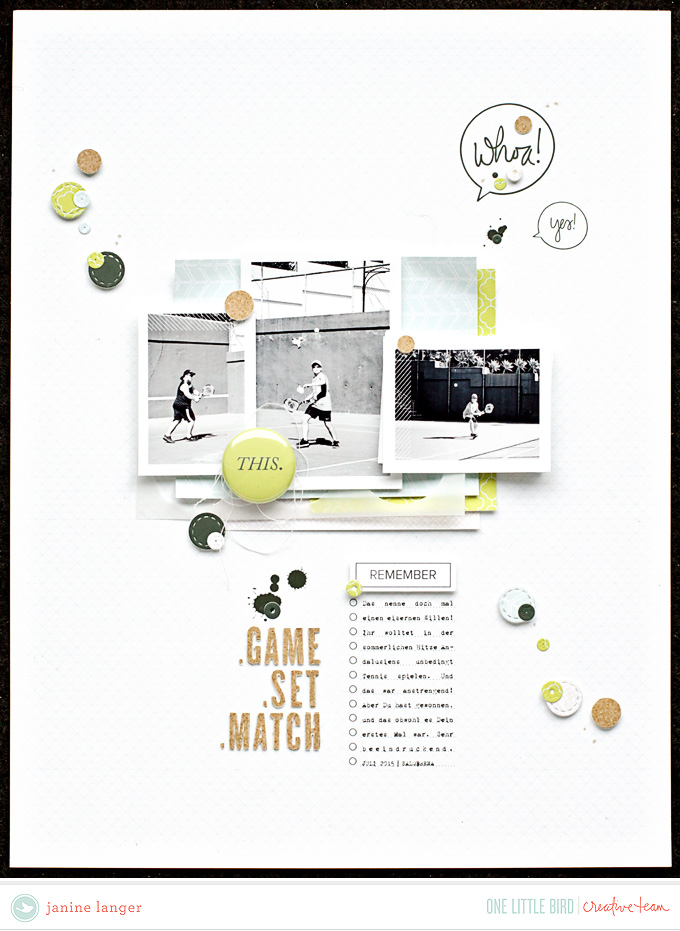 And that's it. It was so fun to create this layout! Here you can see it again, with some more close-ups. :)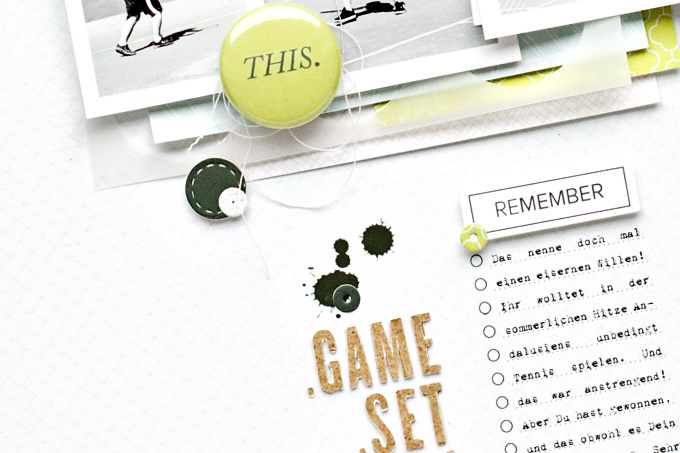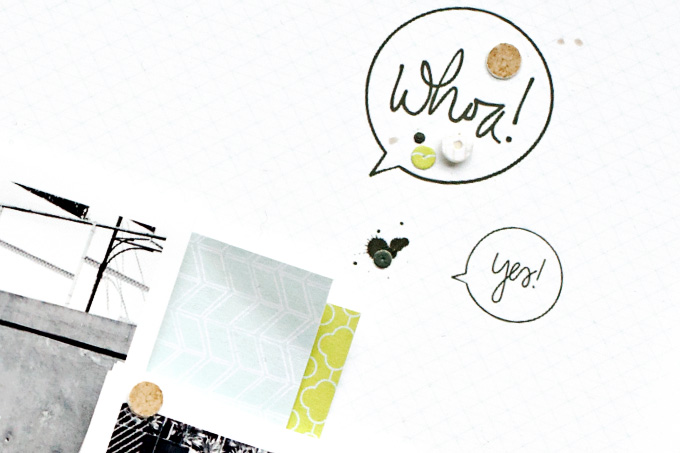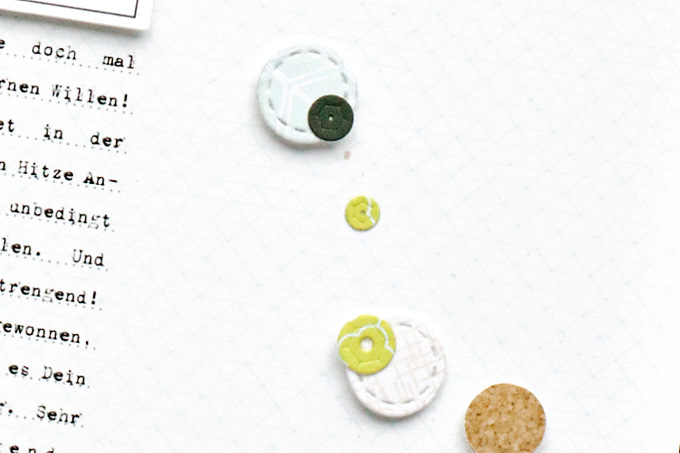 And I have one more quick layout to share that I made recently using the beautiful Luna digital kit. The very second I saw it, I fell in love with it. It is so soft, so beautiful, so warm! And I knew I had to create another layout for this hybrid guest spot using it!
I love to watch my son sleep. Every night, before I go to bed, I am looking if he is alright and sometimes I can't help but standing next to his bed … in awe about how amazing he is. He's got such a genuine and lovely personality. Well – I think you can tell how much I love him. ;)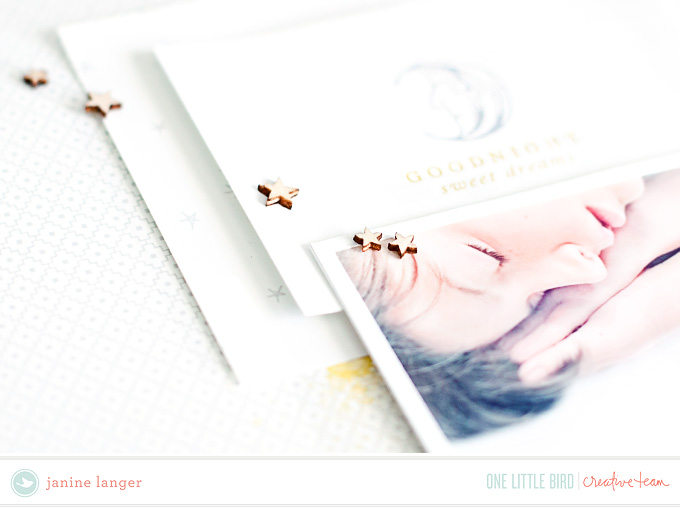 Anyway, I wanted to create a layout telling him this for some time now, but I never found the softness in paper and embellishments that I felt were necessary to go along with it. Until now.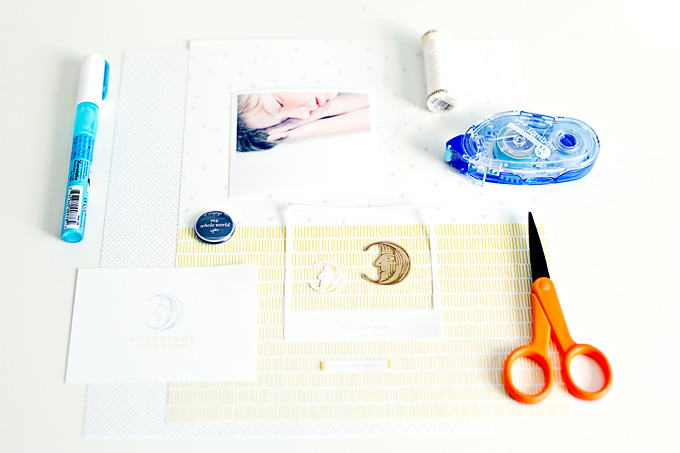 First I again printed all the papers and elements that I planned to use as well as the photo of my son sleeping.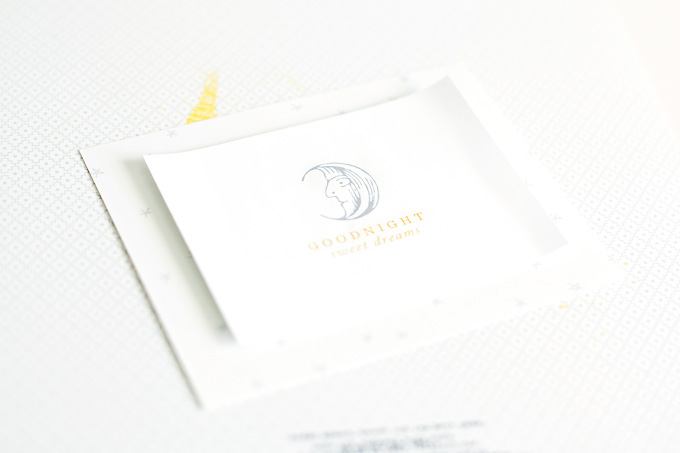 I printed the journaling on the bottom of my background paper and added some random yellow splatters with watercolors. Then I started to layer the star paper that I had cut down under the journaling card with the moon on it.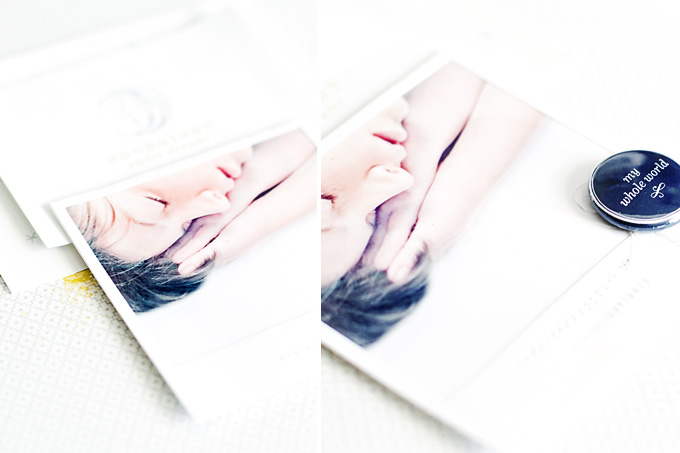 The next step was to glue the frame on top of my photo and adhere it with foam tape to give it dimension. I also created another flair button with my button machine and the digital circle element that I printed. I added it with some string underneath as well as some machine stitching on the bottom of the frame.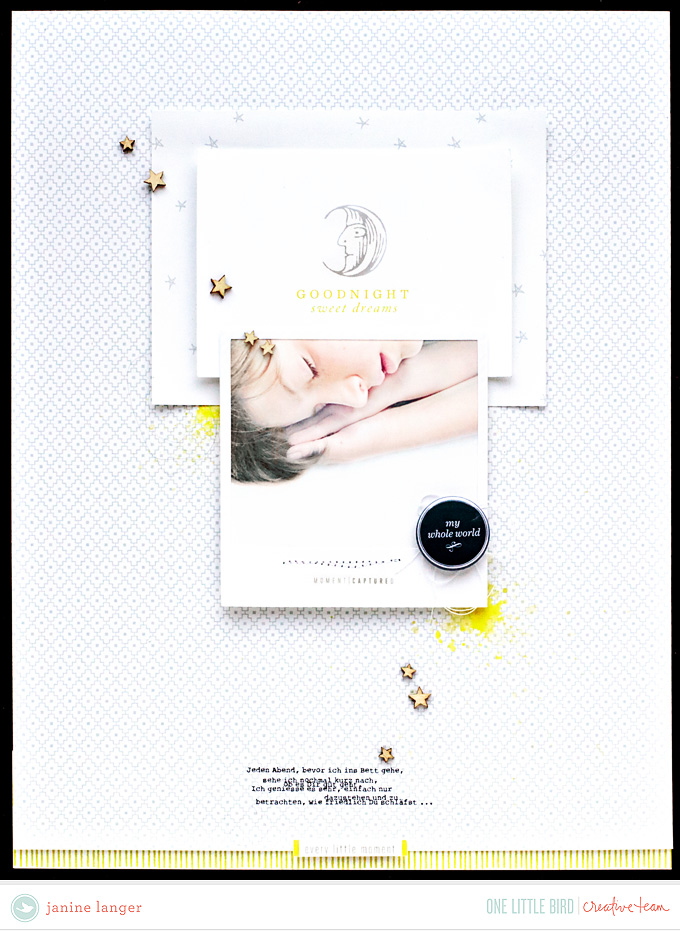 To finish it, I added a yellow paper strip on the bottom and some wood veneer stars from my stash. So quick and easy, soft and lovely … I am in love.
Here are a few more close-ups. :)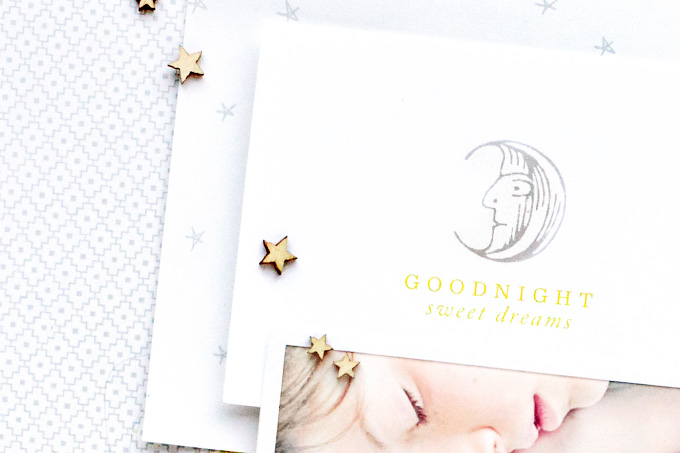 Thanks so much for taking a look at my projects, and have wonderful week! :)
Products used: Agenda Digital Kit, Cabana Digital Kit, Luna Journaling Cards, Luna Digital Kit
About Janine
I am 38 – soon 39 – years old, and I live close to Cologne in Germany. I am a wife, mother and the official family photographer. That's what I also do for a living, by the way, photography. I started scrapbooking in 2006/2007 when I began concentrating more and more on photography. I wanted to keep all the memories that came with the picture in one place. Scrapbooking is my creative outlet, kind of like therapy. I love the thought of my son looking through all the albums when he's a grown-up, maybe having his own little family!