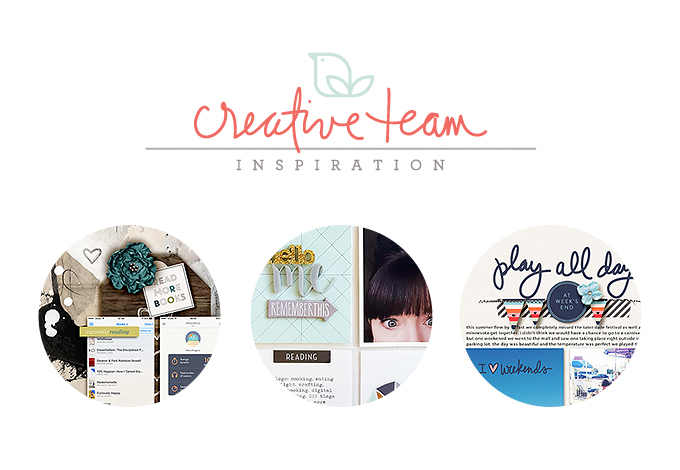 Hello, and happy Friday! I hope all of you in the US had a wonderful Thanksgiving! I'm here today to share another installment of projects from the Creative Team. These pages were all made using products of their choosing, so they're representative of what's inspiring each of them this month.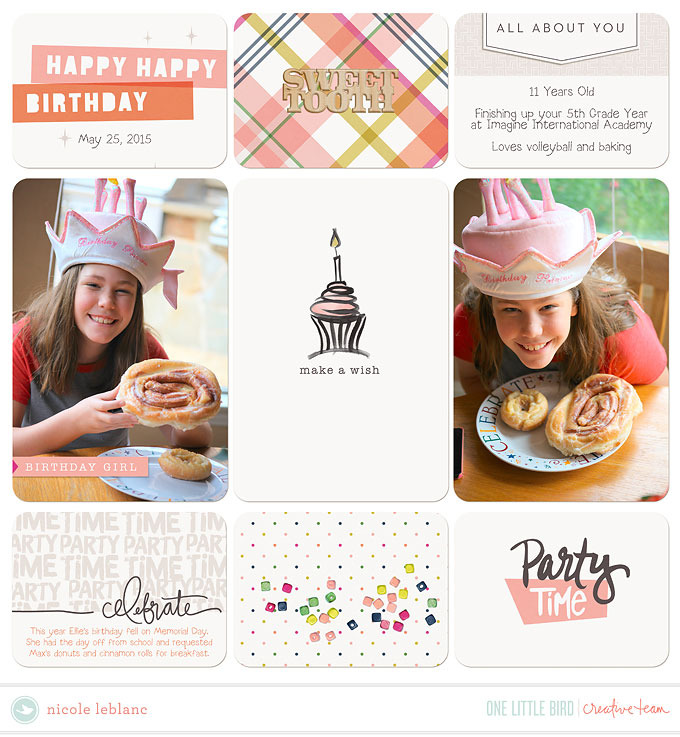 Love this "all about you" birthday page from Nicole. It's such a fun idea to get these snapshots of favorites each year. (Uses Fête digital kit and journaling cards.)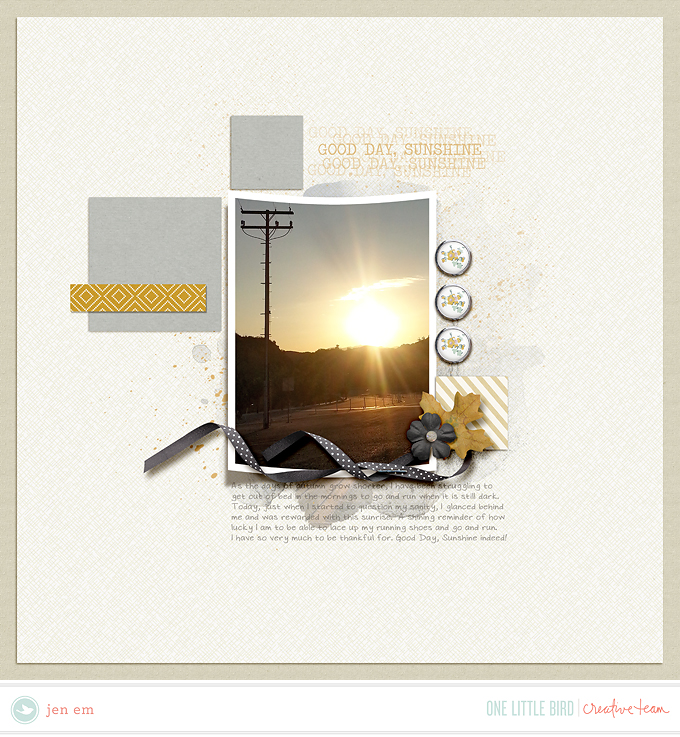 I love how Jen documents her love of running in her album, and how she uses these sunny street photos to do it. It inspires me to branch out from my "from where I stand" photos of me in my running shoes. (Uses mostly Woodridge.)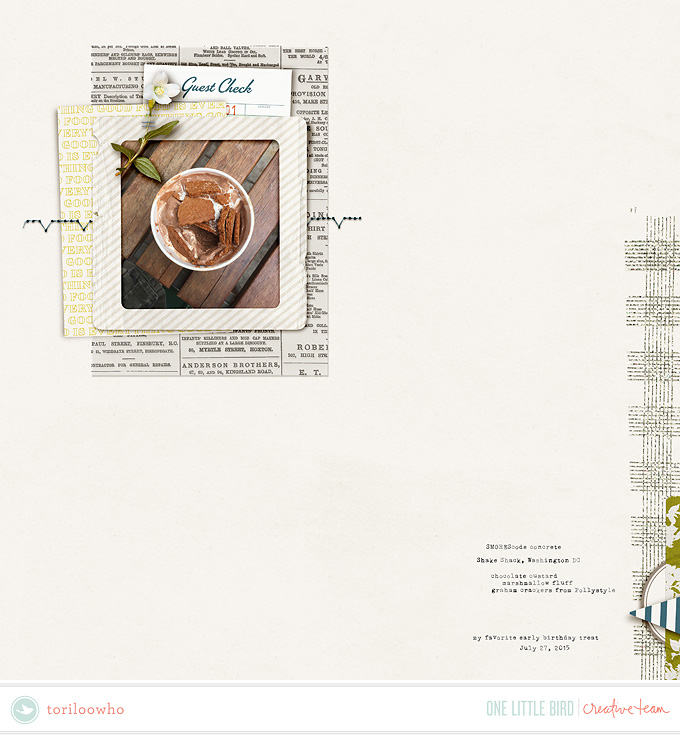 Obsessed with the edge treatment here on toriloowho's page – one of our guest creative team members last month. The elements in the lower corner lead me to her journaling. Total perfection. (Uses Nosh.)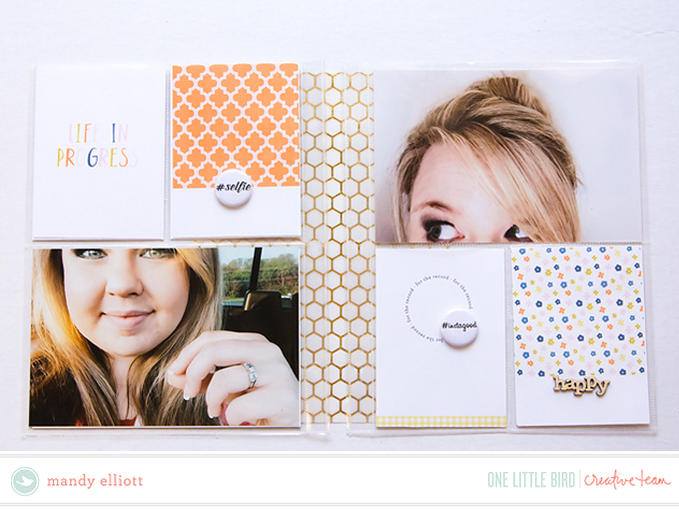 I put these two pages from Mandy and Jessica together because I am obsessed with these selfies they took from the eyes up! I think it's such a playful way to get yourself onto the page. Another little something I want to try. (Mandy uses cards from The Story Unfolds and Jessica's is mainly the Currently card set with a bit of Serendipity)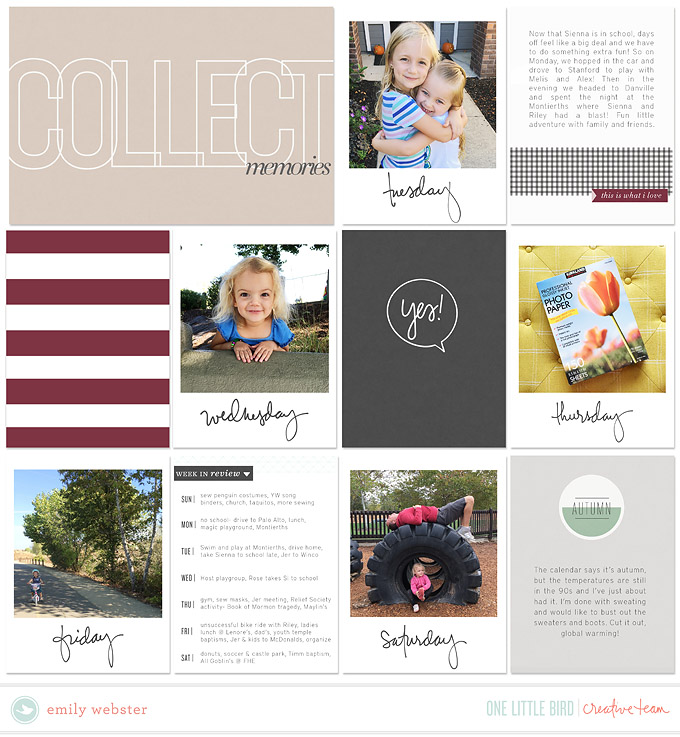 Emily's pages always embrace the core idea of Project Life of keeping the entire thing simple – photos, cards and words. She does this so well. (Uses Agenda for the handwritten days of the week – the cards are from Woodridge.)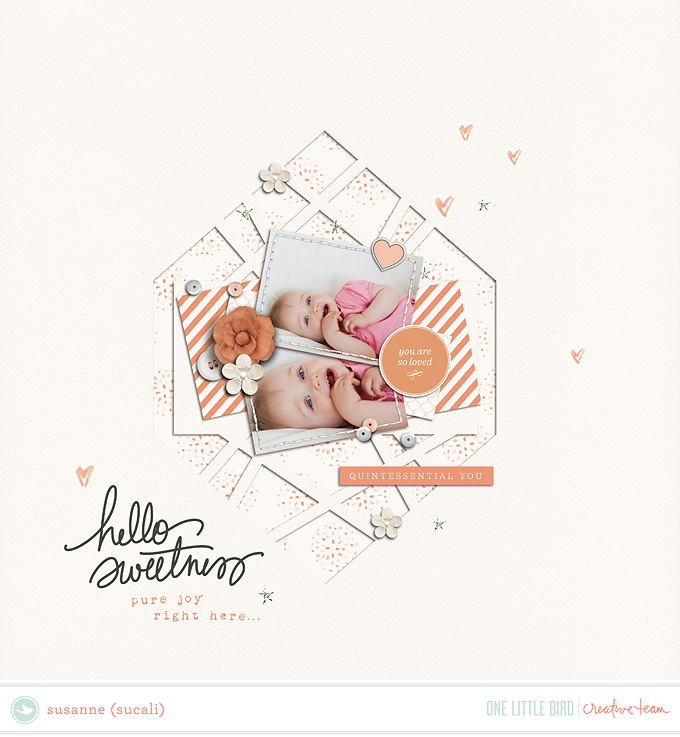 Loving the cut out shapes in the background of this page by Susanne and all the scattered small elements throughout. (Uses Luna, Sugarcoated and At Week's End)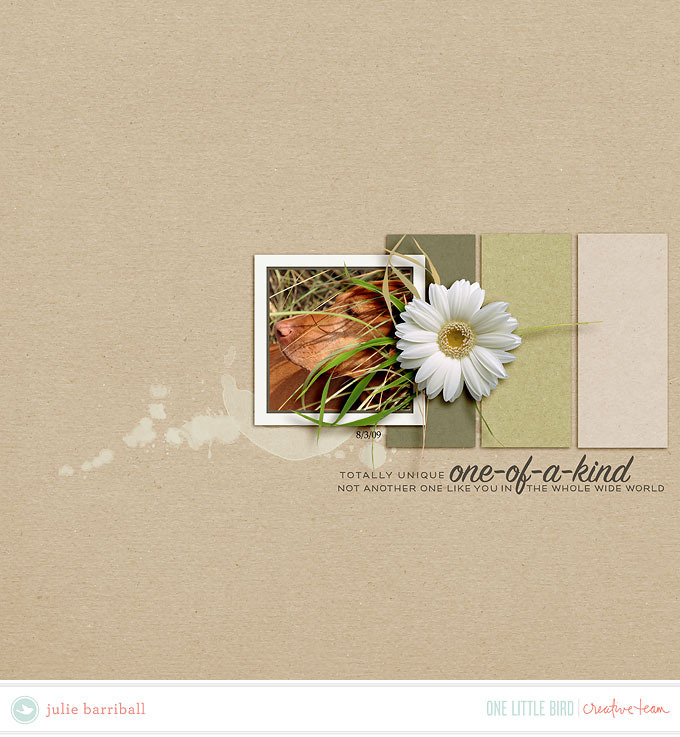 I think it's really cool how Julie added the bits of greenery over where they appear in her photo. She's a genius at simple little details like that. (Uses How it Began Elements and the word art is from Composition.)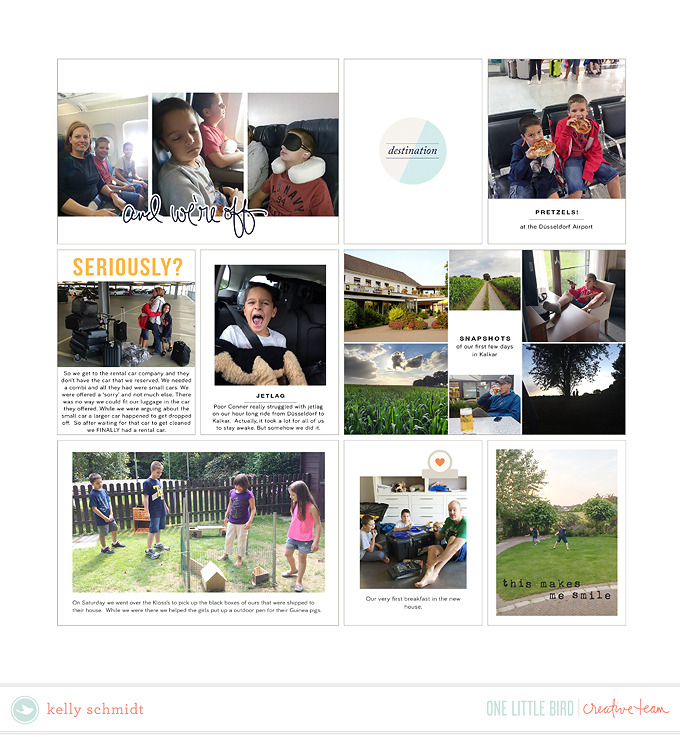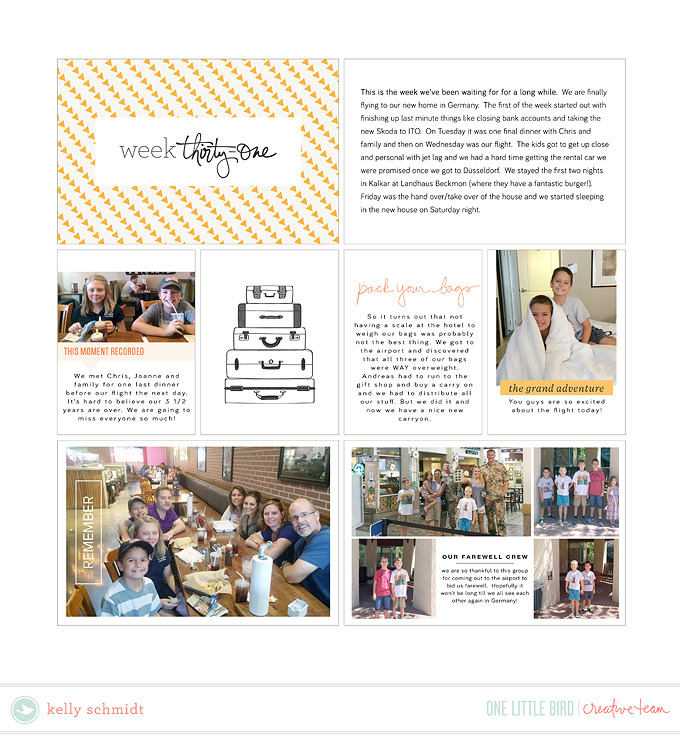 The left and right sides of Kelly's Project Life spread – perfectly balanced with just the smallest pops of color. She speaks my language with those colorful little additions. (Uses Vagabond, Ready Set Go and word art from Happygram.)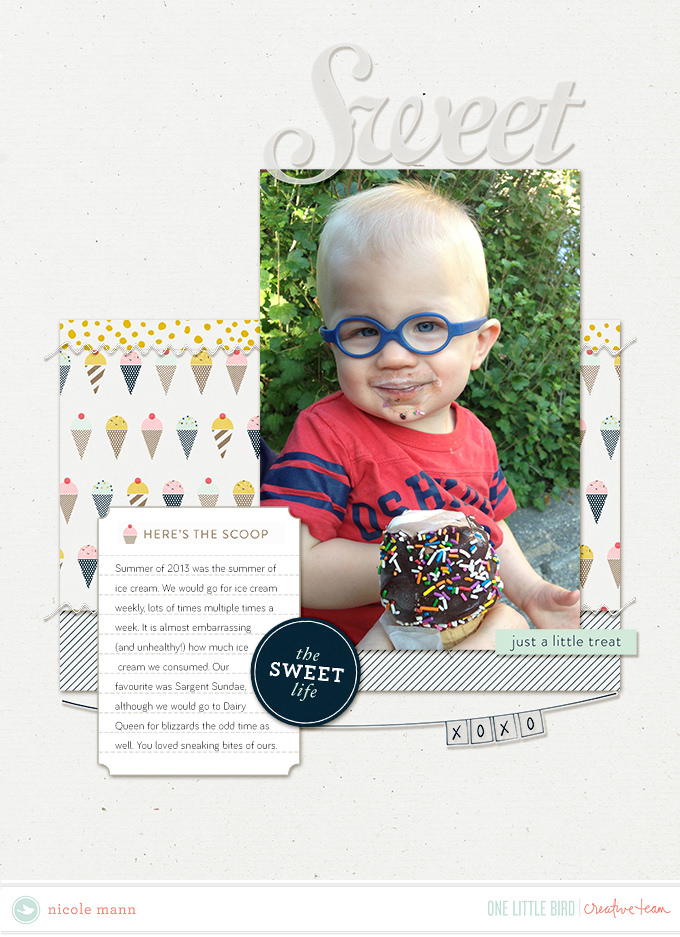 This photo. I can't even … I'm overdosing on cuteness. Love that Nicole's photo is the star on this page. So adorable. (Uses Scoop)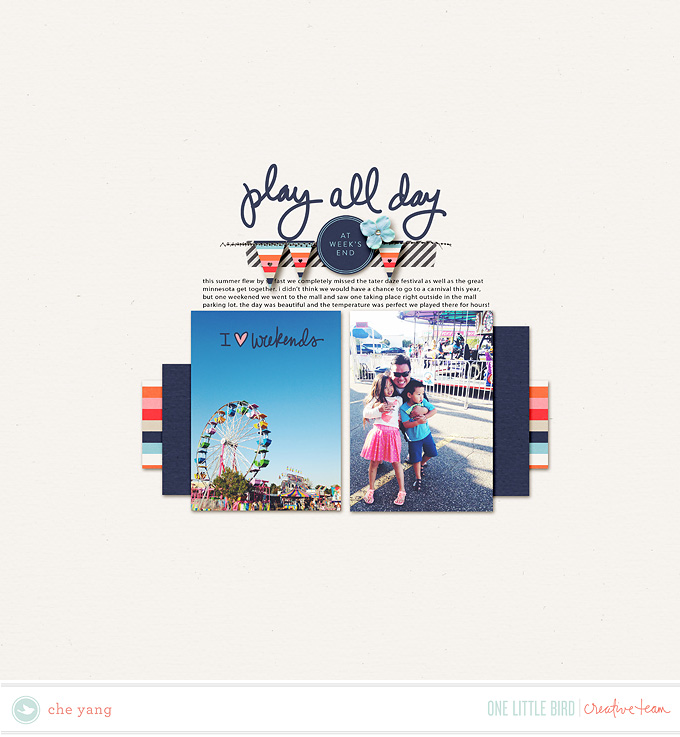 This title treatment at the top of Che's page is so divine! I love that she put her dimension up at the top and stacked her photos and the patterned paper very simply beneath. (Uses At Week's End)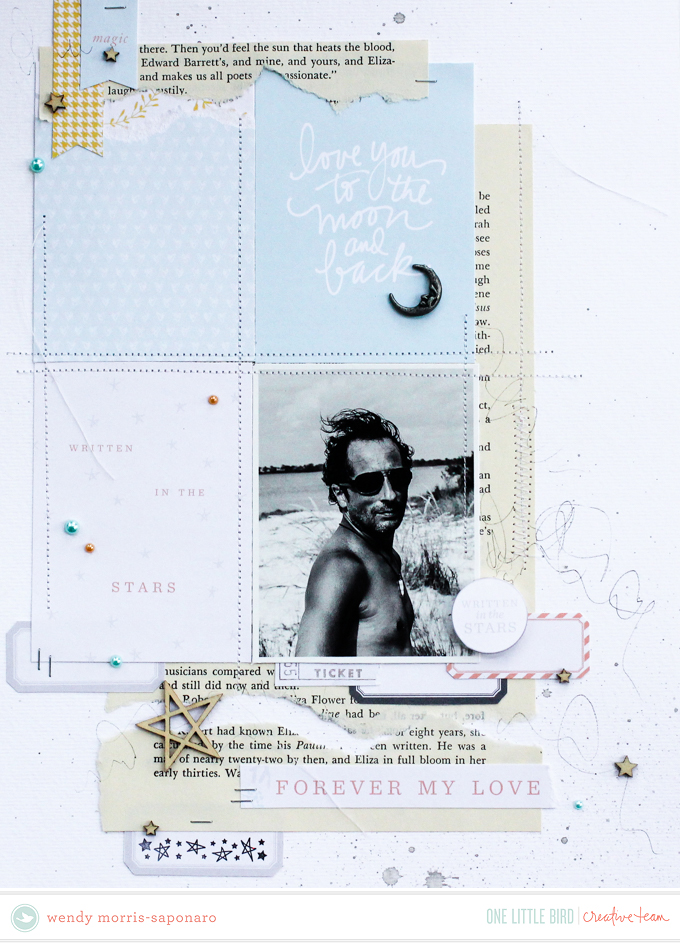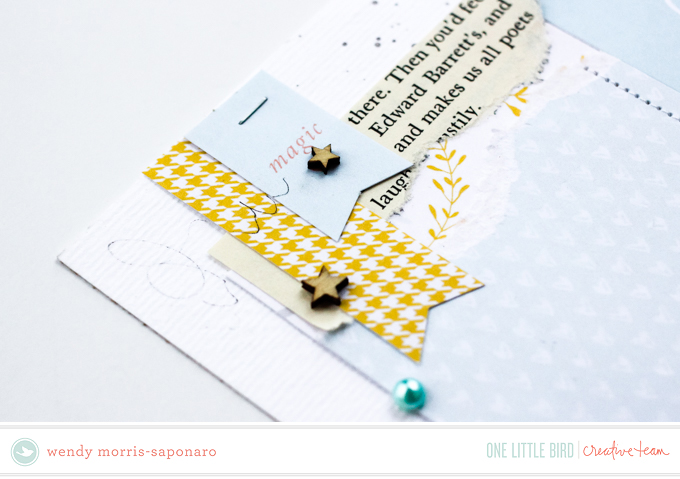 Wendy's perfect blend of mixed media and digital elements. She has the most thoughtful small touches on her pages. Tiny pieces, thoughtfully placed. I like to soak them all up. (Uses Luna digital kit and journaling cards)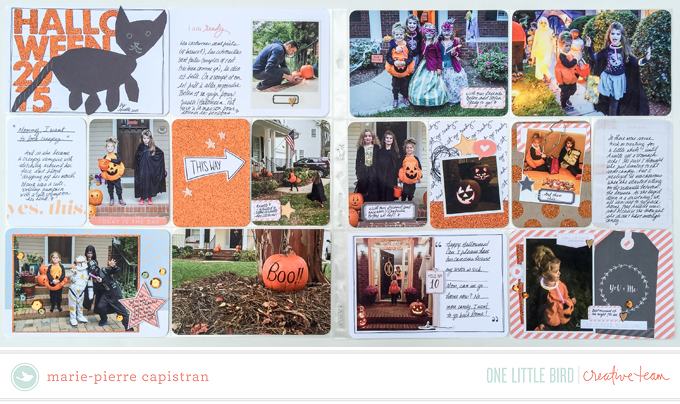 Marie-Pierre is one of our November guests, and I'm head over heels for this Halloween themed spread from her. Especially since she uses pieces from products that aren't geared towards Halloween. (Uses Ready Set Go, Ready Set Go Journaling Cards, Sugarcoated, Pedal Pusher, Luna and Dialogue.)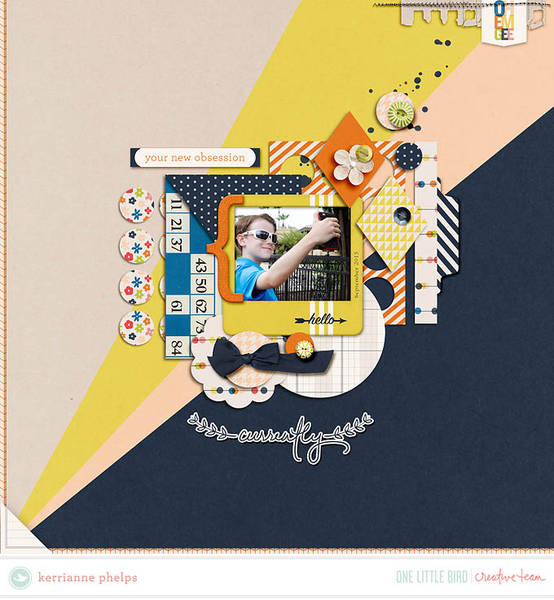 So many fun layers and cutouts on this page by Kerrianne. I'm a little jealous that selfies are her son's new obsession. My son avoids the camera like it's his job! (Uses At the Moment.)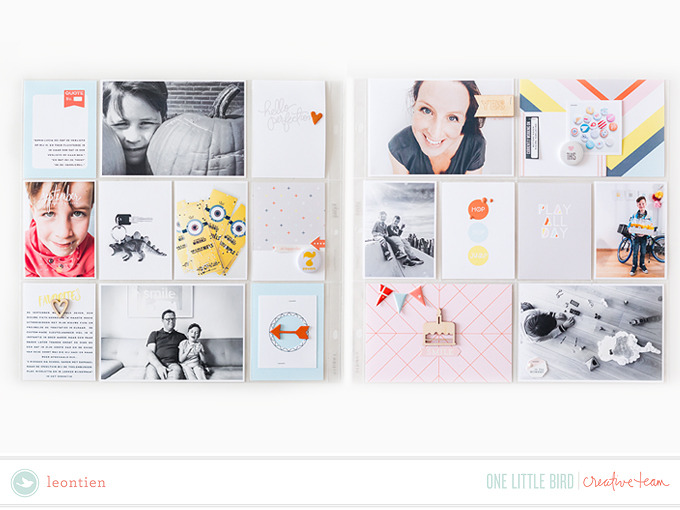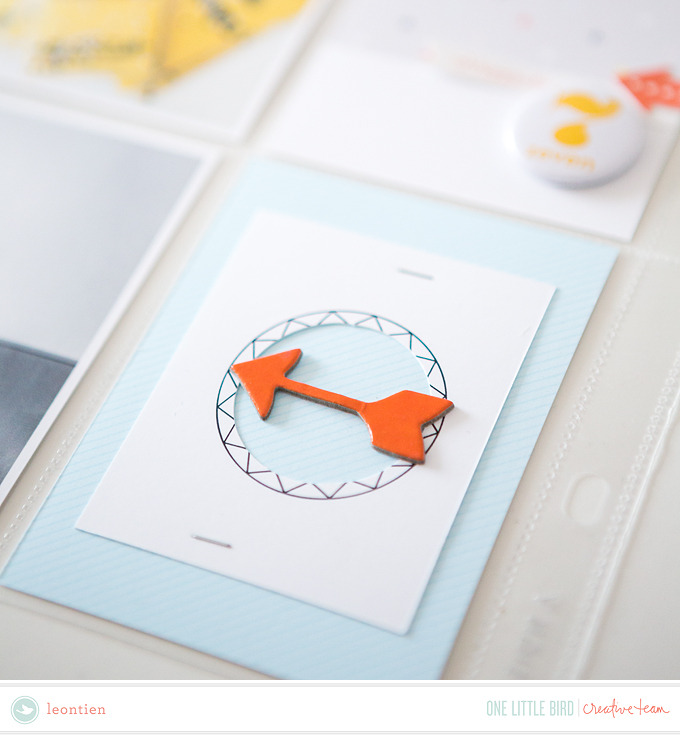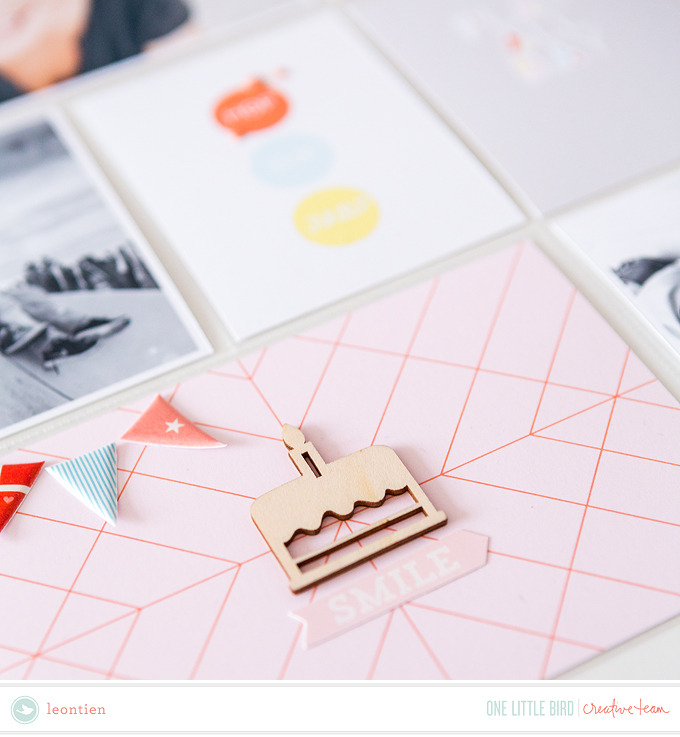 I've absolutely loved watching Leontien branch out into hybrid and pocket page scrapping. She always seems to find the perfect balance between colors, embellishments and white space. And her photography is – of course – always amazing. (Uses mostly Hopscotch journaling cards.)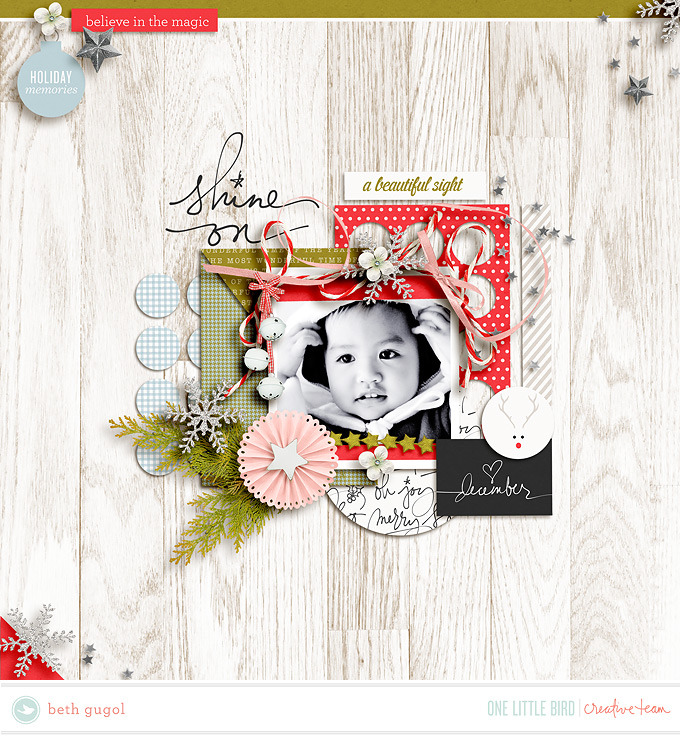 I'm mesmerized by this holiday page from Beth. She creates so much dimension on her pages through masterful shadowing. They're works of art. (Uses There's Something About Merry.)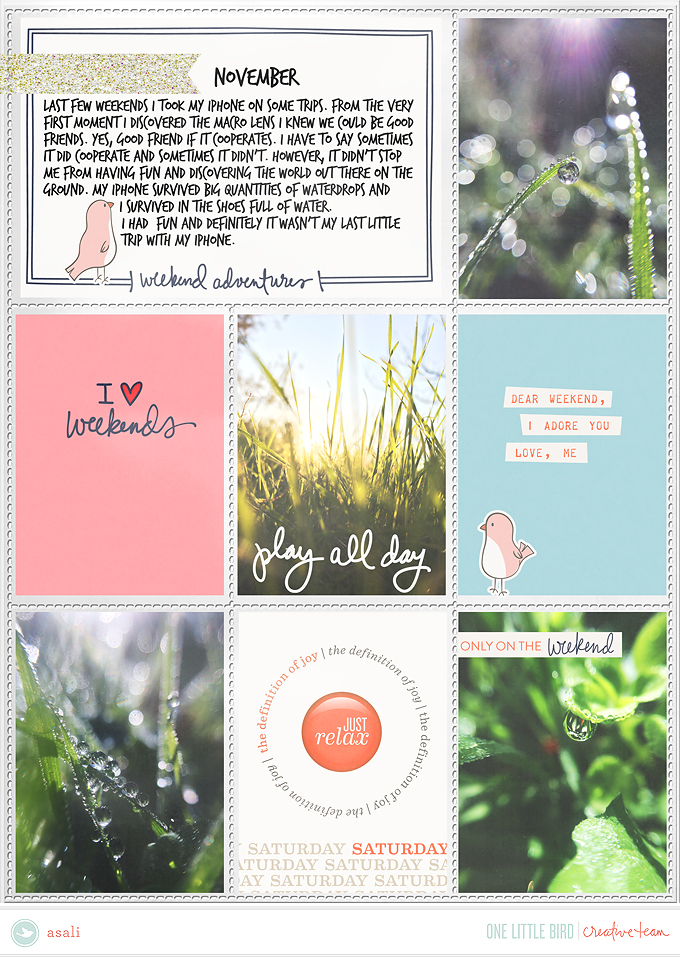 This is such a beautiful series of water droplet shots from Asali – all shot with her iPhone. It makes me want to get a macro lens for mine! (Uses cards from At Week's End and Frolic)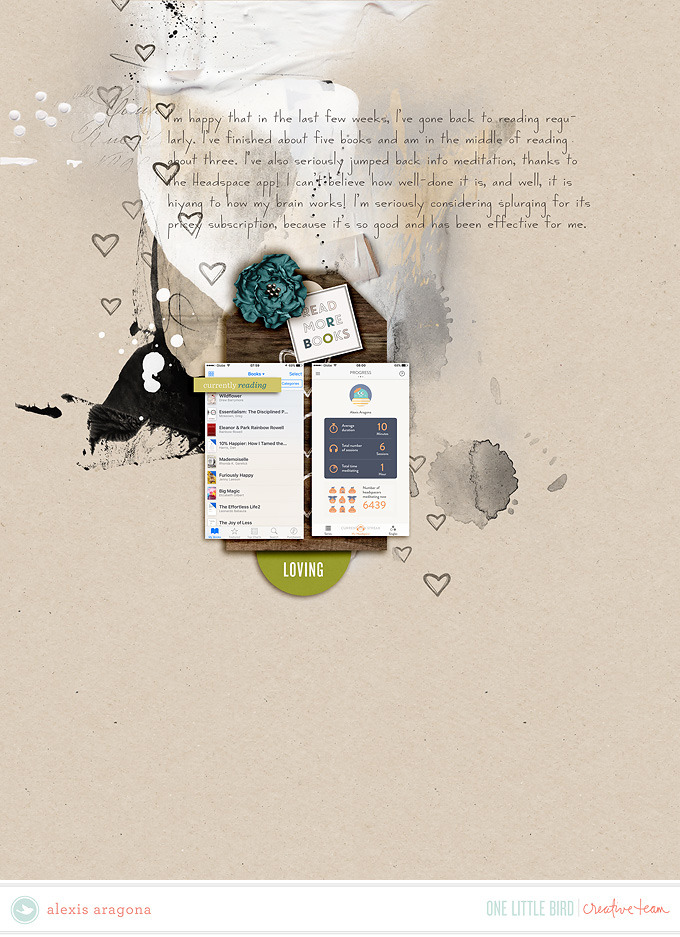 Alexis has been experimenting with art journaling lately, a move that excites me – because I love how it focuses on storytelling. She and I in eerily similar places lately – focusing on incorporating more "self care" into our lives – so I love having this glimpse into how her journey is unfolding. (Uses High Street Stories)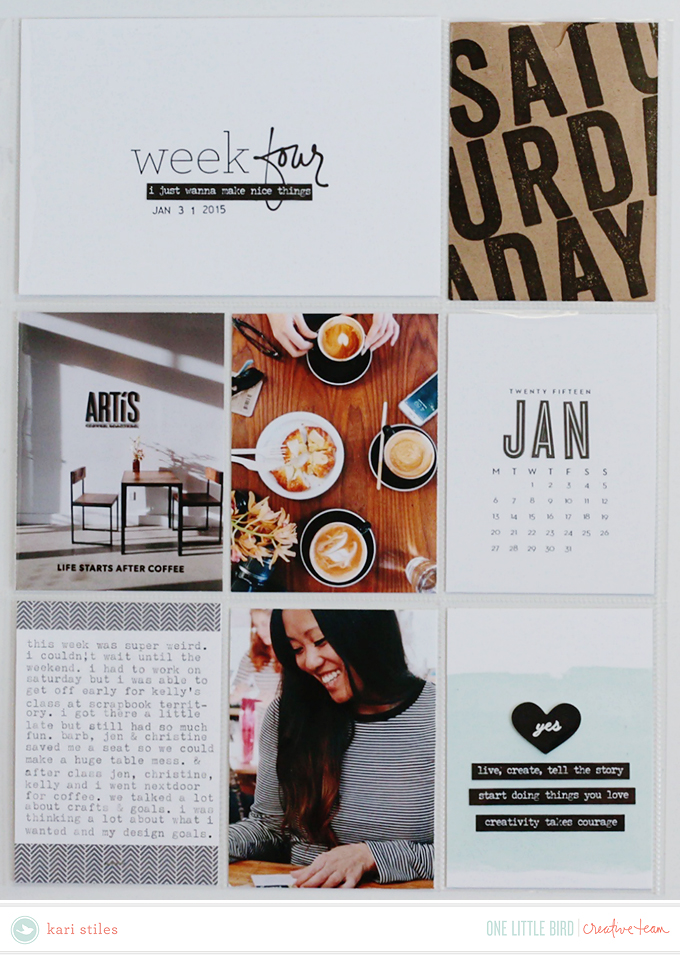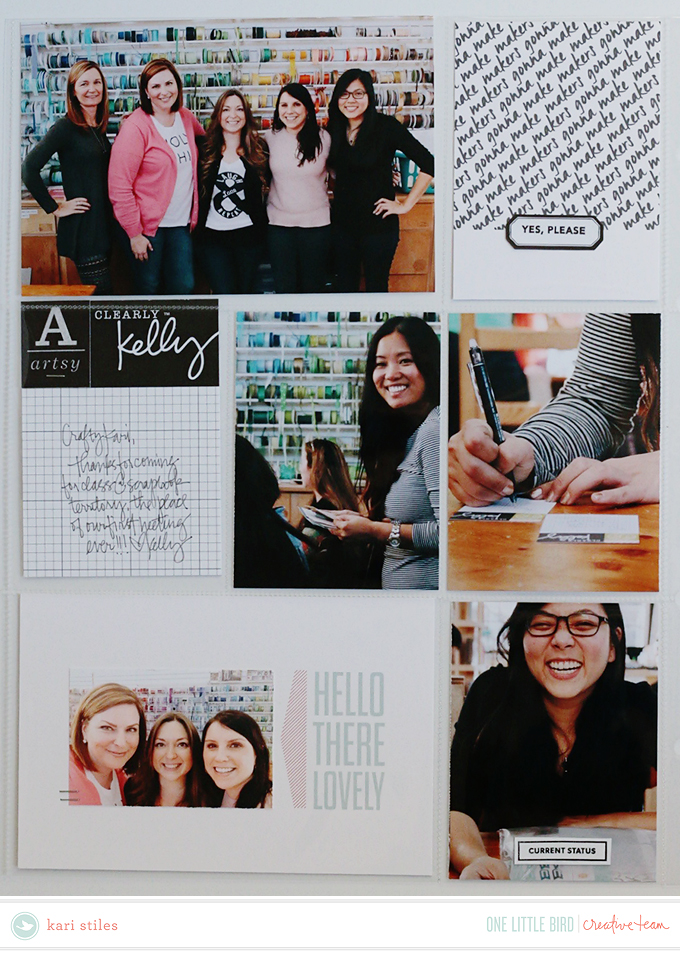 So, I'm a little geeked out over this spread from Kari (who I love) documenting how she attended this workshop taught by Kelly Purkey (who I love) along with Jen Carlson (who I love). It's love, cubed. (Uses cards from Weekly Edition, 2015 Calendar Cards EURO and Artisan.)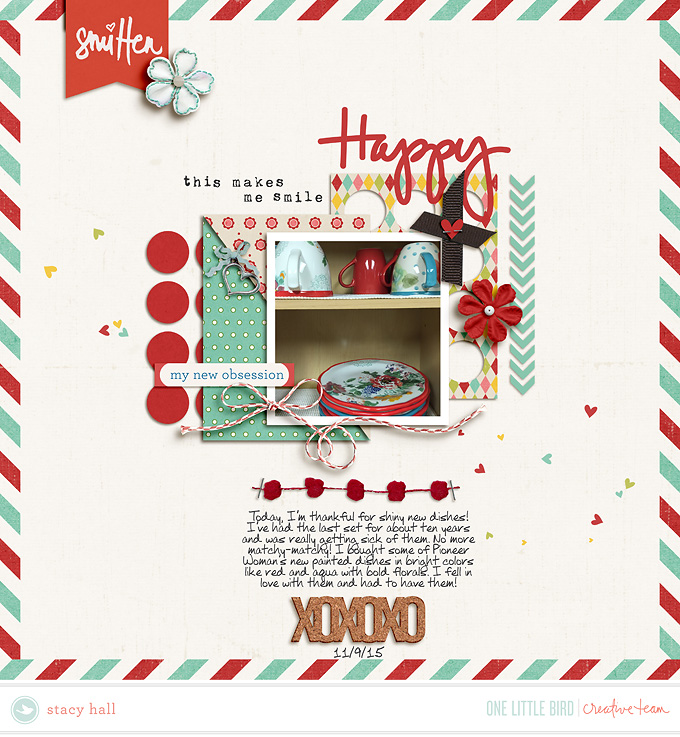 Love this cheerful page documenting Stacy's love for her new dishes. I wasn't surprised at all to see that she chose an eclectic mix of colorful pieces for her table, because it's just soooo her creative personality. Love that about Stacy (Uses mostly Happygram elements and papers.)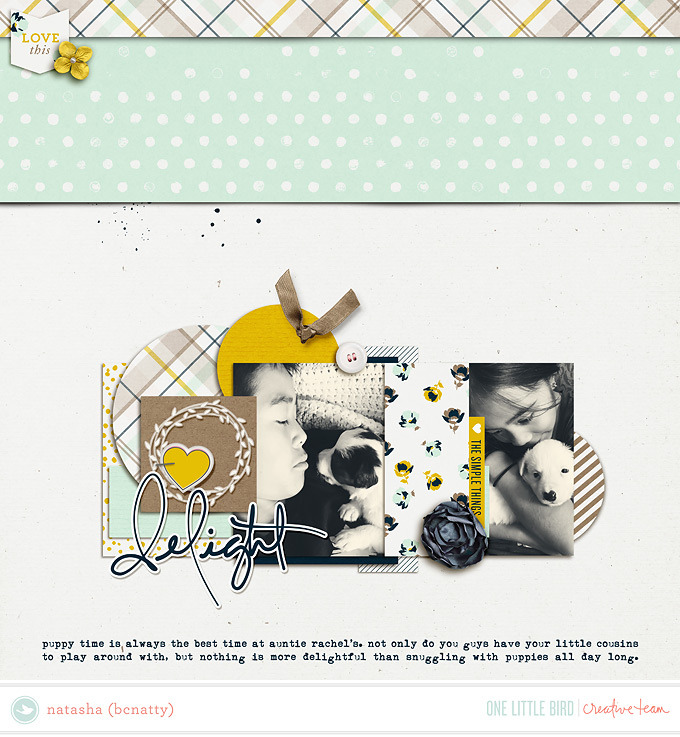 I saved the best for last here, because … PUPPIES, you guys! I love how the black and white candid photos look with this aqua and yellow palette. (Uses Scoop.)
Have a great weekend!