Hey guys!! I can't tell you how excited I am to be here, sharing a few projects I've put together with Peppermint's AWESOME digital supplies. I've got a lot to talk about so let's just jump right in, shall we?
First up, have you checked out the new "Oh What Fun" cards and 6×8 papers? I've got one heck of a stash of Christmas supplies, but the cards in this collection were just SO fun! I was especially in love with the "Happy Merry Everything" and "Hap-Happiest season" designs. I'm playing catch-up with my albums from previous years and wanted to try something different. So I turned my favourite cards into album covers!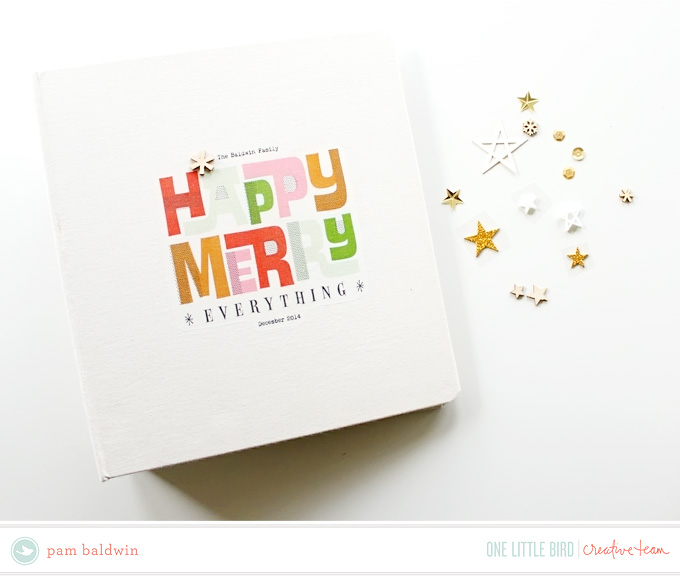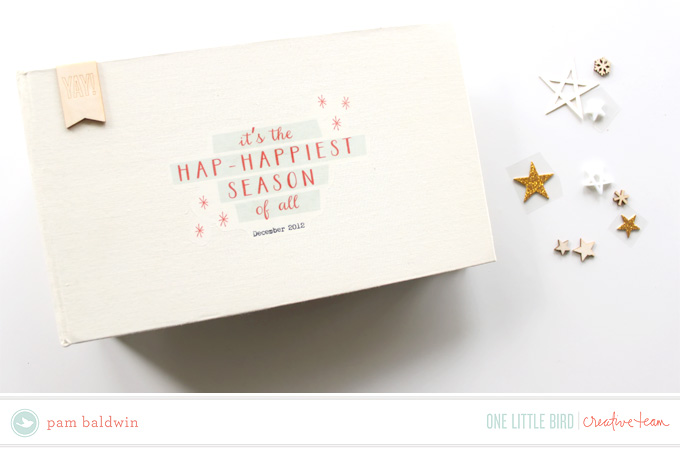 I do pretty much all of my digital work in Photoshop Elements. I started out by enlarging the designs on a new 11 x 8.5 canvas and customizing them with a few details like the date and our family name.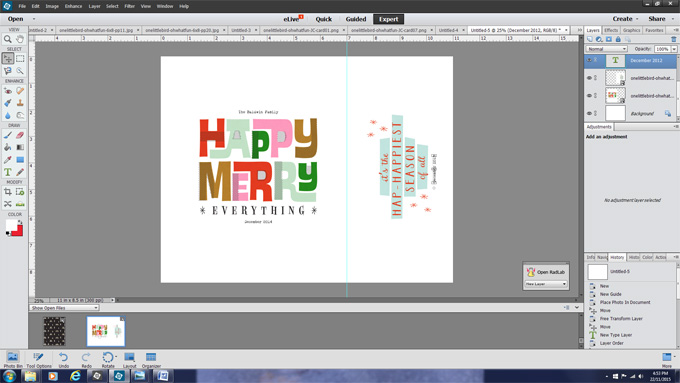 I printed them out onto iron-on transfer paper. (When I selected the paper type from my printing options, it automatically "mirrored" the design for me so it wouldn't be backwards when ironed on).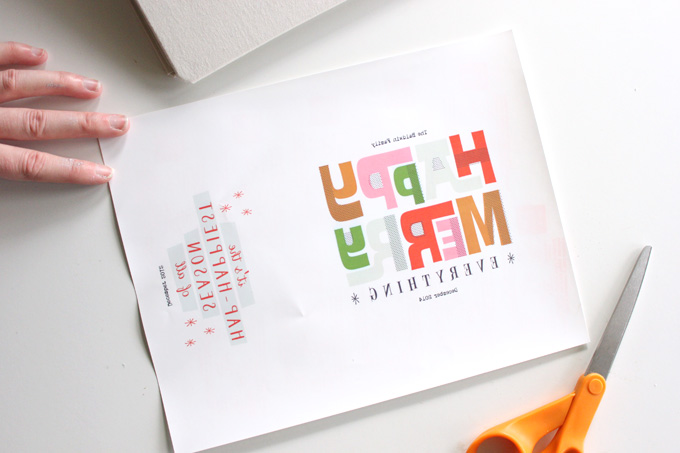 I didn't really have to do anything special to prep my albums. They've already got a linen covering. I ran the iron over it (and it really helped smooth out some of the awkward edges). I trimmed down the designs with scissors, leaving a ¼" border around the outside edges.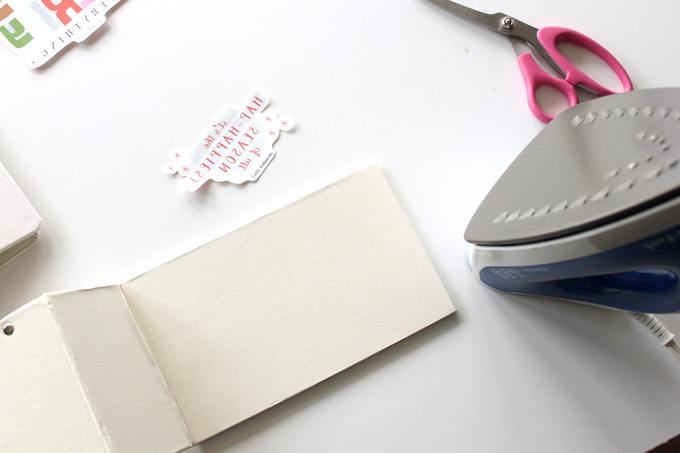 I followed the instructions from the package for ironing down the transfers (making sure there is NO STEAM and applying pretty firm pressure).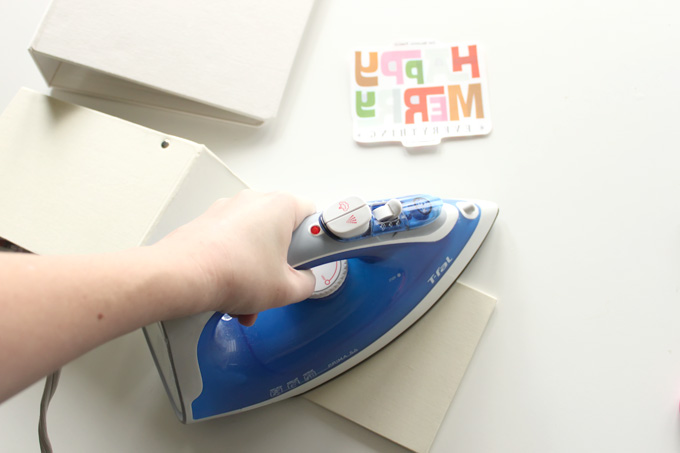 I let the transfers cool for just a few seconds. I did run into a bit of trouble when I attempted to remove the backing in a few spots but was able to correct it by putting the backing in place and running the iron over it a little while longer.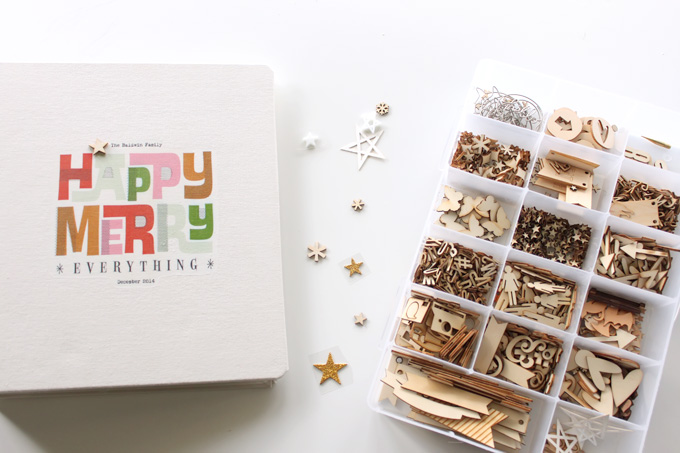 I picked a few simple wood veneer embellishments from my stash to give just a bit more dimension.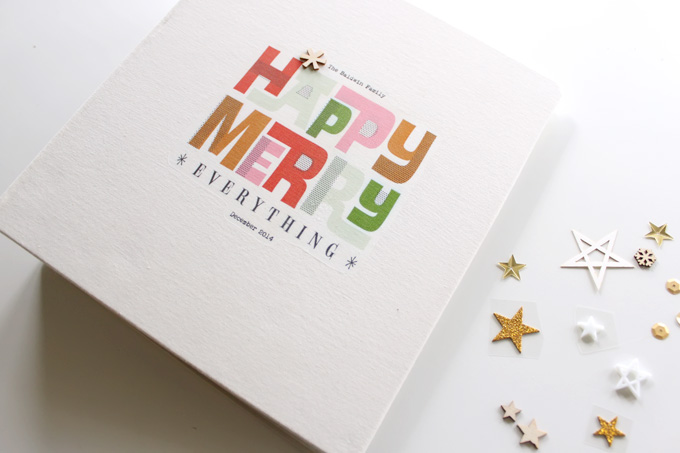 I love how they turned out!!! I'm so happy to have my very own customized One Little Bird December albums. I've got a goal to get my 2014 album wrapped up before the end of November, and I'll be posting the updates on my blog. (I've got lots of Peppermint's December Daily mini-kit digital elements in the first five days too :)
My second project is a "Pinspired" hybrid layout.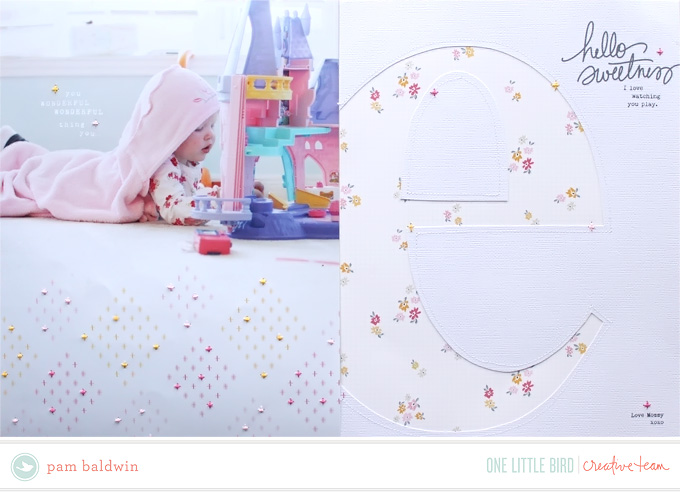 I love heading over to Pinterest and soaking up all the beautiful imagery. The pieces I find most visually inspiring are usually examples of editorial designs that fit my preference for big photos, clean lines and simple design aesthetic.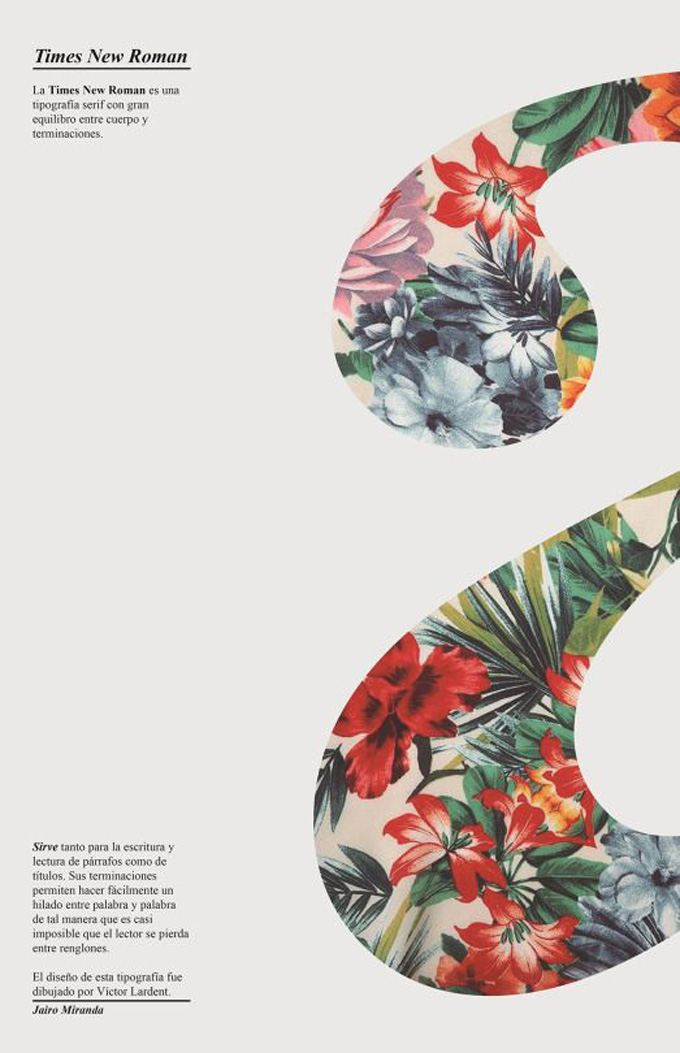 This is an image I've got hanging out in my "layout inspiration" board that just makes me happy. And it's the inspiration behind my hybrid layout. I love that big giant "a" with the bold floral pattern just peeking out from the edge of the page.
So that's what I used as my jumping off point. My process pretty much always starts in Photoshop Elements. Here, I've created a 17 x 11 canvas (sized for 2-8.5 x 11 pages) and started playing with my design idea. Big photo on the left with digital stamps from the Sugar Coated collection. Big letter on the right with a lovely floral patterned paper (also from the Sugar Coated collection) masked inside the letter.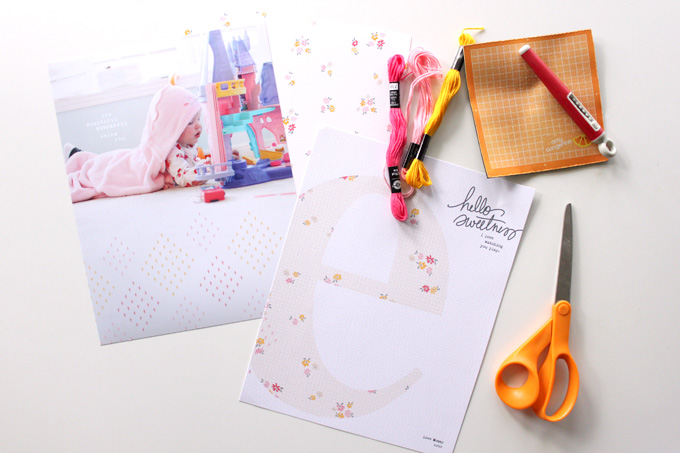 Once I've got my layout looking pretty much the way I want it to, I print out the pieces to bring it all together. Different types of paper for different elements. The photo is on glossy photo paper, the journaling is on white cardstock, and the patterned paper has been printed on matte photo paper.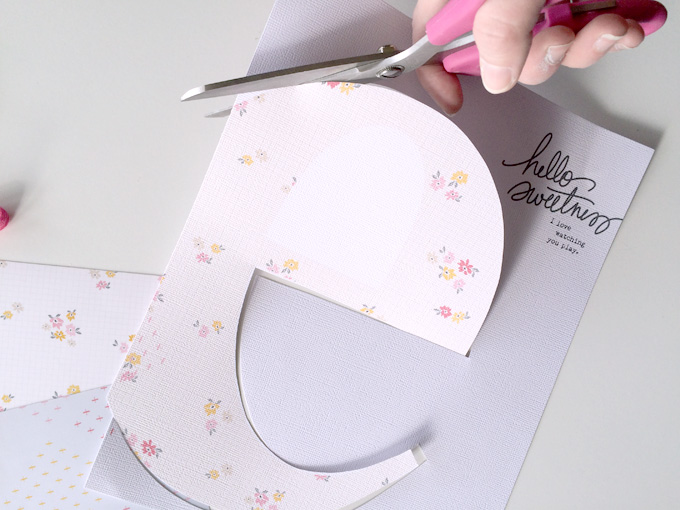 Using digital designs doesn't mean there can't be a little dimension in your hybrid projects. I decided to cut out the big "e" and back it with the patterned paper and a bit of stitching. No special electronic cutters required! I just used a pair of scissors to cut it out.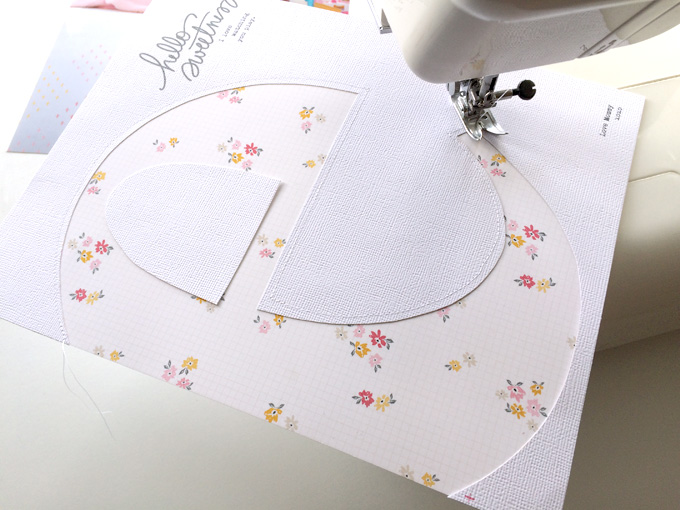 Attached the patterned paper backing, and ran it through my machine.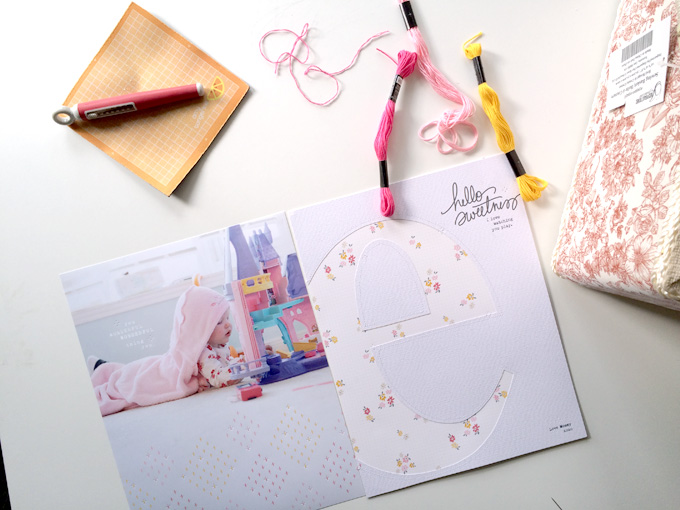 Another fun way to add a bit of dimension to your hybrid projects is with stitching. I loved the look of the stitched digital stamps from the Sugar Coated collection on the bottom of my enlarged photo. I decided to take it a step further and include a few random stitches with co-ordinating coloured embroidery floss.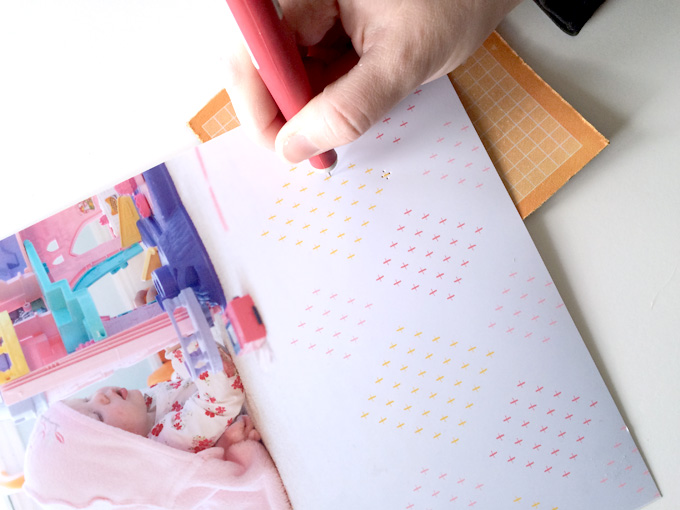 I used a paper piercer to poke holes where I wanted the stitches to go.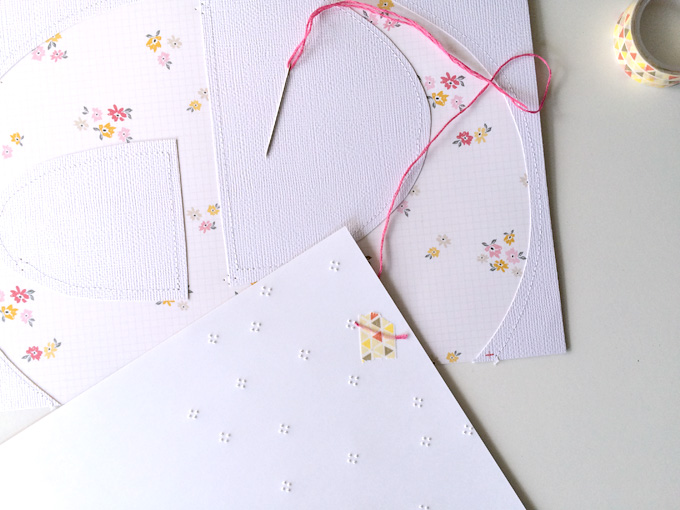 I used a small piece of washi tape to hold the embroidery floss in place on the back of the photo.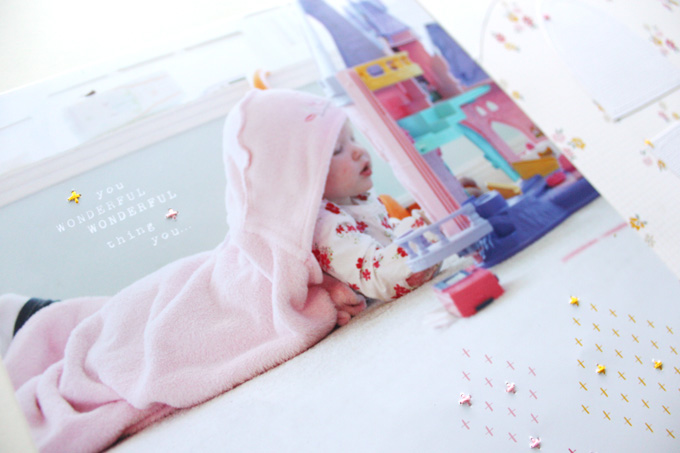 I added a few additional random stitches to draw attention to the digital stamp on the photo.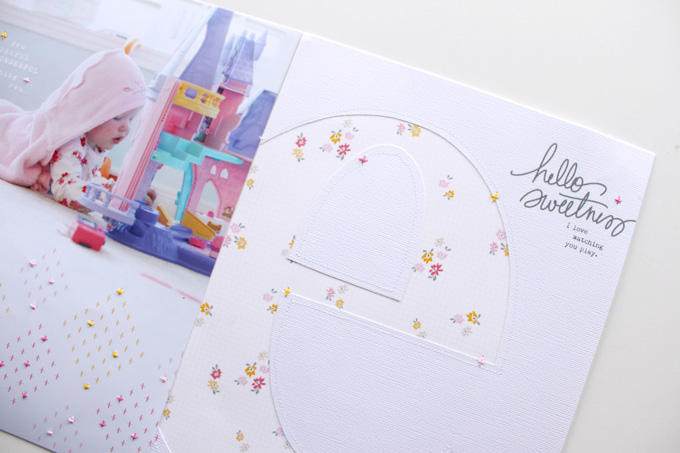 And a few more on the second page to bring it all together. This layout came together really quickly! The longest part for me is always the initial design.
My last project is a Project Life style spread that came together with the Honey Crisp Journaling cards, paper pack and embellishments.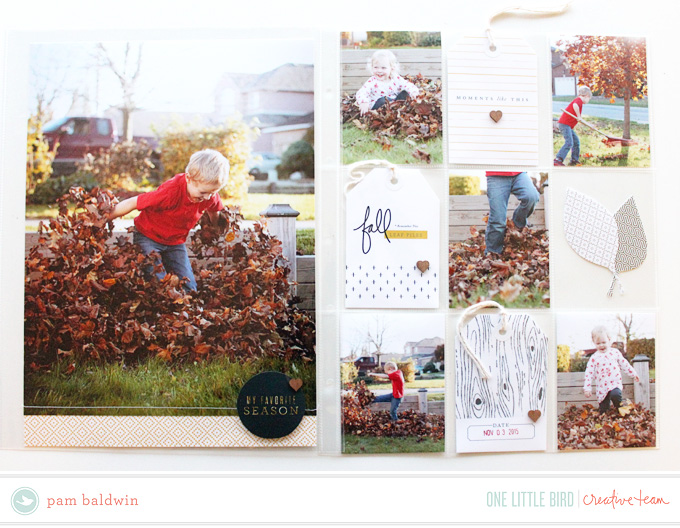 My PL album this year is a mix of layouts and pocket pages and all different sizes (in a 12×12 album). This spread is two 9×12 pages, one full page photo and a page of 9 3×4 pockets.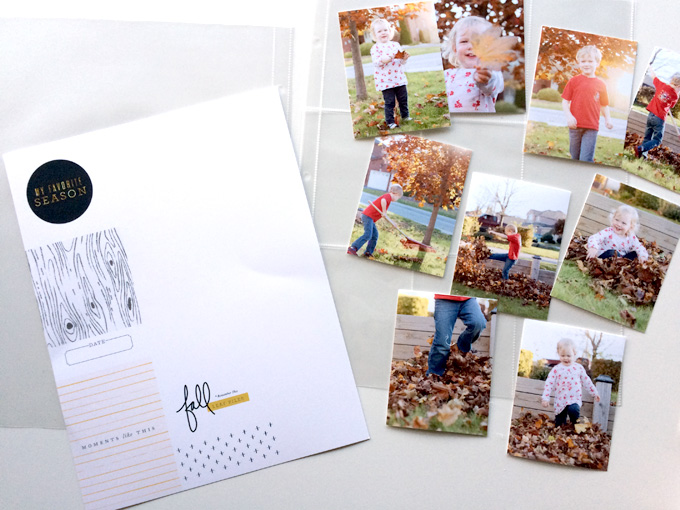 I started with a little pile of 3×4 photos, all from the same day. We've had some pretty amazing November weather this year! I hope I always remember racing home from school with the kids so we could make leaf piles on the front lawn. We played out there for at least 2 hours, enjoying the sun, taking pictures and having so much fun together.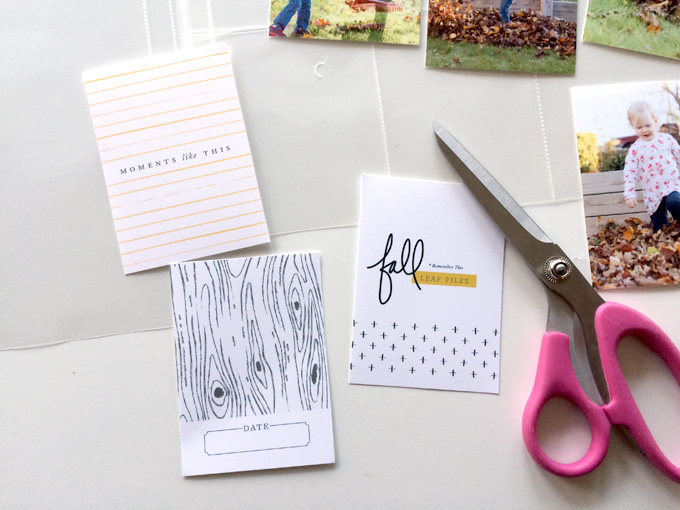 I also selected some of my favourite journaling cards and played with the digital stamps and elements (all from the Honey Crisp collection) to piece things together. I printed them on an 8.5×11 sheet of matte photo paper and cut them out.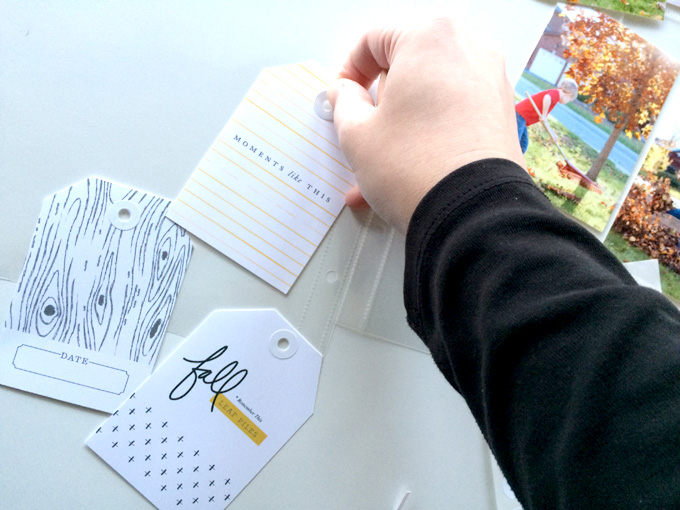 One of my favourite things to do with my 3×4 cards right now is to turn them into tags. Seeing those little tags tucked into pockets adds more fun and visual interest to the overall page for me.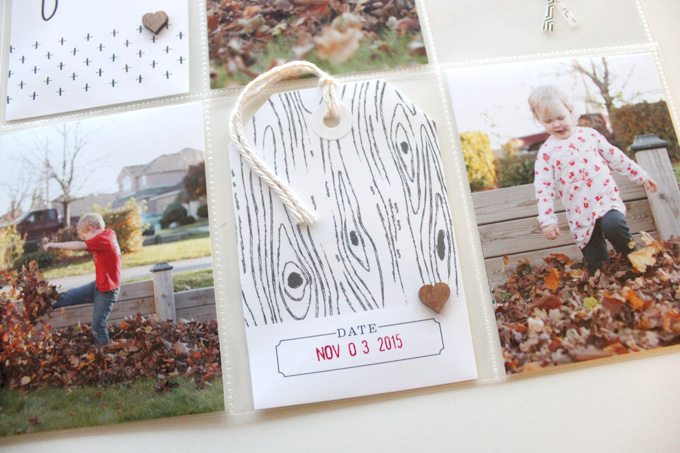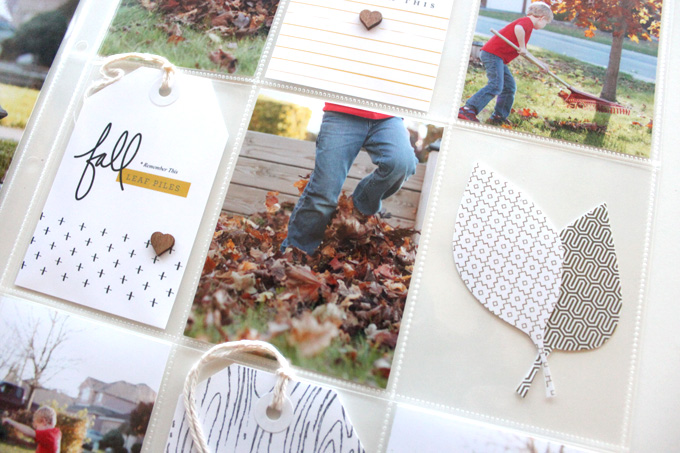 Those leaves are hand cut from some of the lovely patterned papers included in the Honey Crisp collection.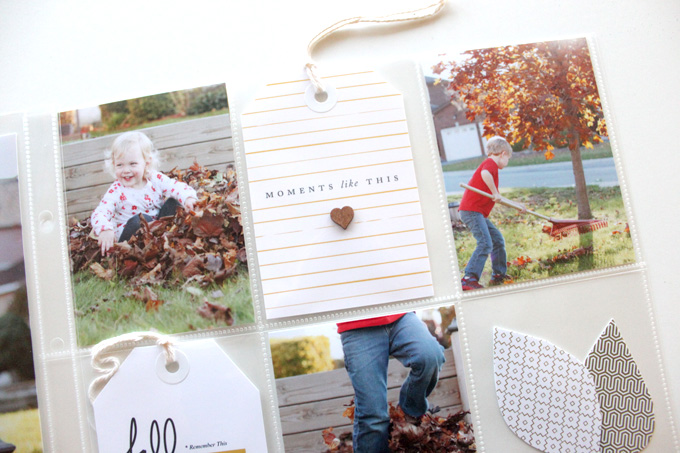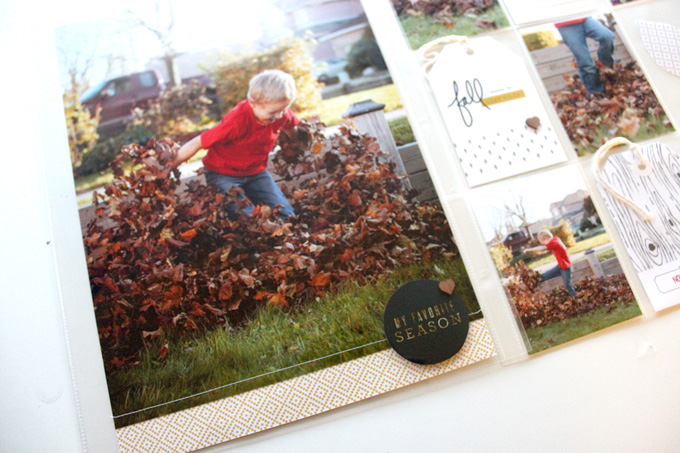 The left side of my spread is a big photo (8.5 x 11) with a strip of patterned paper (from the Sugar Coated collection) stitched to the bottom, and a cut-out embellishment. I think this spread will look great in my album. :)
I hope these projects have offered you some inspiration and new ideas! Please feel free to leave a comment with your questions and I'll get back to you. Thank you so much!
[one_third last="no" class="" id=""]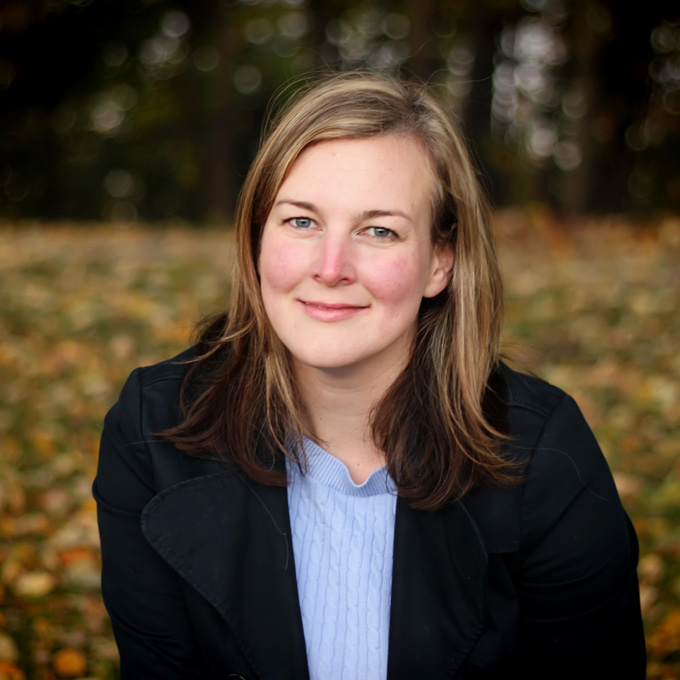 Blog | Instagram | Gallery
[/one_third]
About Pam
Hello! I'm Pam Baldwin. I dabble in lots of different things from day to day, working in my role as a nurse, hanging out with my munchkins and doing the "mom" thing, and telling our family's stories with photos and pretty paper. I've been so unbelievably lucky this year to get to be a part of Ali Edwards' Digital Creative Team and teaching my very first online class with Big Picture Classes. If you'd like to keep up-to-date(ish) with what I'm working on, swing by my blog, check out my Instagram, or take a peek in my gallery at Studio Calico. Thank you so much!