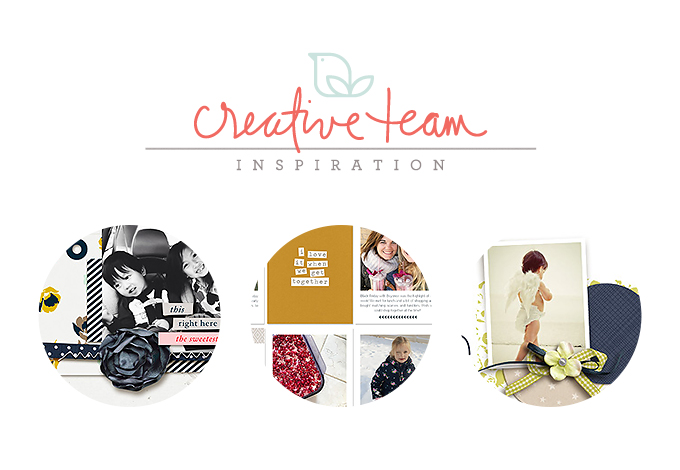 It's hard for me to believe that the year is drawing to a close already. As always, these last couple days of the year are a little bittersweet. On the one hand I'm enthusiastically making plans and setting goals for next year – eagerly awaiting the clean slate. On the other I can't help but notice how quickly the years are going by. It makes me all the more grateful for the moments I have documented. Today I'm sharing the last group of projects for the year from the Creative Team – their lives, captured. I'm hoping you'll find plenty of inspiration in here. I also want to wish you a happy HAPPY new year! 2016, here we come.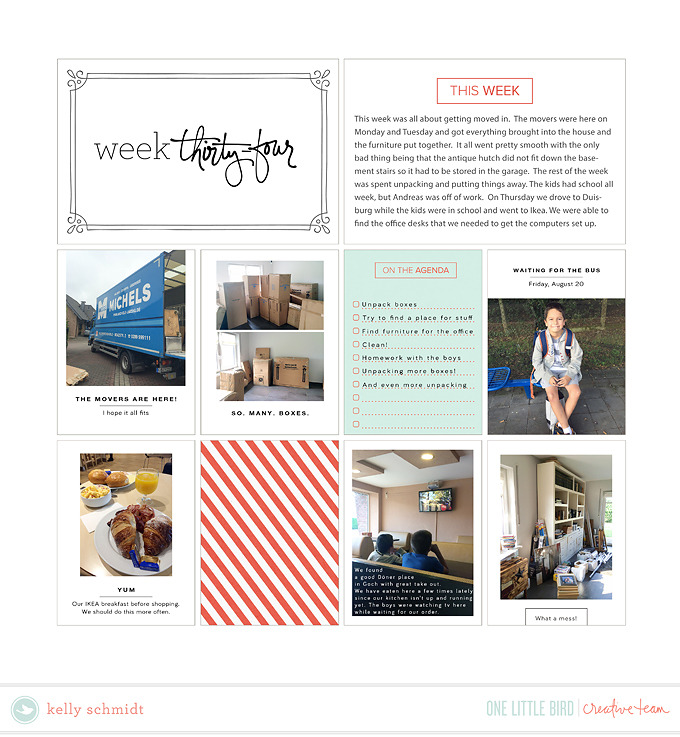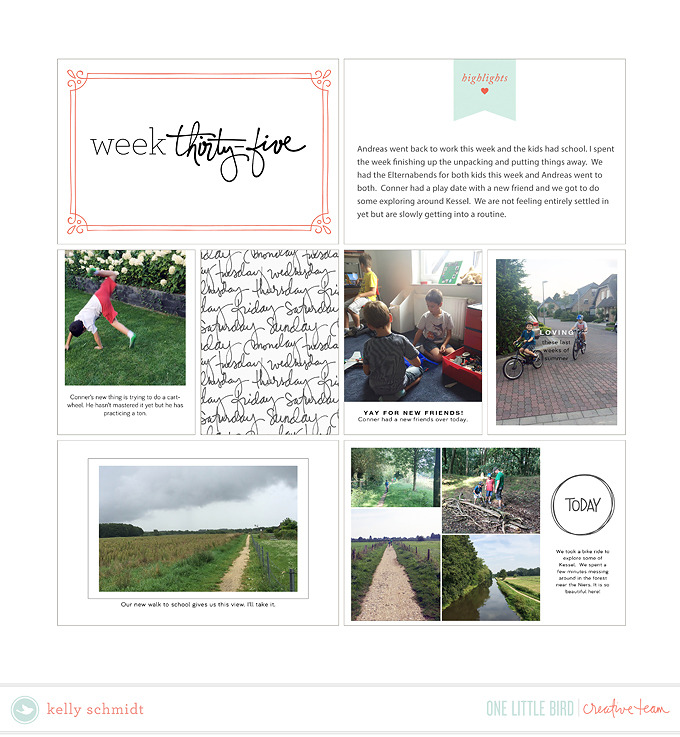 Kelly's subtle use of color on this two page spread is divine. I love how she always manages to incorporate a place for your eyes to rest in her pocket pages. (Uses Agenda and the Agenda Journaling Cards.)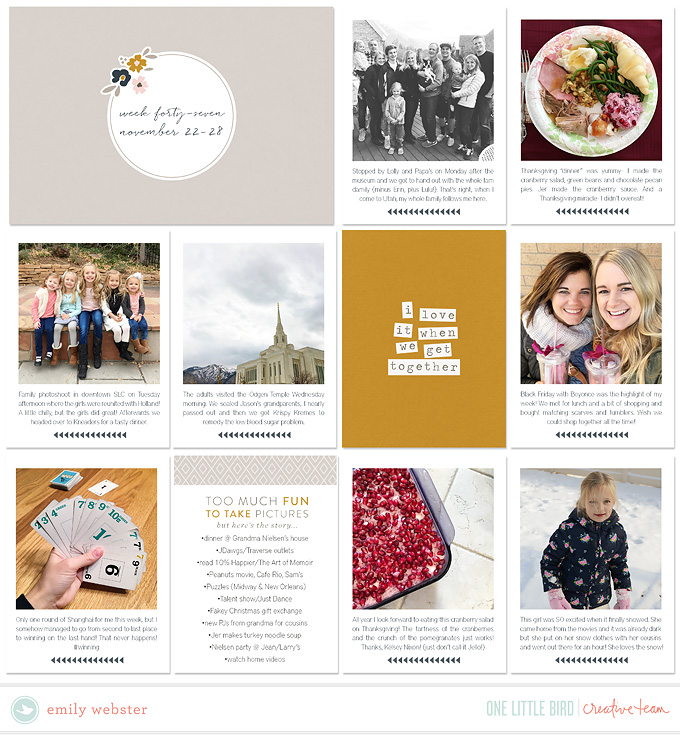 I can't help but admire when someone manages to get all of their photos to coordinate so nicely. Emily really utilized the common mustard yellow and cranberry red in her photos and chose her journaling cards accordingly. Love her eye for color. (Uses Better Together Journaling Cards and the Better Together kit.)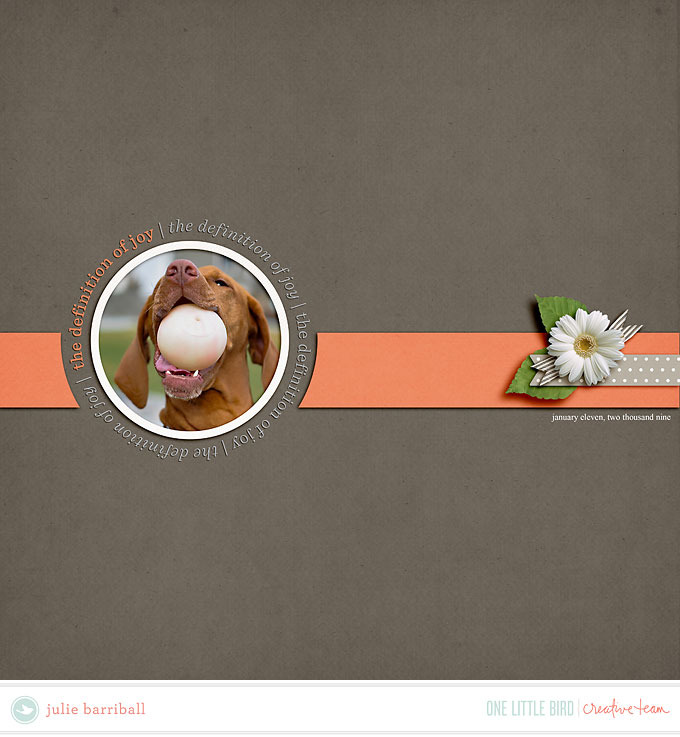 Think it's awesome how Julie worked with that word art circle on her page. I love a good circle photo. (Word art is from Frolic + an assortment from various kits)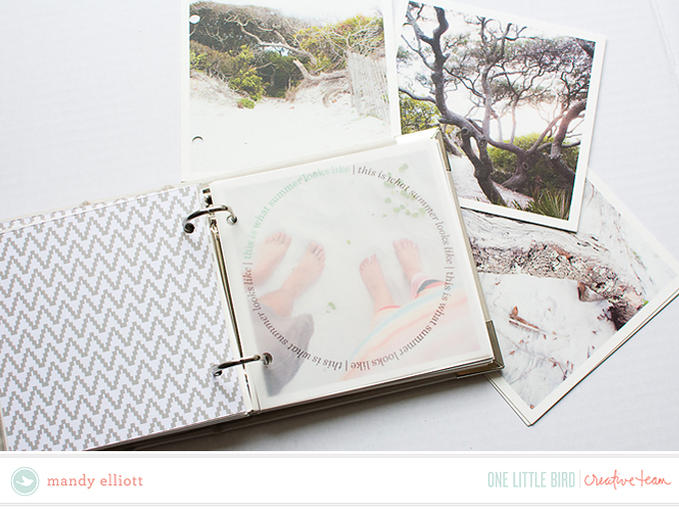 Sometimes I like to group these layouts according to a common theme/technique, and I thought it was so cool that Mandy also used one of the circular pieces of word art (this one is from Cabana) to frame a photo this month, but she printed hers on vellum and uses it as an overlay. Love this soft, ethereal effect.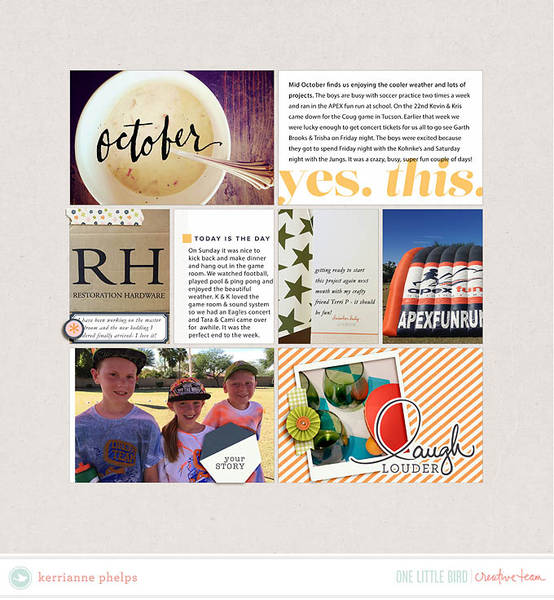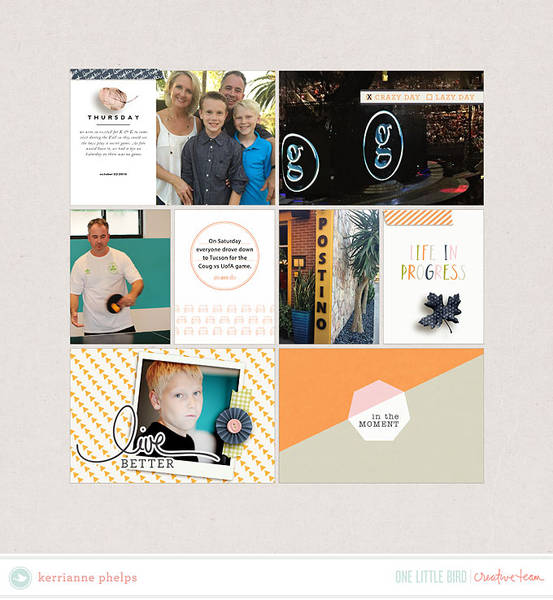 Kerrianne is one of the digital pocket scrappers on the team – she's returning again next year – and what I love about her approach is how she shrinks her grids down and uses a solid paper "mat" to keep her pages from seeming too cluttered or busy. She's planning to experiment with some different page sizes in 2016, and this technique of her allows her to adapt to various sizes and orientations without having to alter the supplies themselves. (Uses cards from The Story Unfolds and Ready Set Go, plus a few elements from The Love List.)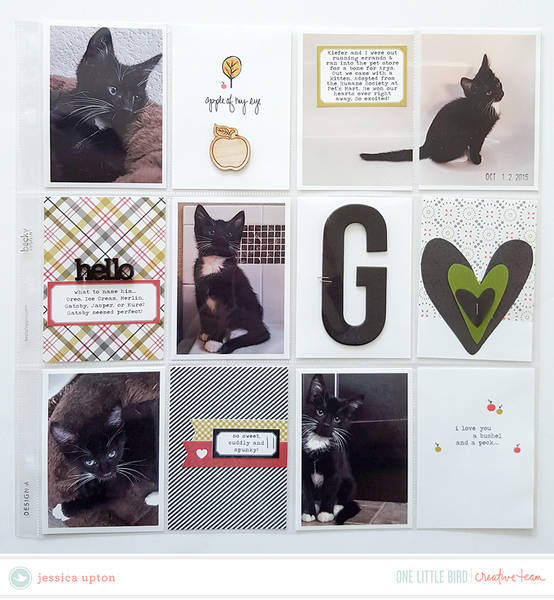 Jessica had me at "kitten!". Love her page about the newest addition to their family. I think the most obvious take-away here is that it just makes good sense to get neutral colored pets – they go with everything. (Uses Honeycrisp Journaling Cards.)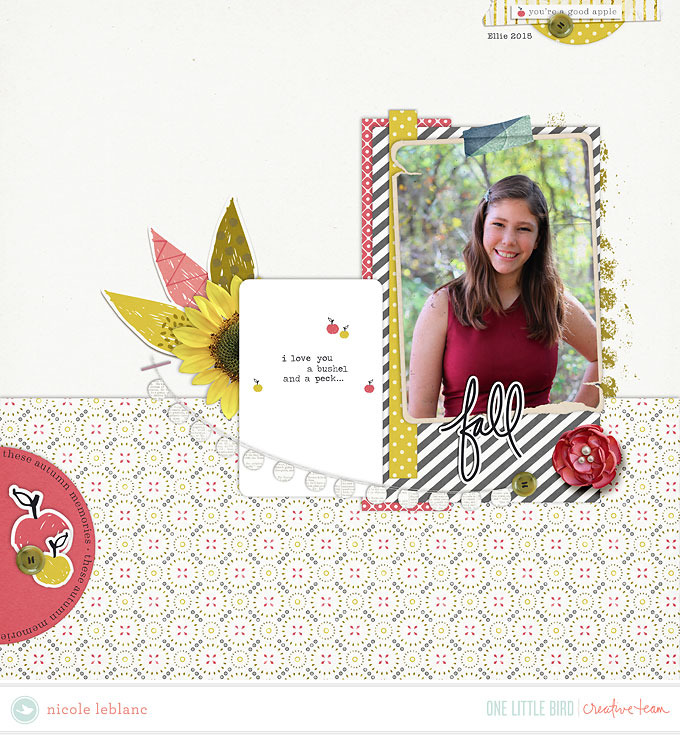 Another project with Honeycrisp, this time using mostly the digital kit. Love Nicole's mix of patterned papers here.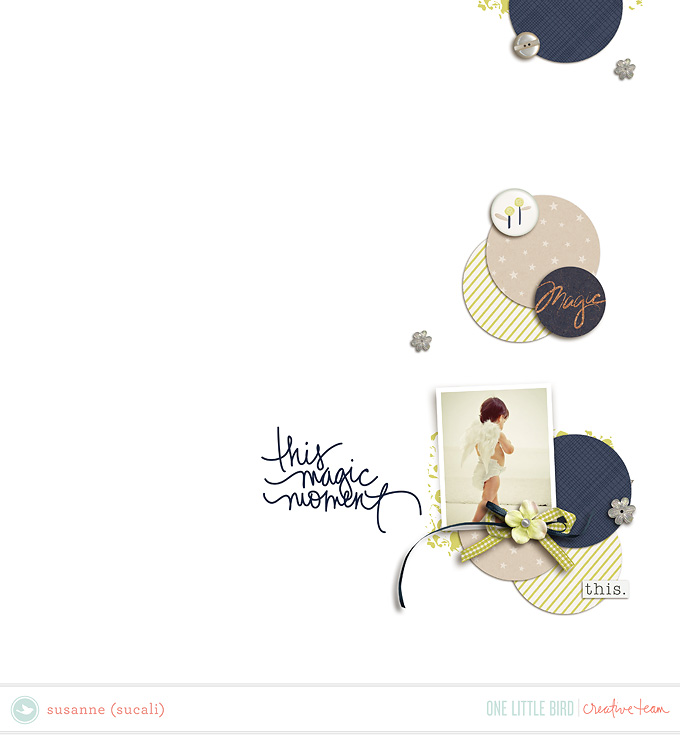 These falling, random circles on Susanne's page create such a light and magical effect. It's a great example of matching composition to subject matter. (Uses This Magic Moment.)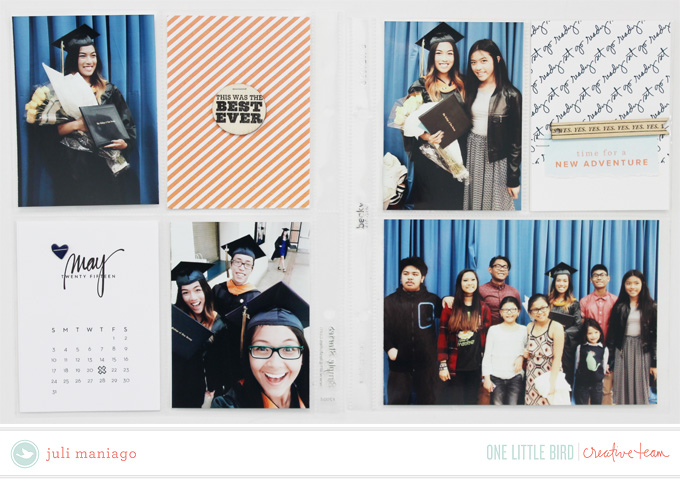 Love Juli's use of a collection that was very travel oriented to document her graduation. I always hope that you all will see so much potential in the products beyond what may be the more obvious theme, and find ways to incorporate them in unique ways. (Uses Ready Set Go journaling cards and 2015 Calendar Cards.)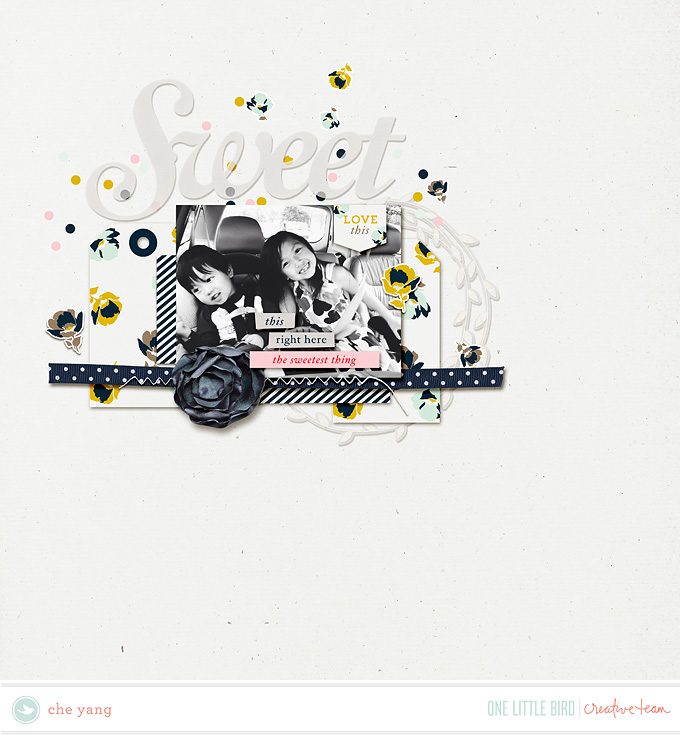 I feel like Che always creates such amazing motion and MAGIC on her pages, and she manages to make digital look so touchable. This page took my breath away. (Uses Scoop)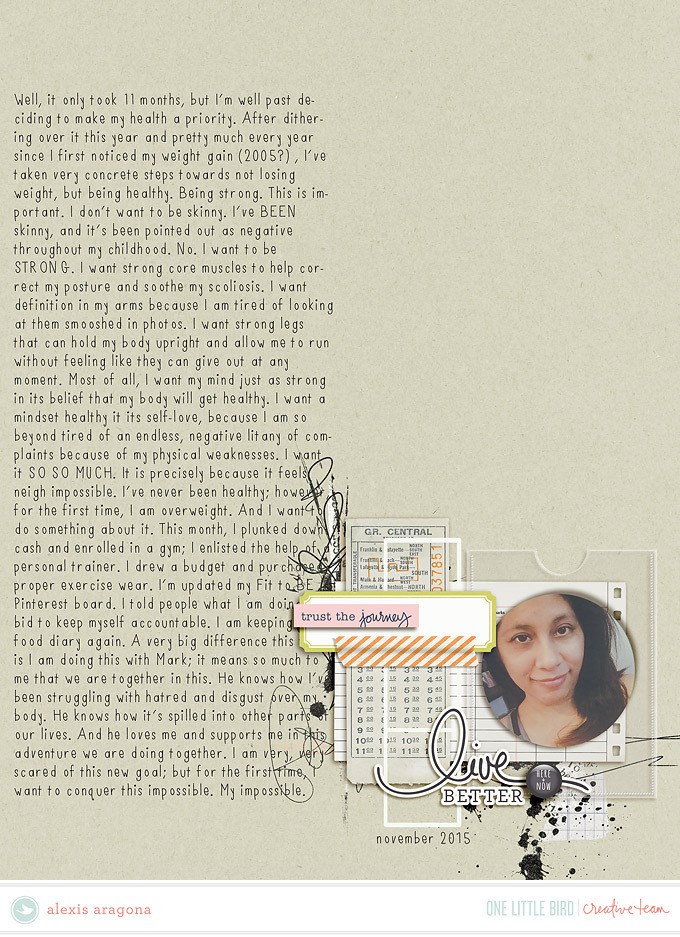 Alexis' art journaling approach to memory keeping is a favorite of mine. I love stories on a page, especially personal ones – even when it's a story that touches on fear and struggle. They're good touchstones to look back on. (Uses The Story Unfolds.)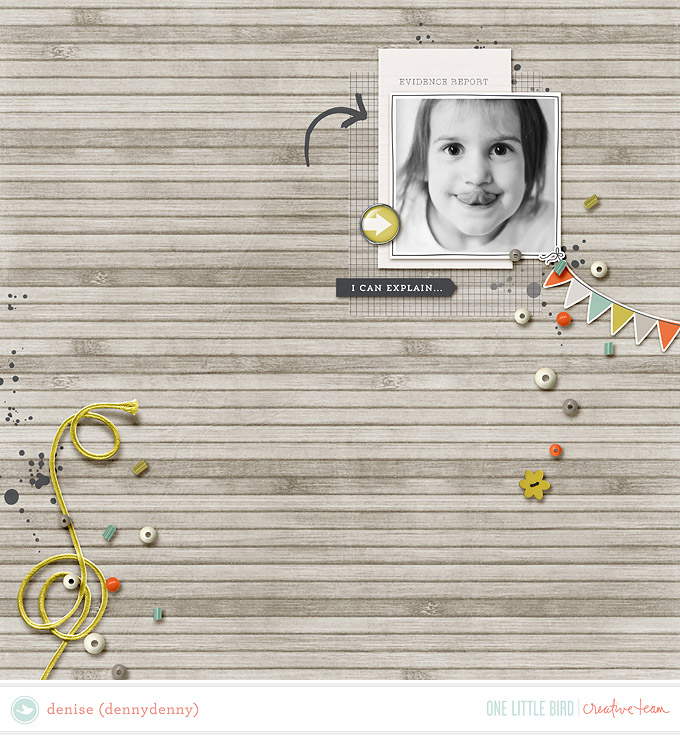 This photo made me smile immediately. Love that Denise captured this mischievous little face on film. (Uses Troublemaker.)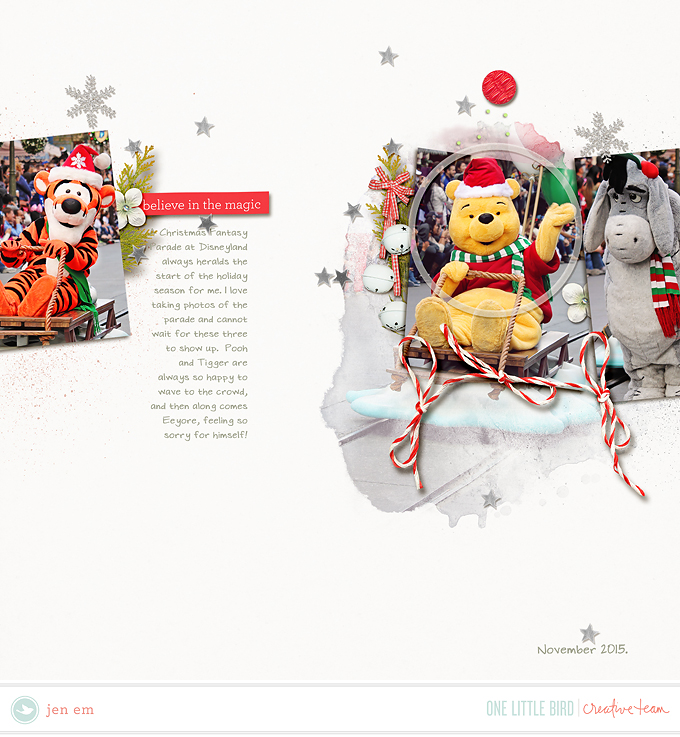 Eek! Disneyland holiday parade photos! One of my favorite parts of this page by Jen is how she blended that middle photo into the watercolor paint in the background, as well. Such an awesome effect! (Uses There's Something About Merry.)