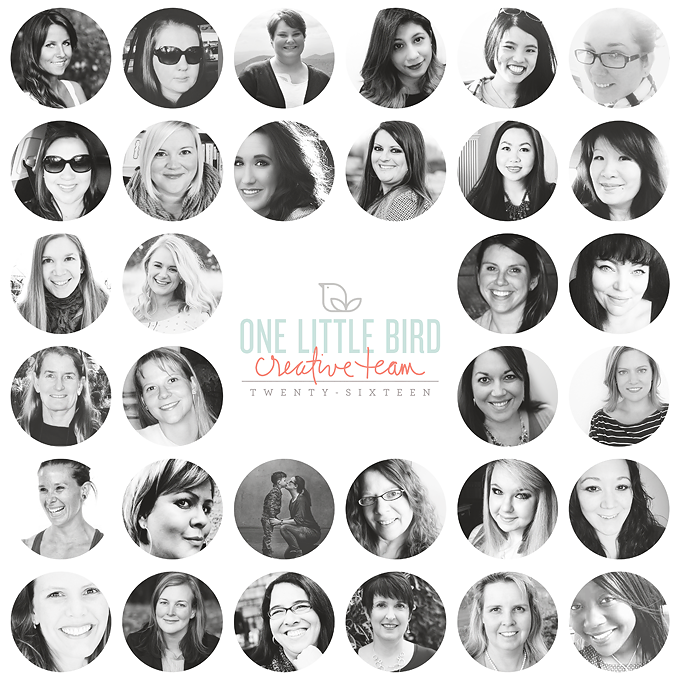 I'm beyond thrilled to be able to introduce you to this wonderful group of memory keepers who will be sharing their One Little Bird projects with you all in 2016. You may recognize quite a few familiar faces here as we welcome back a large group of "alumni" team members and former guests – all in all we have 16 returning members of the digital team and 4 returning hybrid team members. I'm feel so fortunate to have the opportunity to spend another year with these talented women.
New this year, we're welcoming Alex Hunter, Candace Perkins and Céline Navarro to the blog team along with Amelia Ng (returning for 2016!).  To the hybrid team you may recognize former blog guests Beshka Kueser, Brandi Kincaid, Janine Langer, and Pam Baldwin. And we're also welcoming a couple of "new to us" artists – Kelsey McEvoy and Kelly Noel.
I hope that you will find their projects infinitely inspiring in the year ahead, and that they will fuel your creativity as you work on documenting your story in 2016 – whether you consider yourself a digital, hybrid or pocket page artist (or a little of all three). You can find more information – including the links to each team member's blog and/or social media channels – on the Creative Team Page.