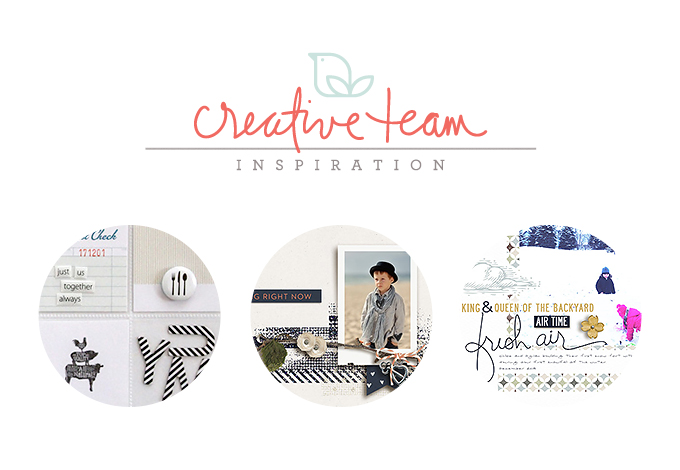 As we near the end of January (already?!) I wanted to share a gallery of fresh inspiration from the 2016 Creative Team. All of these projects were made using products of their choosing, which I love because it reacquaints me with products that have been in the shop for a little while – sometimes for a LONG while, which is always fun, too! I've been busy the past couple of weeks traveling (to the CHA Mega Show + Disneyland) and making plans for my own albums in the coming year. New projects from the creative team always kicks my creativity into high gear. They're so inspiring!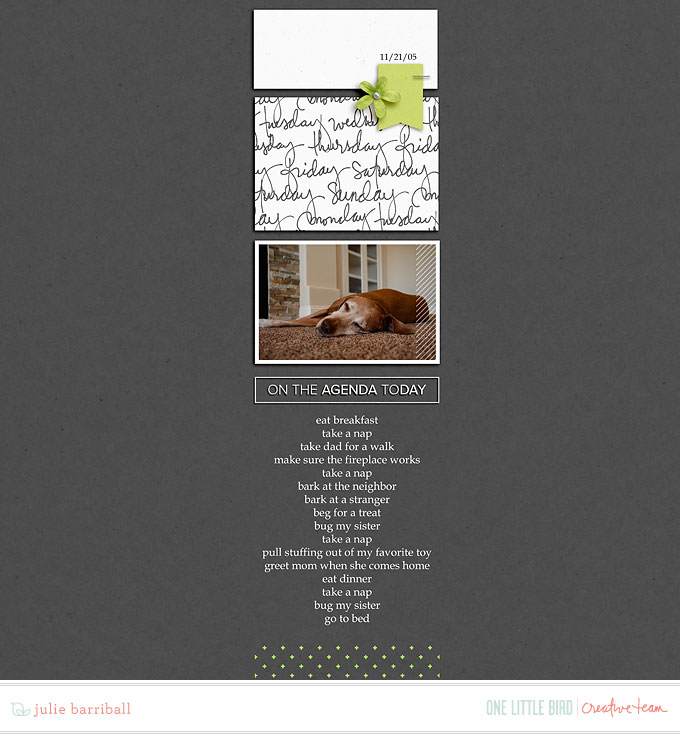 This page from Julie reminds me how I always of wish my schedule included as many naps as Roxy's. Her daily agenda from a dog's perspective made me laugh when I saw it, and also makes me want to create a similar page for my cats documenting their ever-so-stressful daily routine. (Uses Agenda)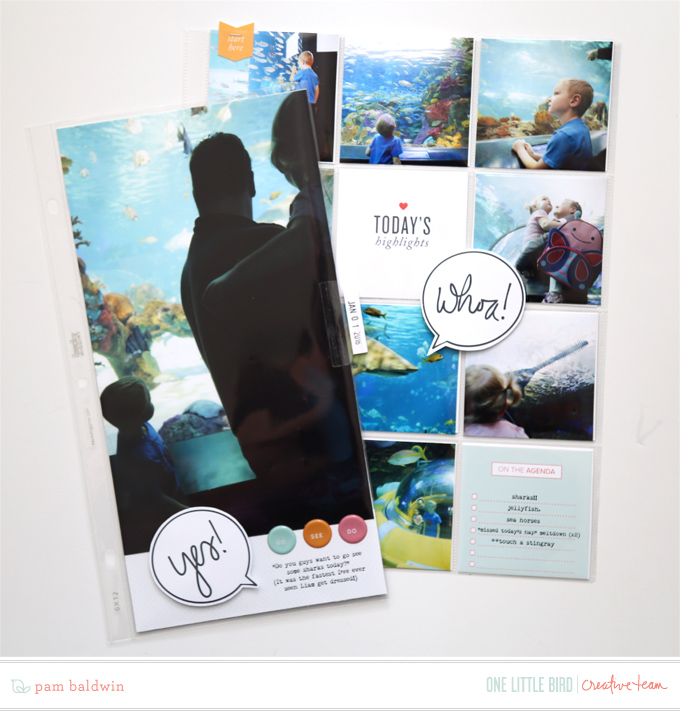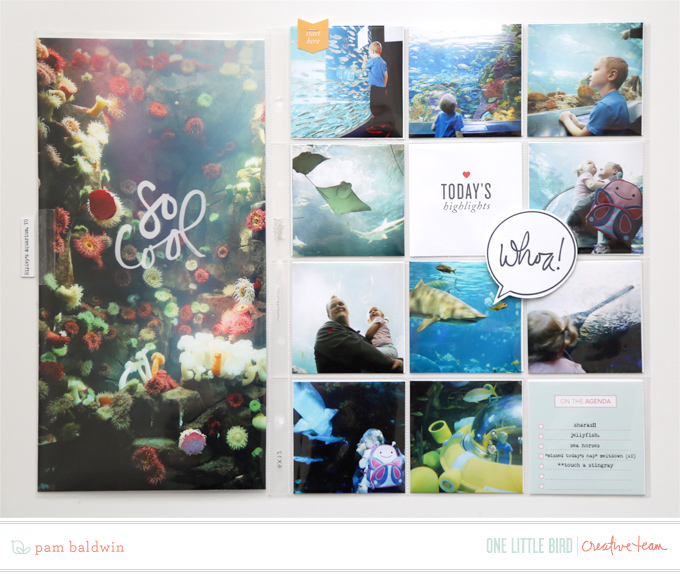 I am loving Pam's mix of insert sizes! I started doing this, myself, in my album last year and quickly fell in love with the variety and the limitless possibilities. Also love how she includes that speech bubble outside the pockets. Little touches like that add such personality to a page. (Uses Agenda + Agenda Journaling Cards, and the "So Cool" is from Scoop)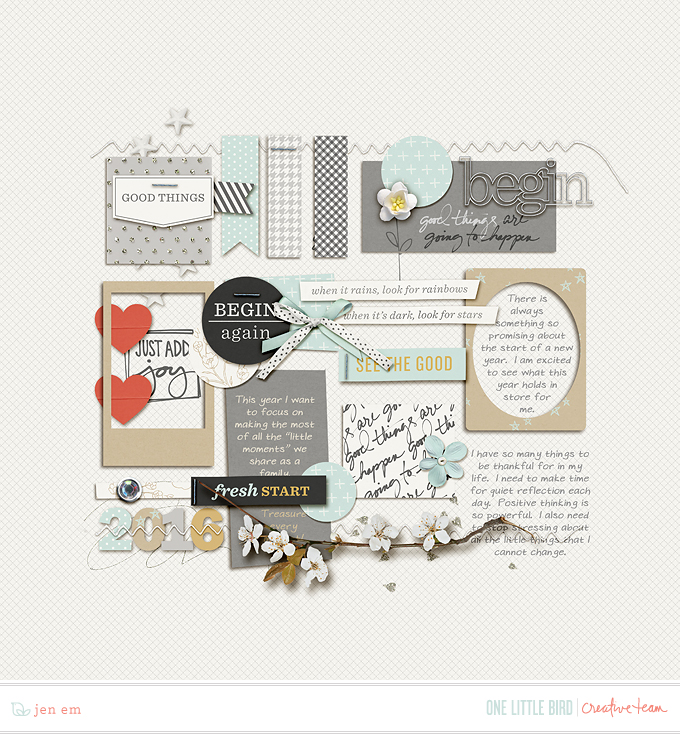 I've talked a lot about how these New Year's pages are some of my favorite. I love reading through people's hopes and dreams for the year ahead. January is one of those months that always seems to be overflowing with optimism, which is why it's one of my faves. (Uses Silver Linings)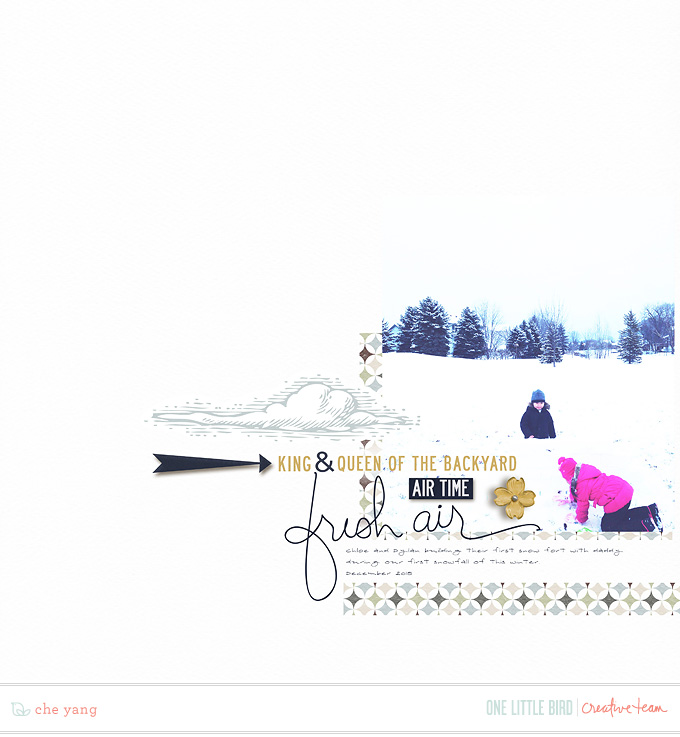 I mean, it takes your breath away, right? Loved this page from Che this month with its clean, neutral palette and then that pop of hot pink in her photo with the treeline in the background. It's perfection! (Uses Air Time, from waaaaaay back!)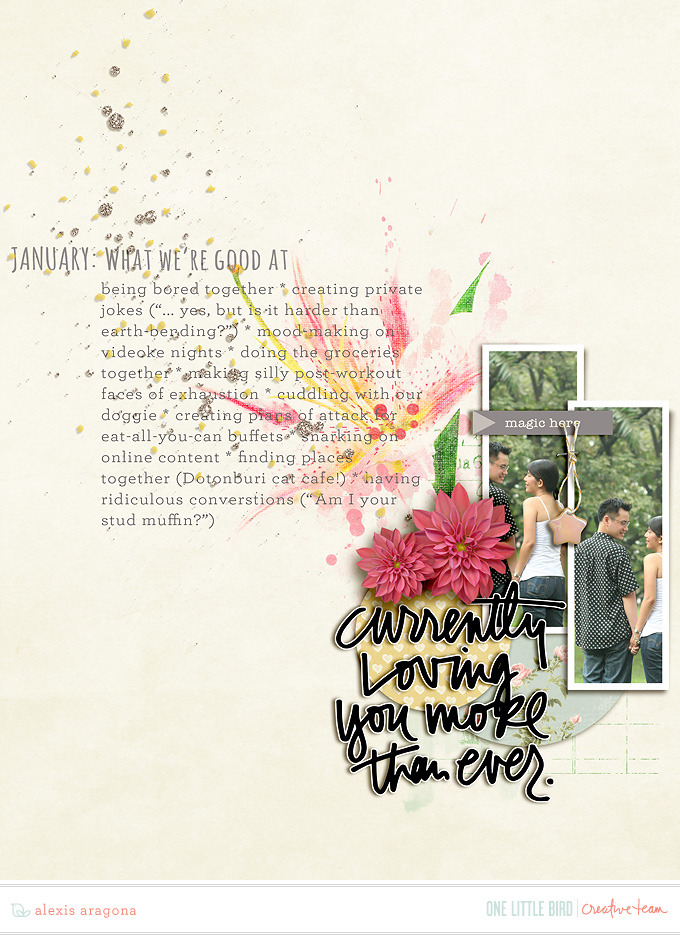 I adore the subject of this page from Lex! "What we're good at" – it's totally a page I want to make for my own album. (Uses Fairytale)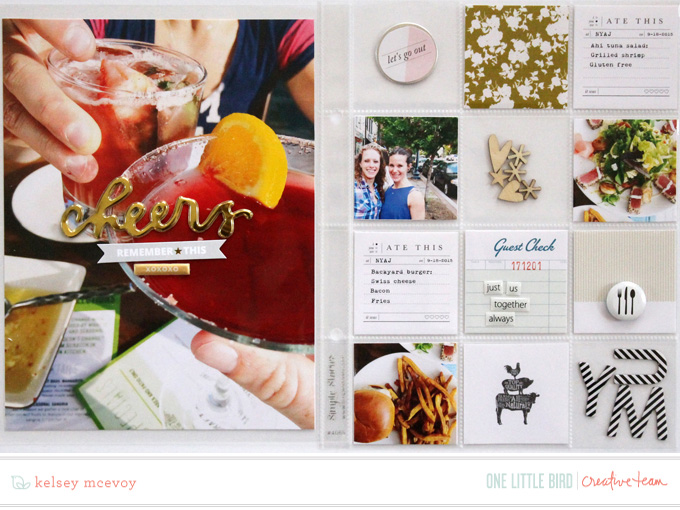 Love that Kelsey devoted an entire 2-page spread to a date night! I think it's so cool to use this format for the more traditional, event-based documentation. And the large 6×8 photo on the facing page gives the eye a place to rest. One of my favorite techniques! (Uses Nosh Journaling Cards)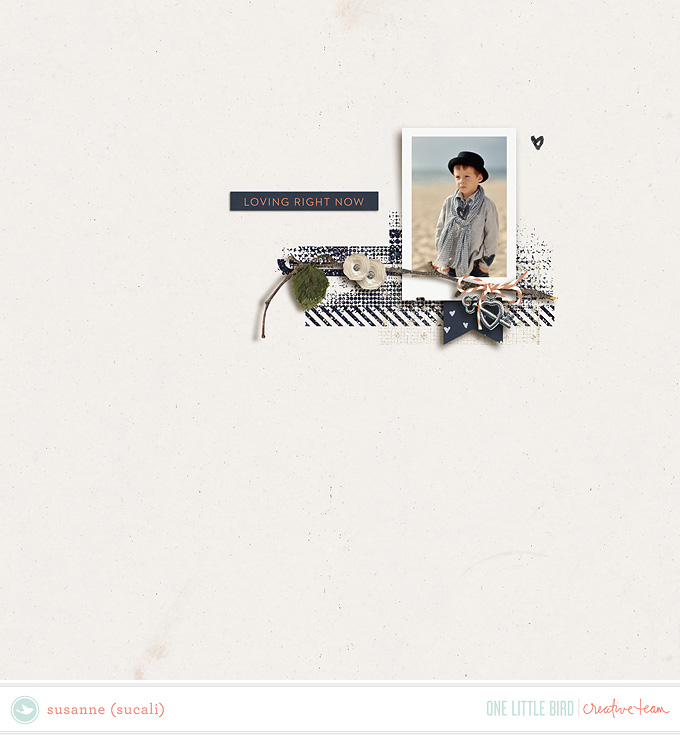 Susanne created magic with this page. I love this compact composition of hers, and how the layered glitter stamps in the background add a graphic quality to the entire page. (Uses The Love List)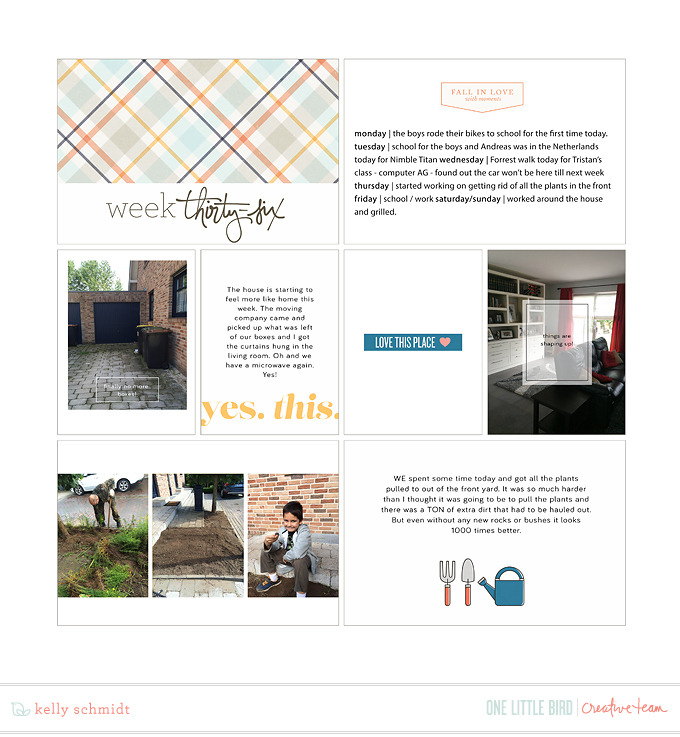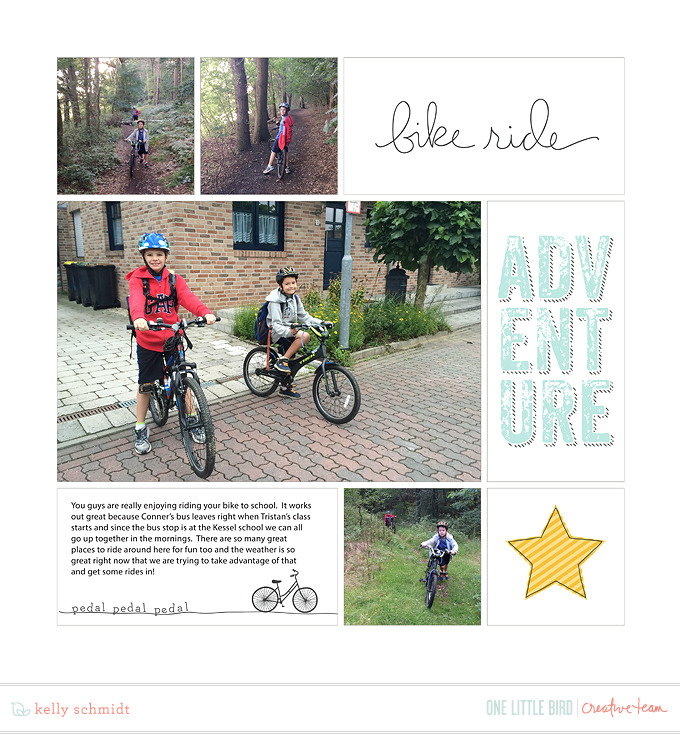 Kelly's use of pure white and pops of color is always so refreshing. Love how she's using a digital pocket page format. (Uses Ready Set Go Journaling Cards, Pedal Pusher and Take Root)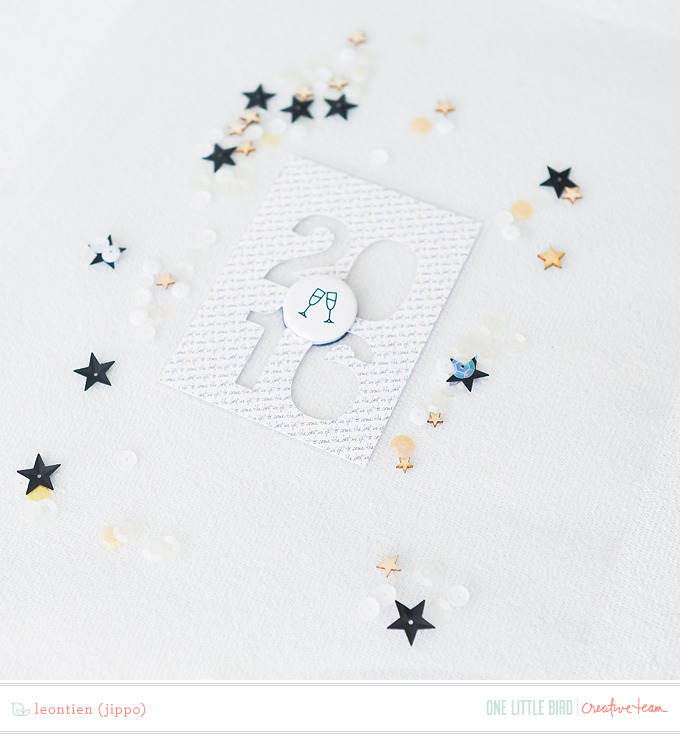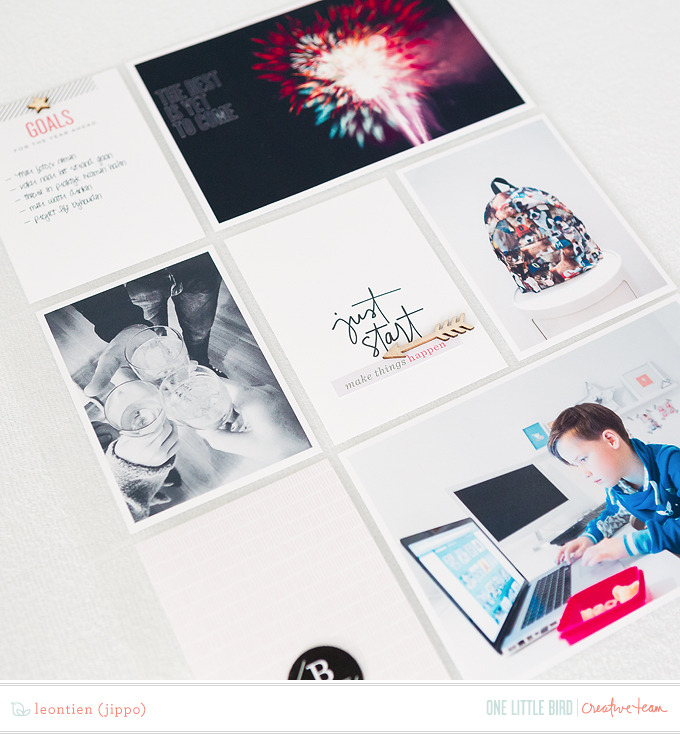 Loving Leontien's opening pages for her 2016 pocket album. That huge shaker pocket! Swooooon.  (Uses Thrive + Thrive Journaling Cards)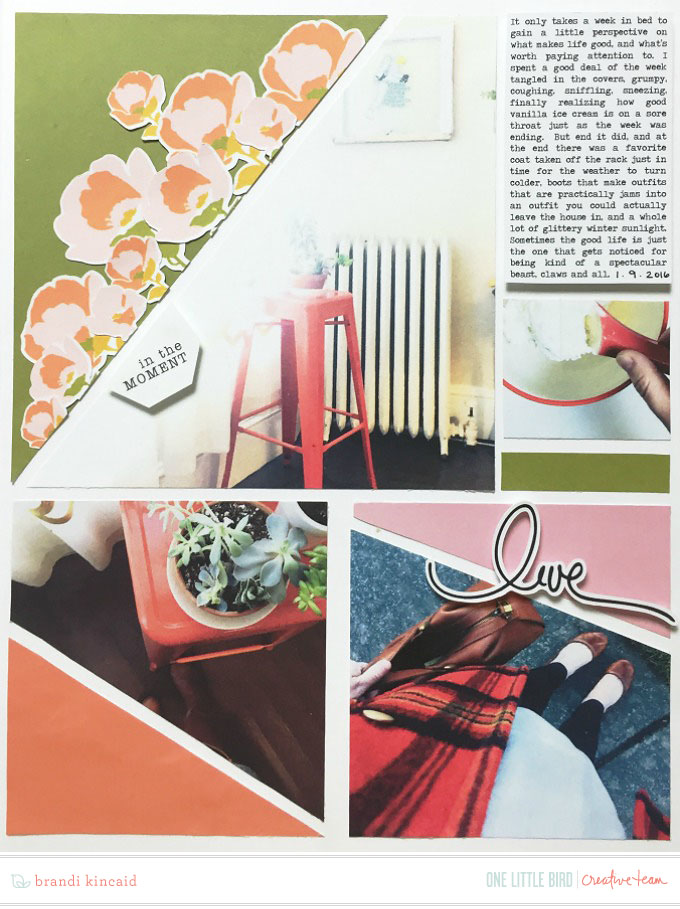 Brandi's use of angles in this page gives it such a hip, graphic feel. I love how it creates a separate area on the page for each photo so each one stands out on its own. It can sometimes be tough to include so many photos on a page without overwhelming the entire thing! (Uses The Story Unfolds, and the flowers are recolored from Scoop)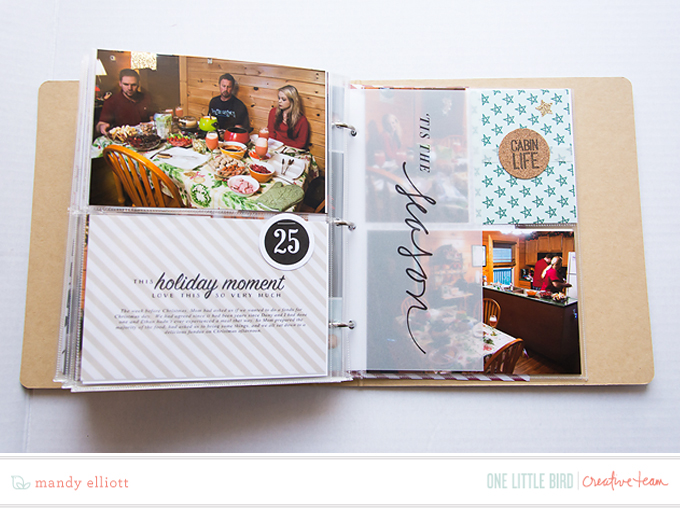 A peek into Mandy's December Daily album from this year. Have you finished yours? Mine has fallen to the backburner (so typical!) but I kept thorough notes again this year so I can pick it up at any time. (Uses Chestnut Lane)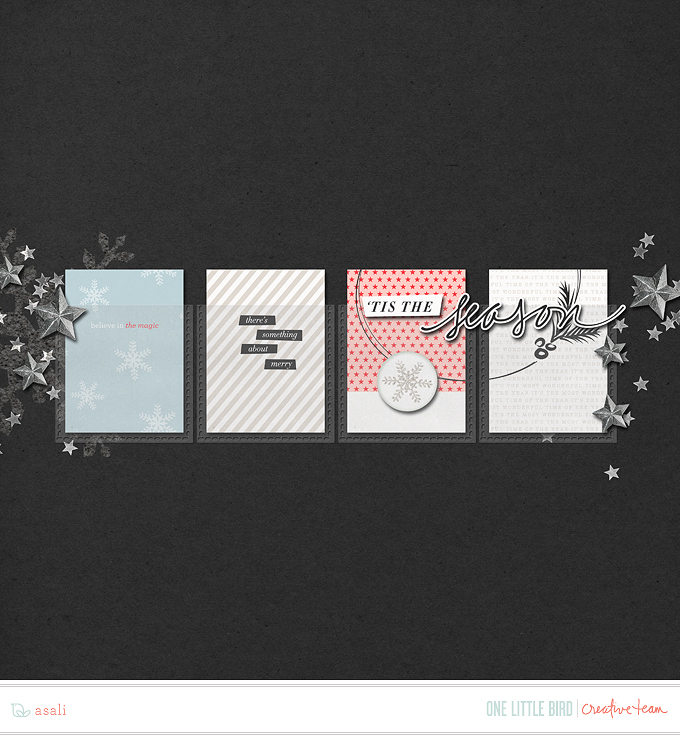 A little more holiday magic from Asali. Love her use of digital pockets! (Uses There's Something About Merry + the coordinating Journaling Cards)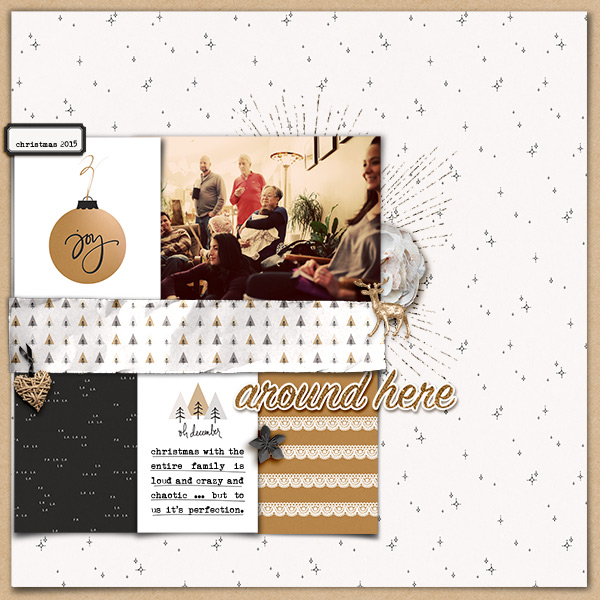 A beautiful little holiday grid from Natasha celebrating the wonder and chaos of family gatherings. (Uses Chestnut Lane)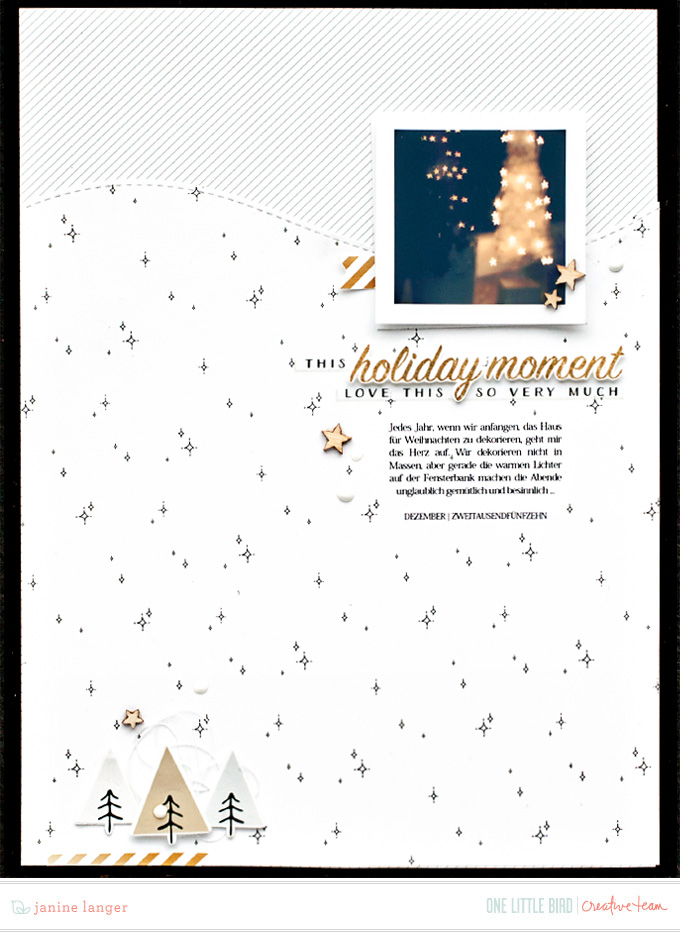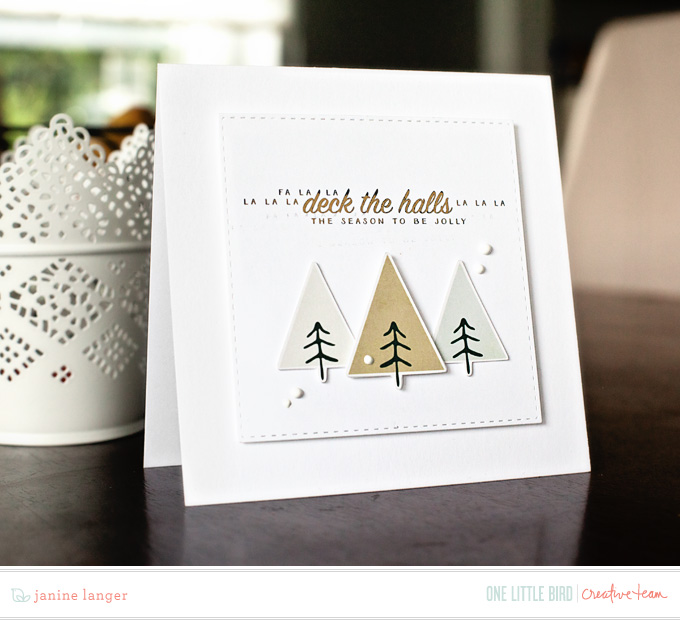 We've hit a Christmas patch here in the middle of the post, can you tell? I instantly fell in love with Janine's hybrid layout and Christmas card! I actually may just use this collection to make my cards this year after seeing her clean and simple design here. (Uses Chestnut  Lane, of course!)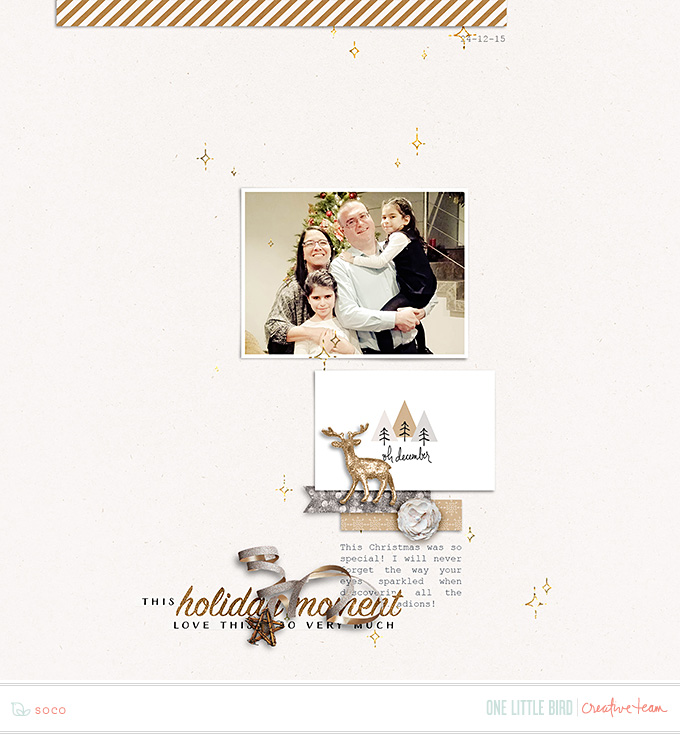 Eek! Soco's page has just the perfect amount of dimension on it. Love those glittered sparkles scattered vertically down her page. (You can probably figure out the product used by now!)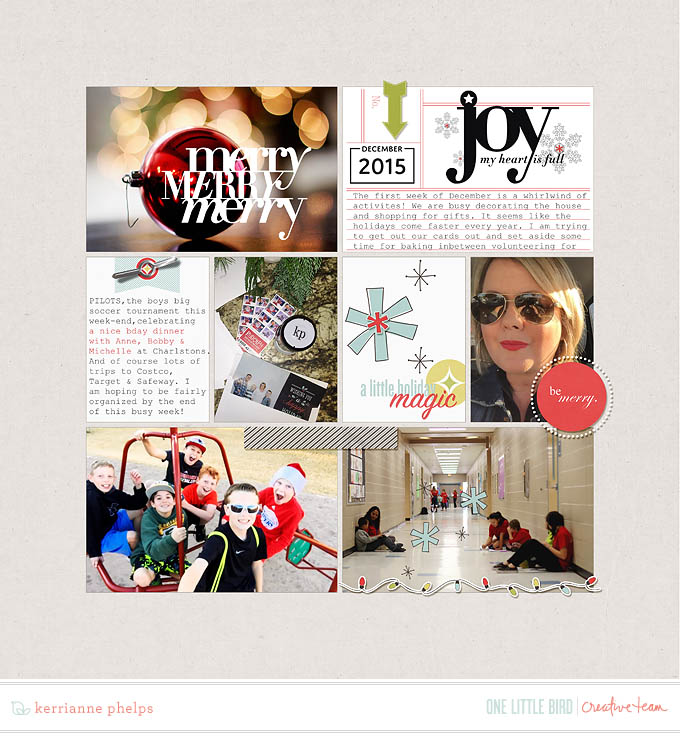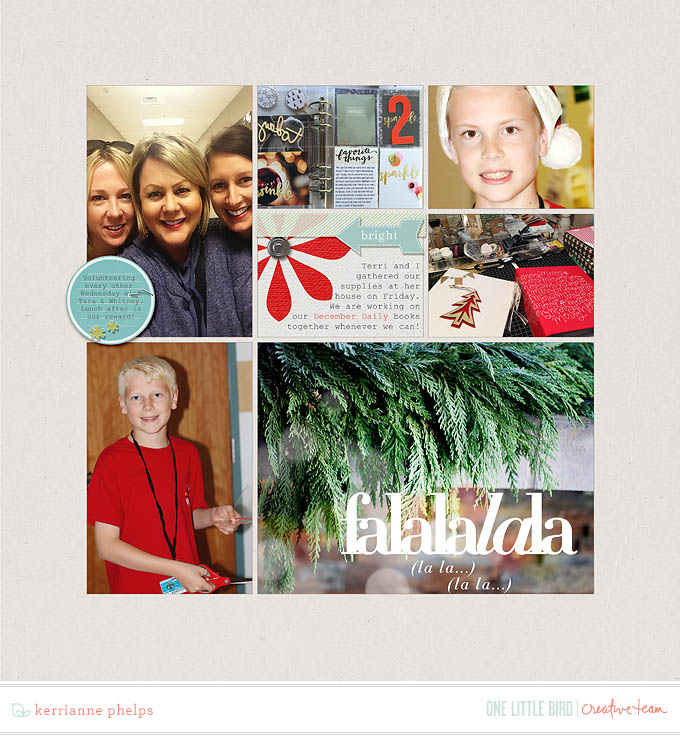 A two-page spread from Kerrianne documenting some of her holiday happenings. Anyone else totally in love with that photo of the juniper branches in the bottom corner? Love that photo. (Uses Star On Top and Photojournalist 01)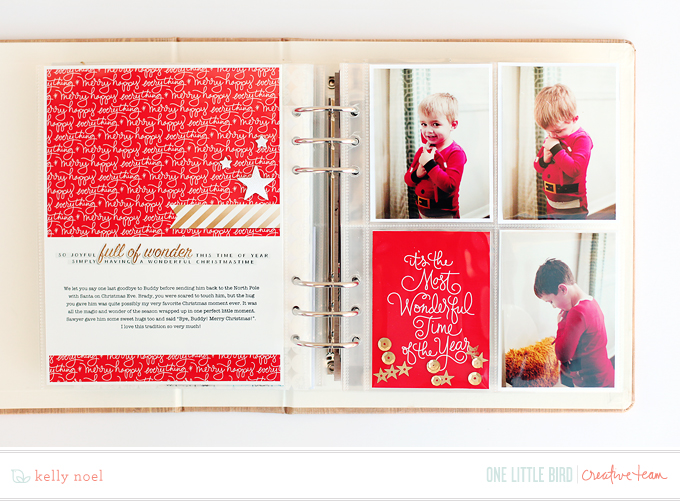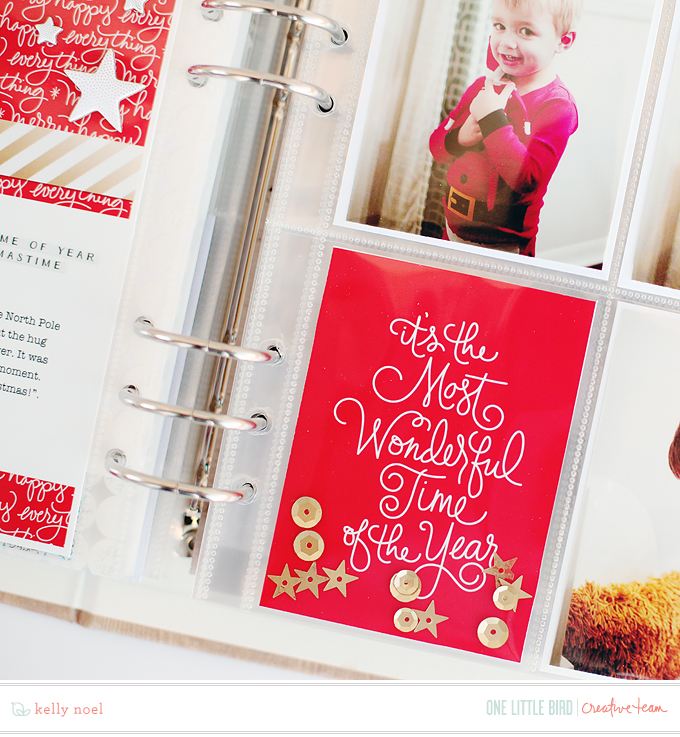 Historically, red is always the color that I find hardest to use in my own spreads. And during the holidays red is just everywhere, right? So I love how Kelly totally ran with it in this spread for a monochromatic look. (Uses Oh What Fun Journaling Cards)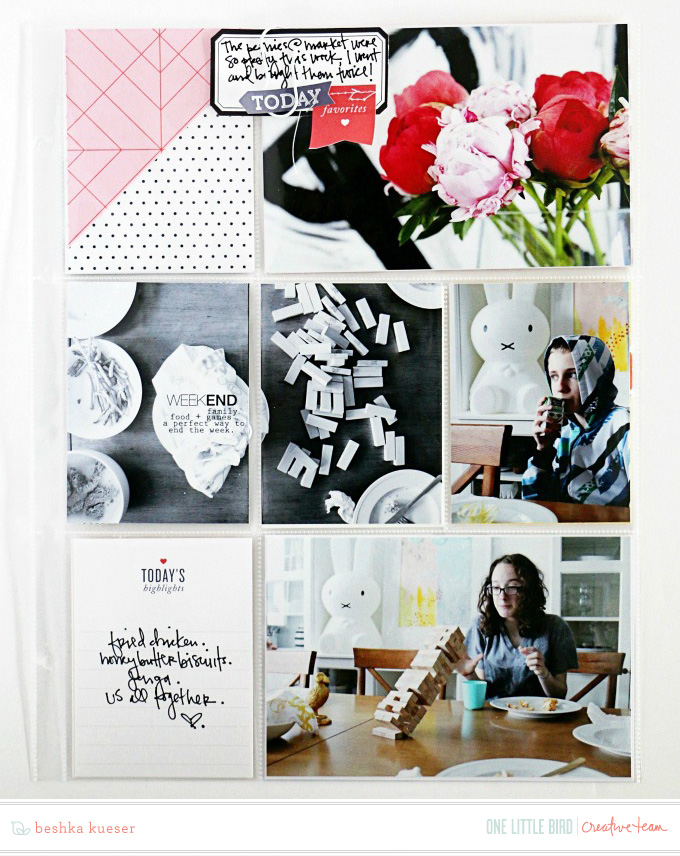 So, you guys? Beshka is like my spirit animal when it comes to incorporating color into her pocket spreads. Her photos always seem to have that perfect pop of color in them, and then she pulls it across the entire spread with her product choices. (Uses journaling cards from Hopscotch and Agenda)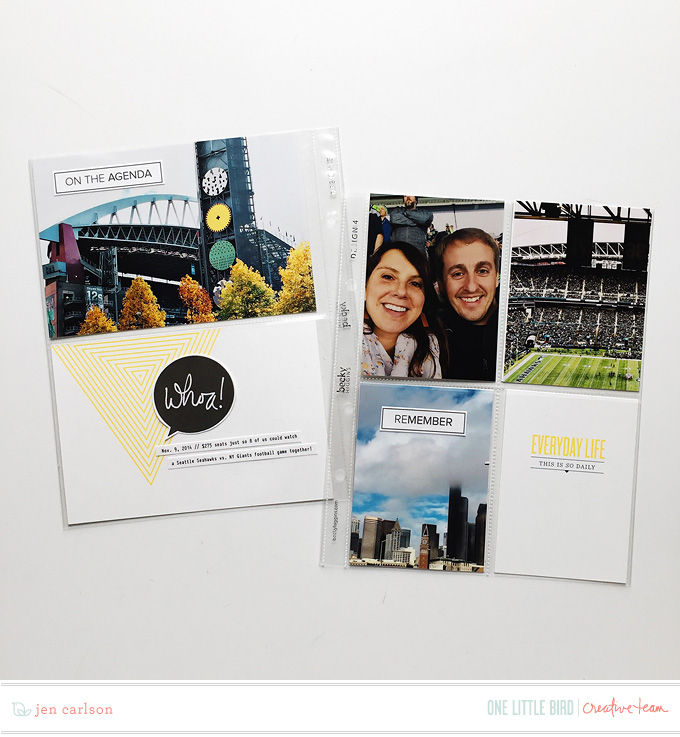 Jen is another one who has such an eye for coordinating color across her photos and her products. She creates cohesiveness here with her pops of neon yellow. (Uses journaling cards from Agenda and Who I Am)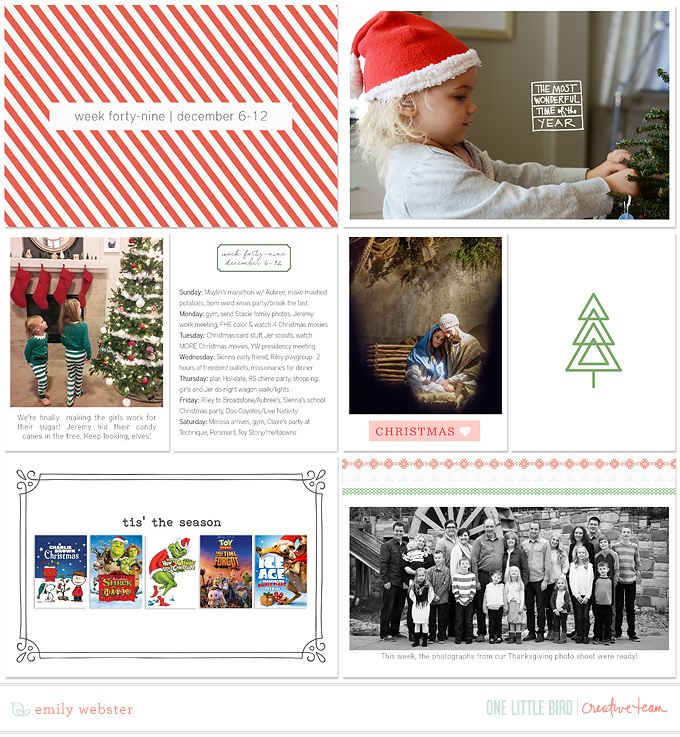 Yes! Love the little grouping of holiday movie covers! Such a fun way to include them. (Uses Agenda, Oh What Fun, There's Something about Merry and a digital card from my mini kit for AE December Daily)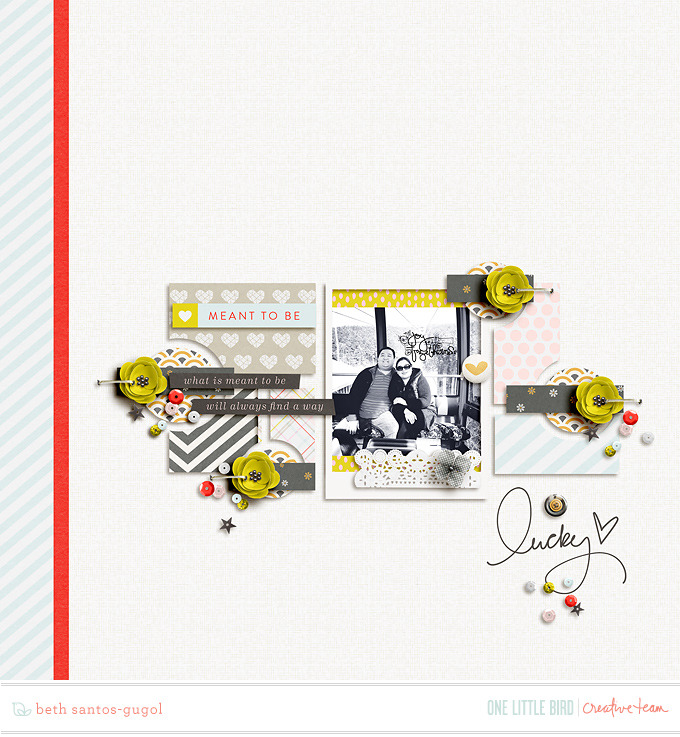 I've fallen hard for this page by Beth. I think that bold, red strip on the left hand side is total genius! (Uses Serendipity)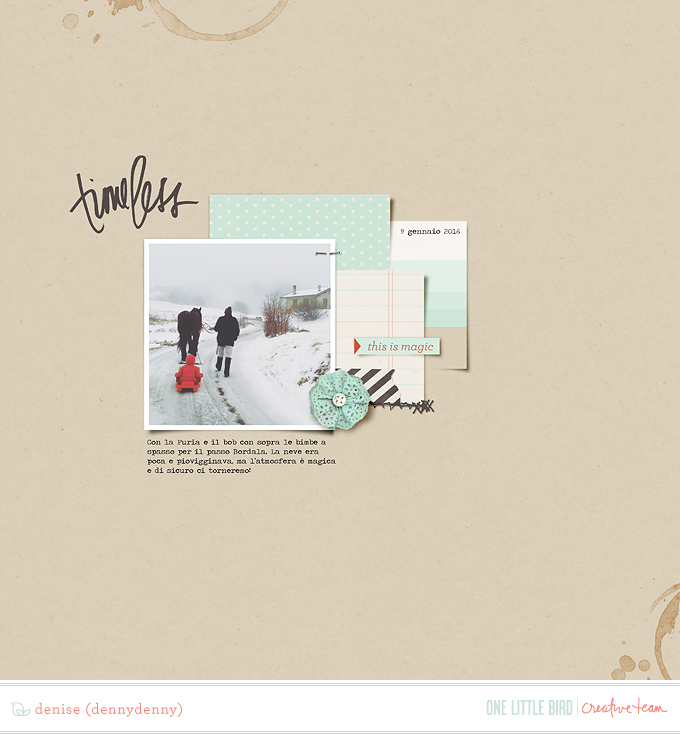 Your own, personal horse-drawn sleigh? Yes please! What an amazing way to travel. (Uses Timeless)
Have an awesome weekend, everyone!