Hello One Little Bird friends!  Candace Perkins here with you today to start a new series for One Little Bird in 2016 called Storytelling with One Little Bird.  I can't tell you how excited I am to share this series with you over the next year.  I will be sharing tips, tricks and inspiration on how to use One Little Bird products, both digital and physical, to tell your story.
As scrapbookers most of us are already focused on telling stories.  We understand that stories are important. They are what binds us and connects us both to the past, present and to the future.  Starting this series I had so many ideas that I wanted to share with you.  But with it being the beginning of a new year I wanted to share a story that I record every year. So the first topic for this year is Storytelling through repetition.
I have recorded our family's story through Project Life for the past 5 years. At the beginning of all my albums I created a page that talked about each one of our children, some of their current favorites, a photo of them and a handprint.  I wanted a record of them taken at the same time each year to show the passage of time and growth, both mentally and emotionally through current favorites and physically though the change of their handprints.  This repeated story tells so much about my children and has become a priceless piece of my memory keeping.
**Side note**  I love the story that hands tell.  Whether they are tiny and chubby or old and weathered.  The story of hands tell where a person has been and what they have done.  Children's hands are my favorite.  I read this poem 5 years ago and this is what initially inspired me to collect this repeated story.
My Hands
Sometimes you get discouraged
Because I am so small
And always leave my fingerprints
On furniture and walls.
But every day I'm growing …
I'll be grown-up someday,
And all those tiny handprints
Will surely fade away.
So here's a final handprint
Just so you can recall
Exactly how my fingers looked
When I was very small.
So now that you understand a little bit about WHY it is important to tell repeated stories.  We can move on to the HOW.
There are a thousand different ways that you can tell repeated stories.  You can use my idea with children or tell a completely different story.  The beauty of repeating that story will come to life when years from now you look back and see how the story evolved and changed.
To help me tell the repeated story of my kiddos this year I used the Around Here journaling cards in the shop.  I opened a blank canvas in Photoshop to 8.5 x 11.  Next I inserted the journaling card that says "Currently" and includes lots of prompts to record current favorites.  Underneath the journal card I created a text box to document their current favorites.  I wanted this page to be monochromatic so I printed it in black and white.  This is the page that my little guys put their handprints.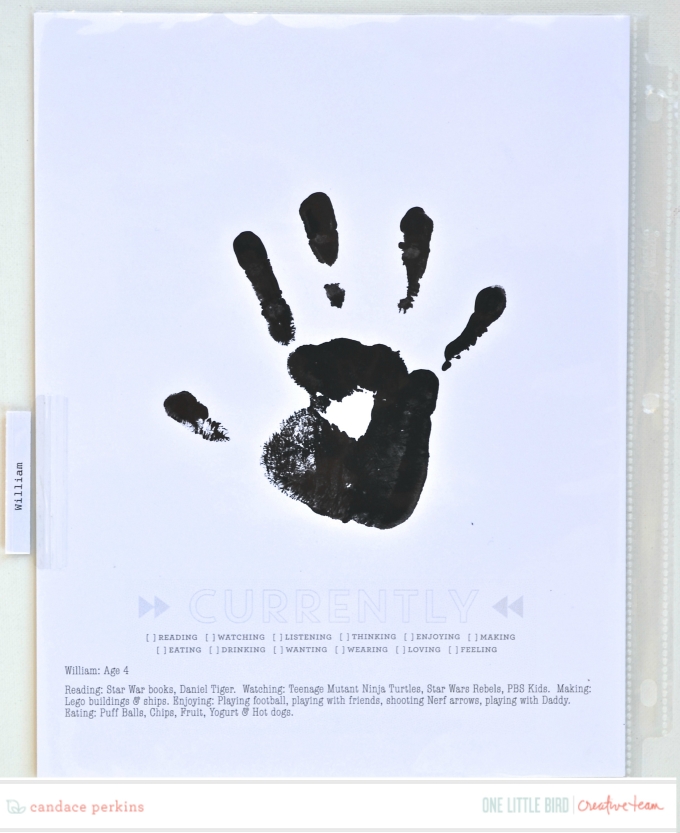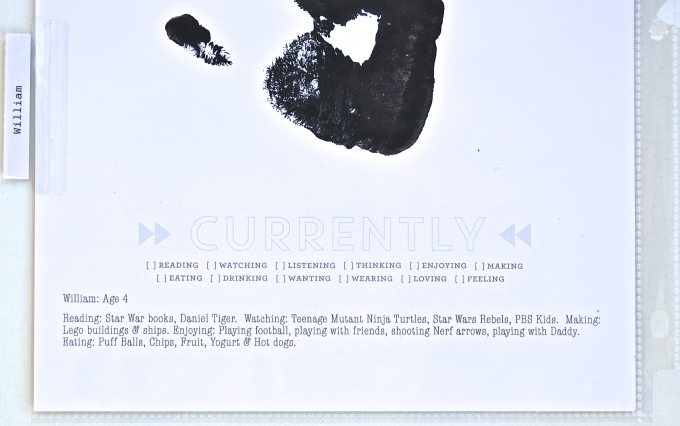 On the other side of the page I placed an 8×10 current photo with their age.  Since I have four little guys and the page protectors were all the same size I added some tabs on the side of the page protectors for ease and convenience when turning the pages.
Such a simple project but such an important story.  Thank you so much for taking the time to stop by today!  I hope you come away with some inspiration and ideas on telling repetitive stories.  I would LOVE to see what you create!  Over the next year as you create stories with One Little Bird products I would love for you to use #storytellingwithOLB .  This will make it easy for us to inspire and encourage one another to tell stories over the next year!  I will also be doing giveaways and other fun things through the hashtag so stay tuned!  Till next month…what stories will you tell with One Little Bird this year?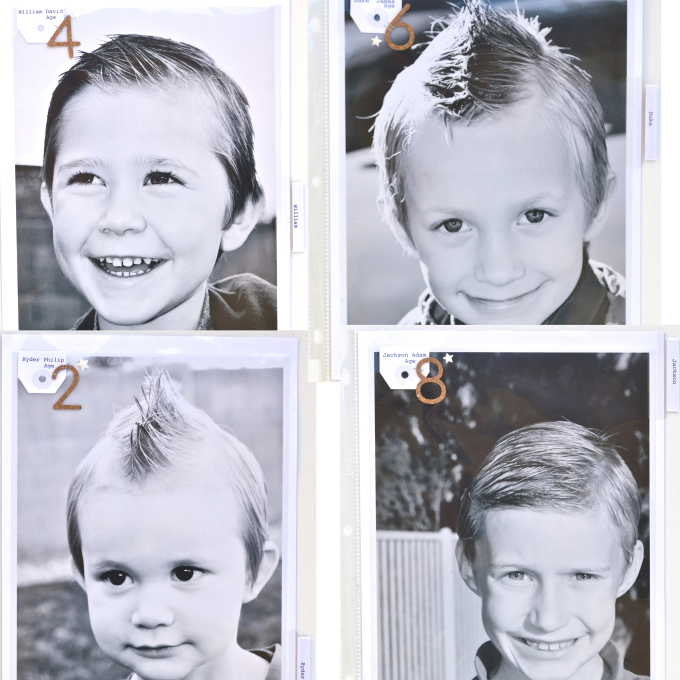 BONUS!  I have also included photos and a process video of my Week #2 of Project Life.  Let me know if you have any questions!  To see the video just head over to my YouTube channel.  Have a beautiful day!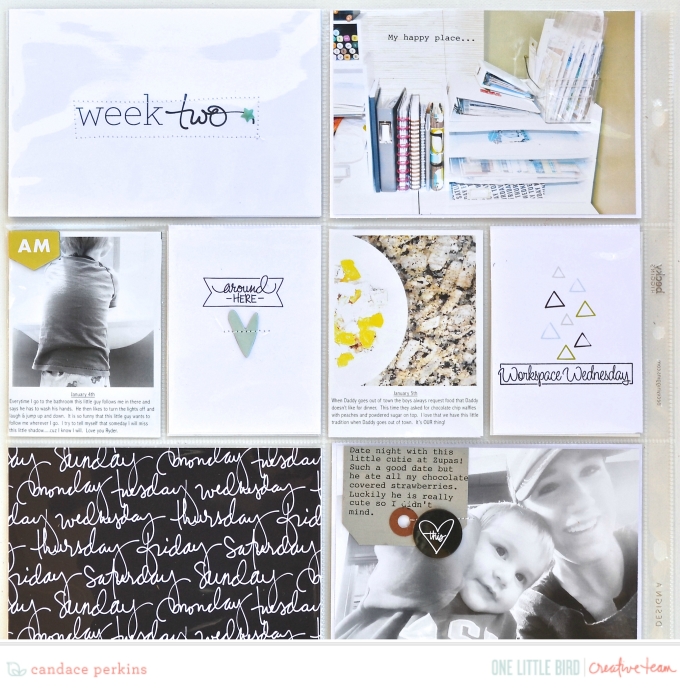 About Candace
This is me. I am a wife, a mother, a sister, a daughter and a friend. My days are filled with cleaning dishes, driving kids to practice, kissing boo boos, singing nursery songs, calling a friend, folding mounds of laundry, cleaning the dishes AGAIN, washing tushies and toes, tucking little ones in bed, and then doing it all again. But in this crazy, busy and the wonderful life there is everyday perfection. Moments where time seems to stop, you take a picture in your mind, and promise yourself you will never forget. Everyday perfection. It is my hope that I can inspire others to notice those moments of everyday perfection, capture them and cherish them.