Hello One Little Bird friends!  Candace here with you today to share a special project that I have been working on for a while.  Today is all about my favorite way to document my family's memories, pocket page scrapbooking.
As I have mentioned in previous posts I adore pocket page scrapbooking.  I love that by documenting my family's memories and activities weekly I am able to tell our story more completely.  I feel that if I just documented Christmas and birthdays I would miss so much of what makes our family "US".  Even though I love this project, and it is important to me to document it in a weekly format, it doesn't mean that it can't be overwhelming.
This project takes time and can often feel daunting.  When I start to feel that this project is getting away from me and I am feeling stressed, I look for inspiration.  To get inspired and reignite my passion for this project I find myself searching YouTube.  Recently I have found some ladies that each inspire me to create in a different way.  Some ladies create with simplicity and white space in mind, while others create with layers and dimension.  A few document in a monthly format and a few document weekly, similar to me.  By watching these ladies create I am inspired to push outside my comfort zone or find comfort in my own style.  Documenting your life through pocket pages can look a million different ways.  All these ways, each one of them, is perfect because it is your way, your story, your legacy.
For my week 22 spread this year I took lots of ideas from ladies on YouTube and created a spread that pushed me but still stayed true to my style.  Here is a look at the final spread.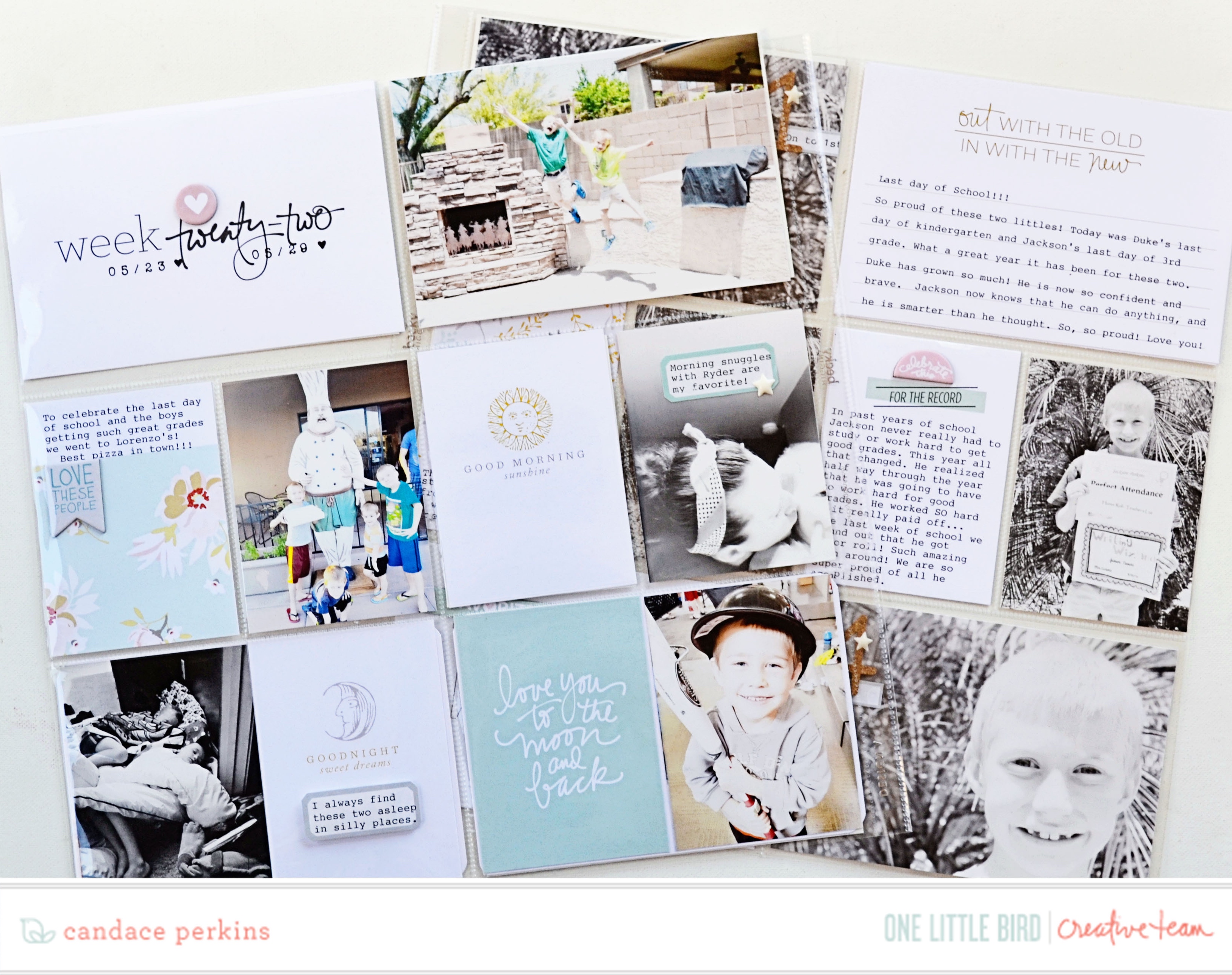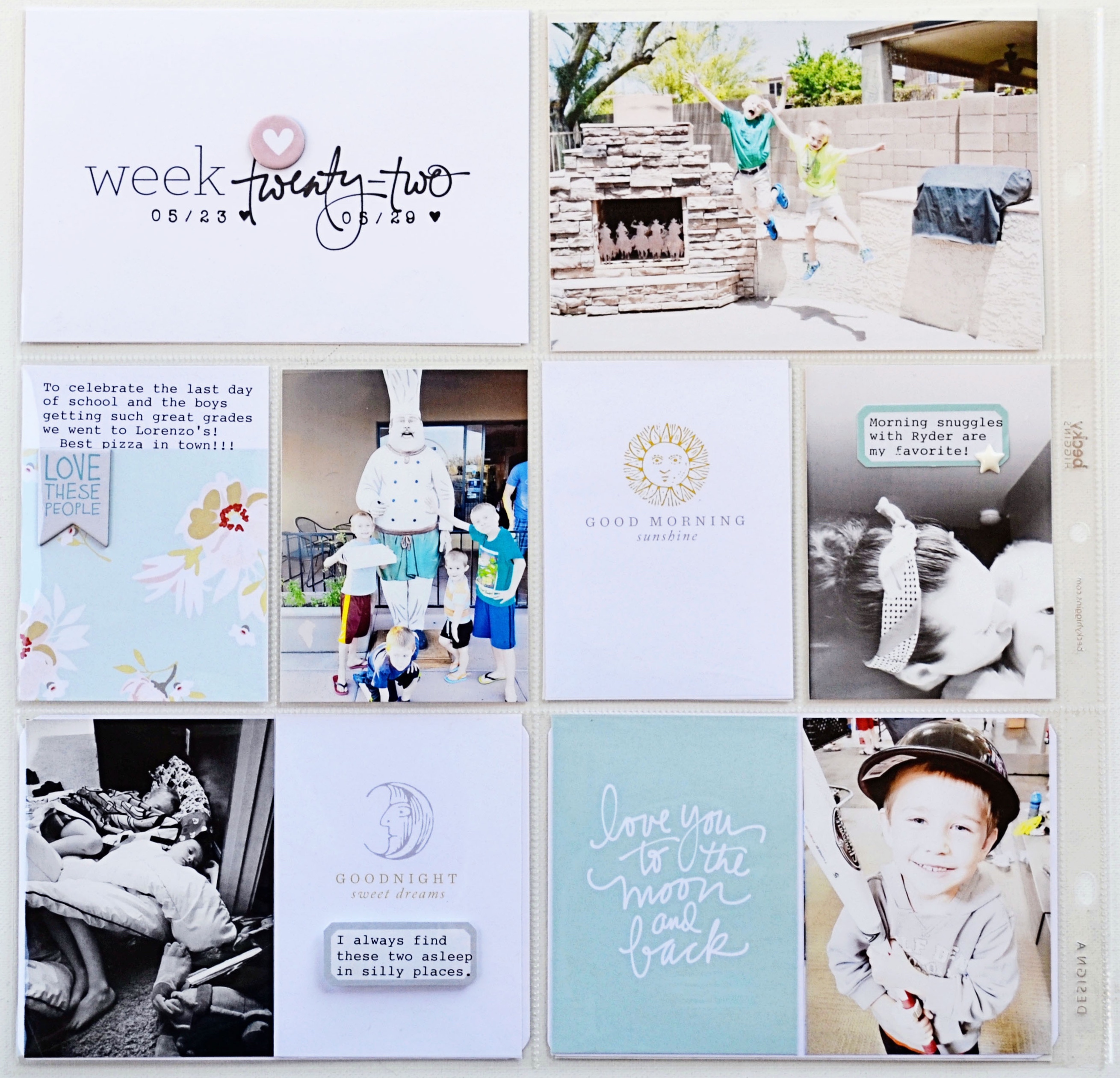 Finally, I have come to the best part….I put together a little YouTube hop with some of my favorite ladies that I draw inspiration from.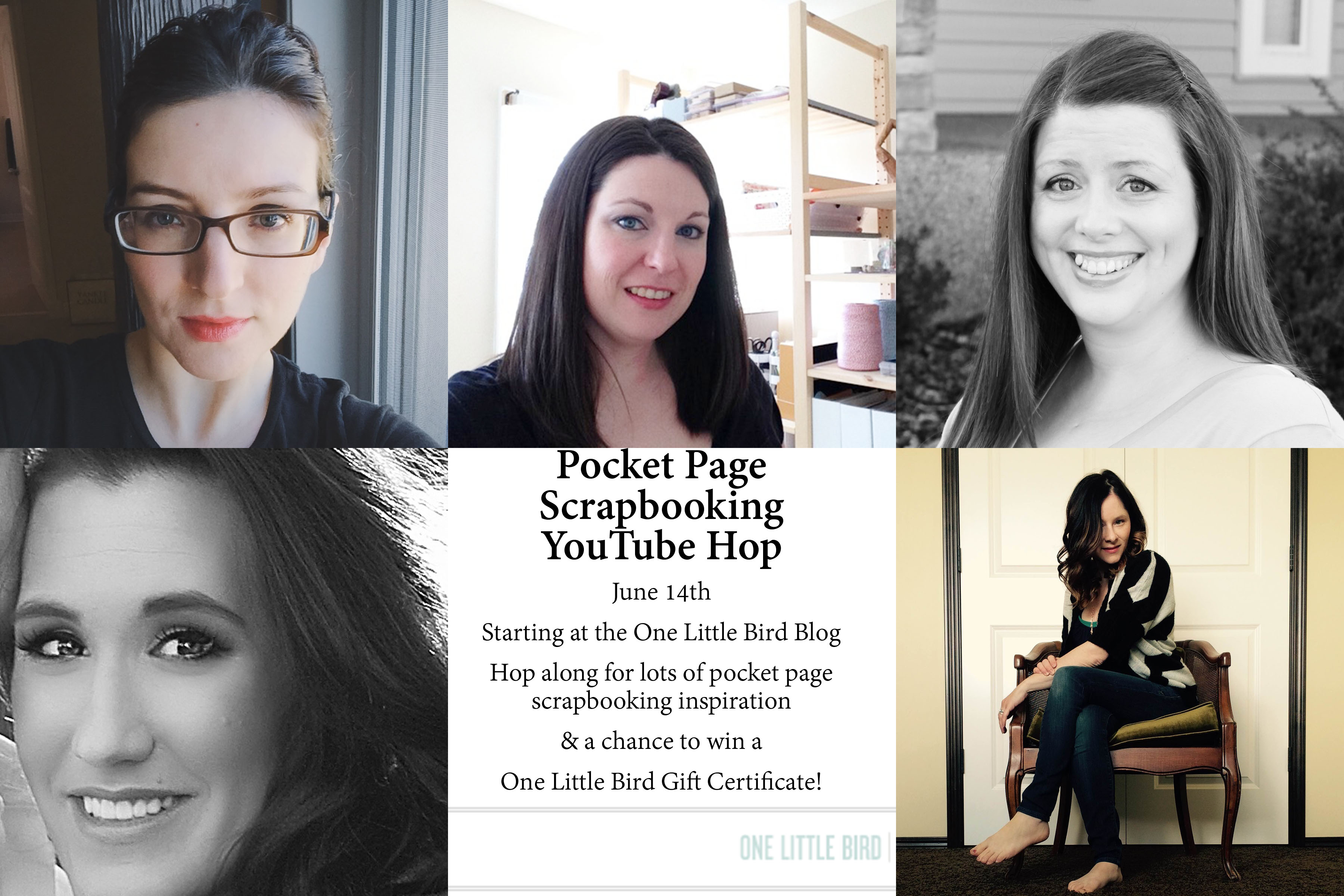 Just hop along and leave these ladies some love in the comments section below their videos (because they are kinda… well, really awesome.)  and you will be entered to win a One Little Bird gift certificate!  Enjoy hopping along!  I hope by watching these ladies create they can inspire you to document your family's stories.  Have a beautiful day, and thanks for stopping by today!
Here is the hop order!
Products Used:
Journal Card Collections: Weekly Edition, Scoop, Elysian, Thrive, Luna, Silver Lining.
About Candace
This is me. I am a wife, a mother, a sister, a daughter and a friend. My days are filled with cleaning dishes, driving kids to practice, kissing boo boos, singing nursery songs, calling a friend, folding mounds of laundry, cleaning the dishes AGAIN, washing tushies and toes, tucking little ones in bed, and then doing it all again. But in this crazy, busy and the wonderful life there is everyday perfection. Moments where time seems to stop, you take a picture in your mind, and promise yourself you will never forget. Everyday perfection. It is my hope that I can inspire others to notice those moments of everyday perfection, capture them and cherish them.
Save