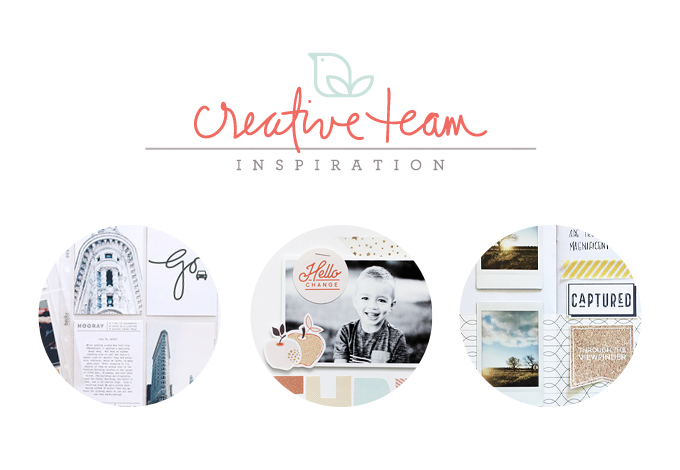 Happy Friday! Today I'm sharing a fresh gallery of inspiration from the 2016 Creative team using products of their choice – plus a few of my thoughts/takeaways on each one. Sometimes it's difficult to keep my editorializing to a minimum. You'll find all of these projects on our Pinterest board where we pin all of  the 2016 Creative Team projects – I hope you're following us there, too!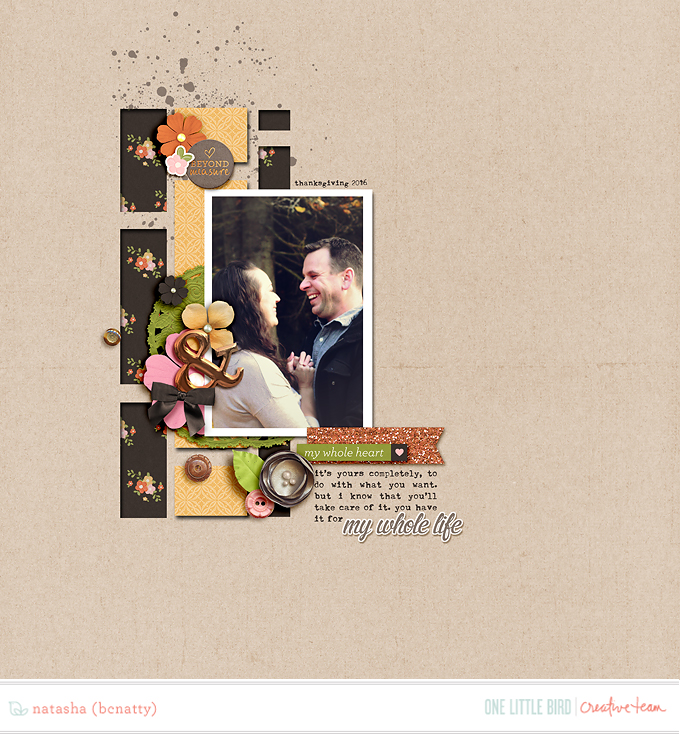 Great contrast between light and dark on this layout from natasha. I like how she balances the dark background in her photo with the dark paper. Using: Beyond Measure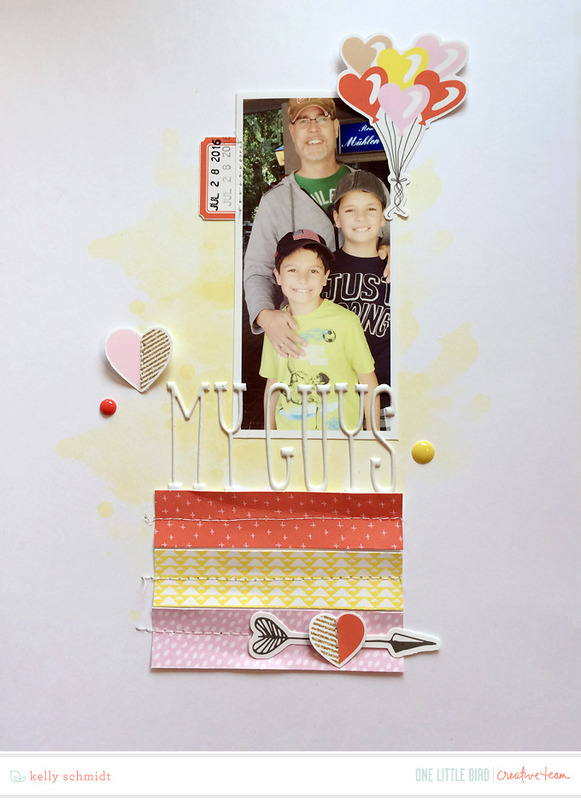 Stitching is my fave! I love the texture it adds to a hybrid page. Or a digital page, for that matter! Using: Chéri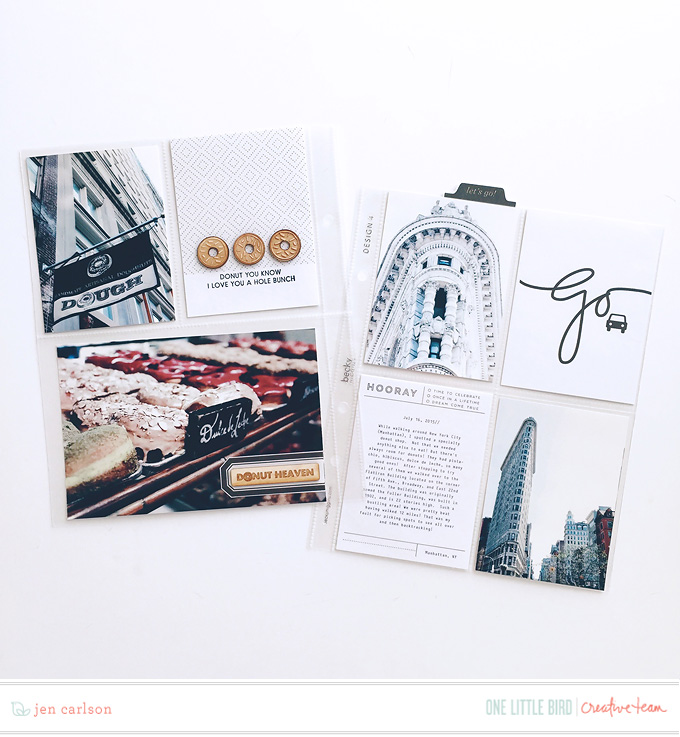 Loving the simplicity in this spread by Jen and how she chose very clean, minimalist cards to accent her photos. Using: Milestone and Roam journaling cards.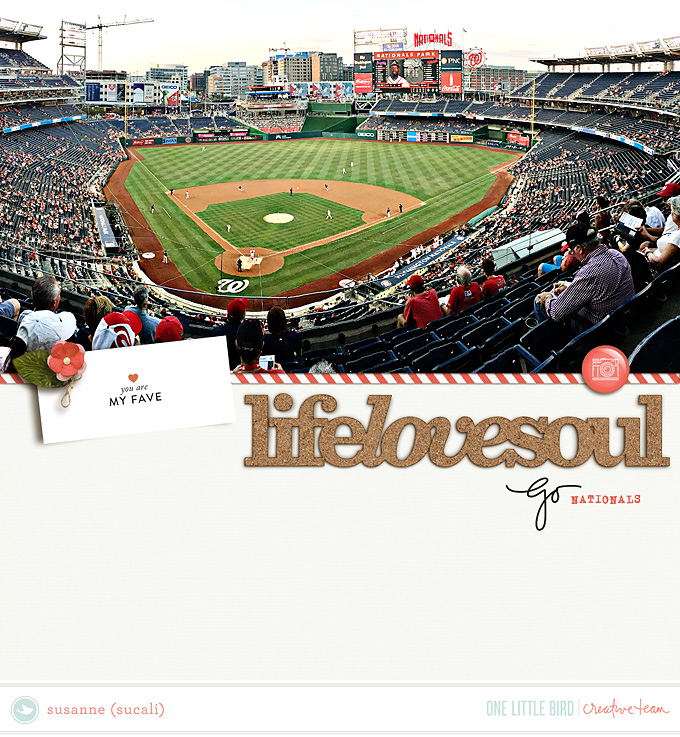 I used my first full-page photo in a layout this past summer (paper page) and I was immediately hooked, and now I've had a hard time resisting the urge to use a large photo on all my pages. So I love how Susanne let her photo take up the entire top half of her page here. Uses: Hangry Journaling Cards, Agenda, Elysian, Roam and Thrive
These messy, wonky trianges on Asali's page are so much fun! I like how she varies between solid and outline … and the opacity. Using: Roam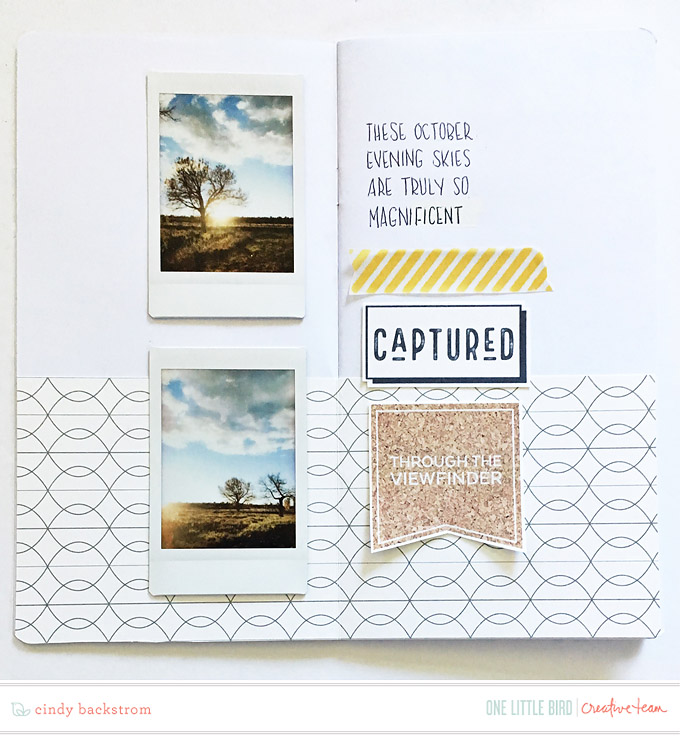 Loving these Instax prints on this traveler's notebook spread by Cindy! I'm still learning the ins and outs of my Instax Share printer, trying to pinpoint the "secret recipe" for getting clear, colorful prints like these. Using: Shutterbug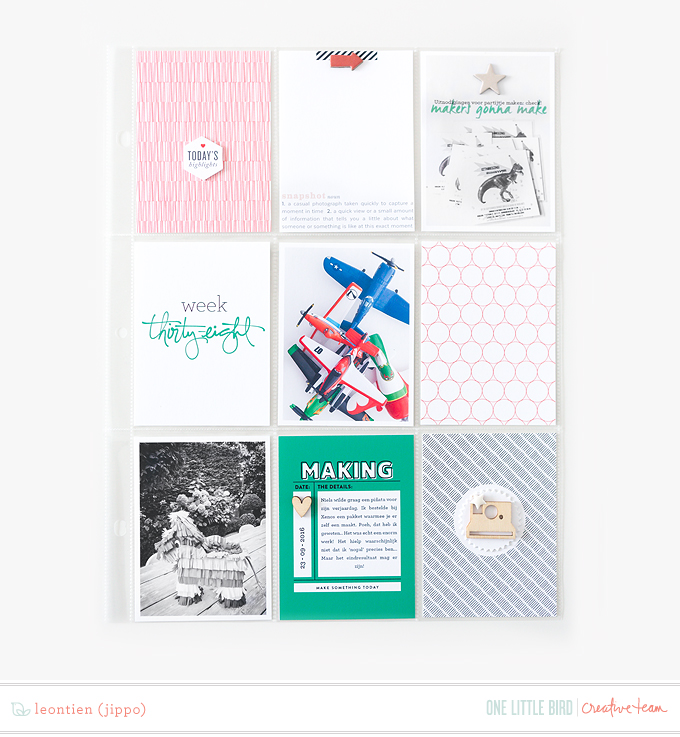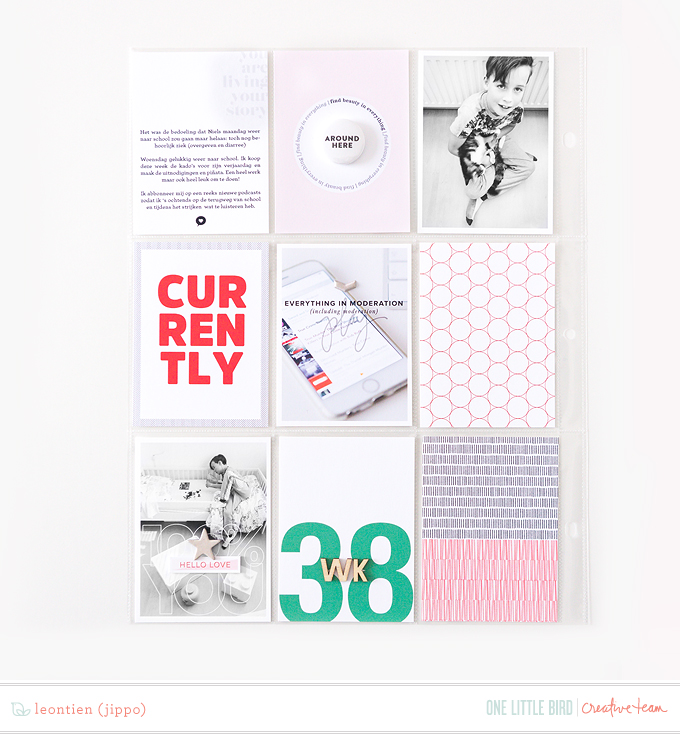 Leontien is such a master of mixing pattern and color – I've loved to see her evolve and experiment with format over the years (she's been a creative team member since almost the beginning of OLB!) Red and green can be a tough color palette to carry off without feeling "christmasy" – but she make sit look easy. Using: cards from Soleil, Shutterbug, Chapters and Frolic; plus word art from Artisan and Hangry Stamps.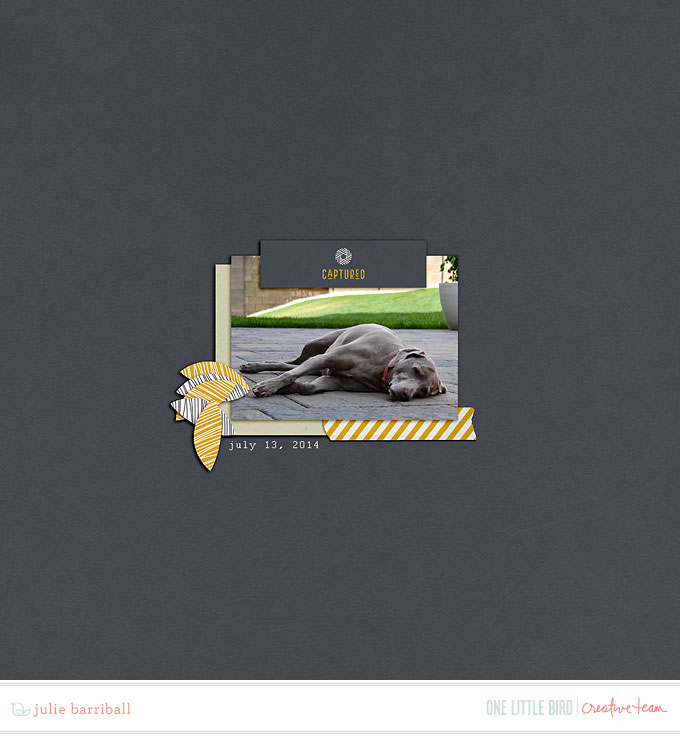 Speaking of veteran OLB team members, Julie is another one who has been with me since the beginning. Can you tell I'm feeling especially nostalgic as I gear up to open up our call for 2017 creative team members? Julie's pups, Roxy and Aspen, have been a mainstay in OLB team projects. Using: Shutterbug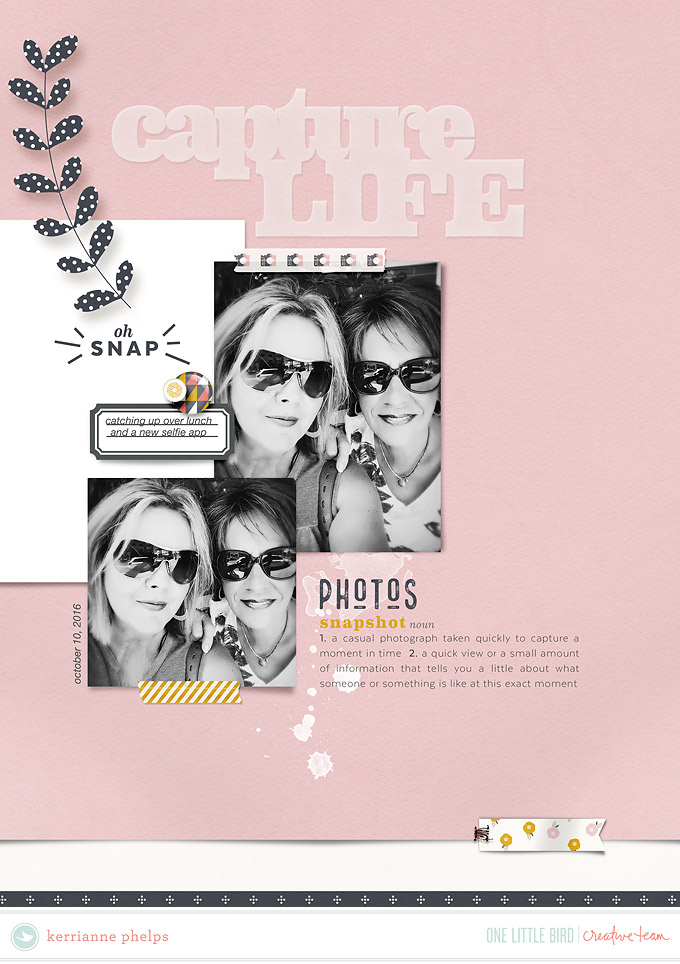 For the love of pink! This page makes me so happy. Love the black and white photos against the pale pink background, and the careful placement of black elements is perfection. Using: Shutterbug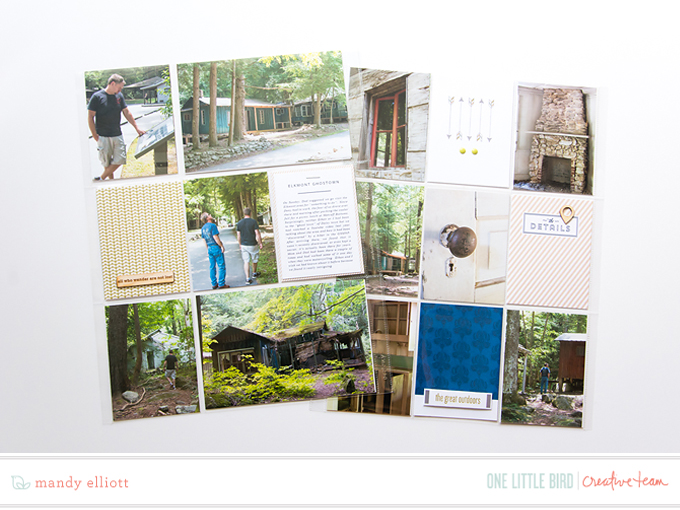 Mandy  is so masterful and using her pocket page spreads to explore themes. Love how she shows the versatility of this fofrmat. Using: Little Talks Papers, Little Talks Journal Cards, Trailblazer, Trailblazer Journal Cards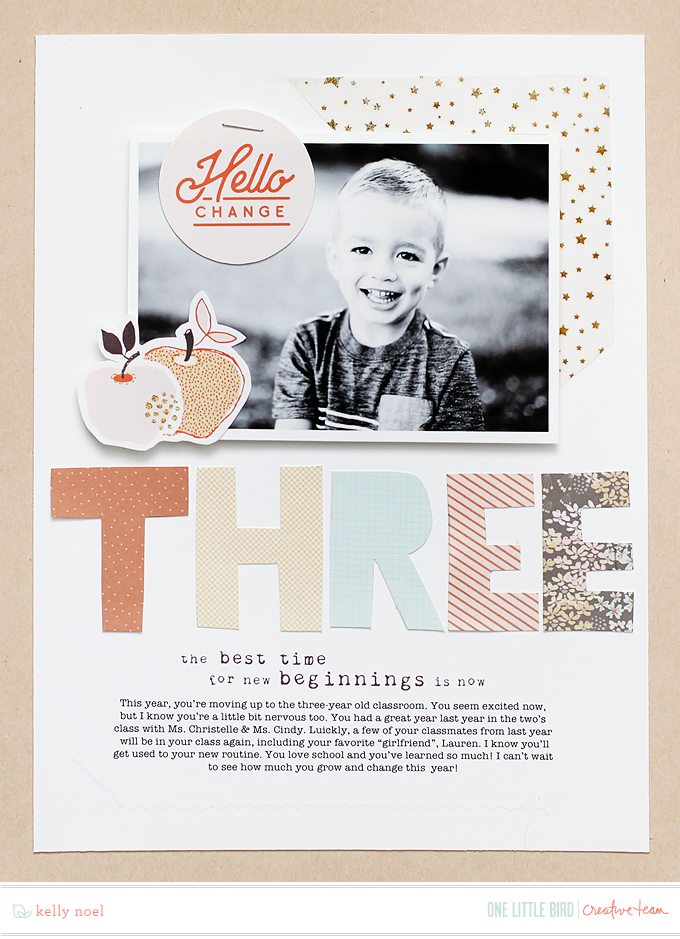 So much love for this page, and that chunky, hand-cut title. This collection was one of my all-time favorite color palettes … and Kelly proves there's no reason to shy away from pink for your boy pages. Think of pale pinks as a neutral – I made that mental shift a few years ago and it opened up new doors for me. Using: Turning Leaves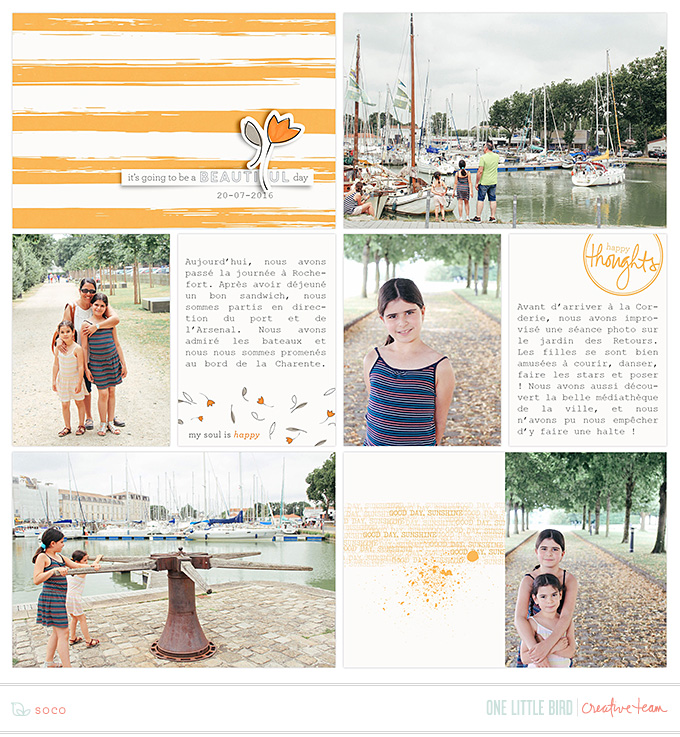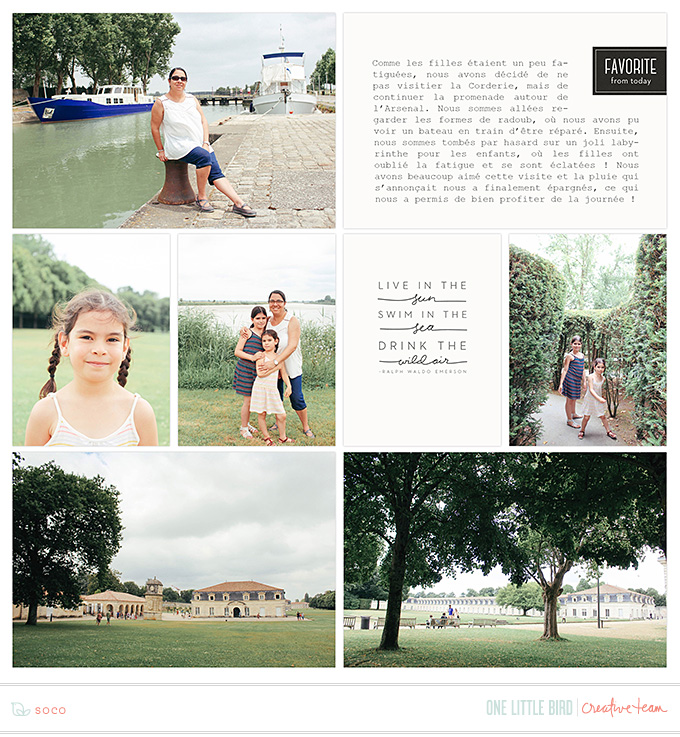 Such a beautiful 2-page vacation spread from Soco, where her photos are the focal point. Loving how she achieved balance between the warm, earthiness of her photos and the simple cards she chose. Using: Halcyon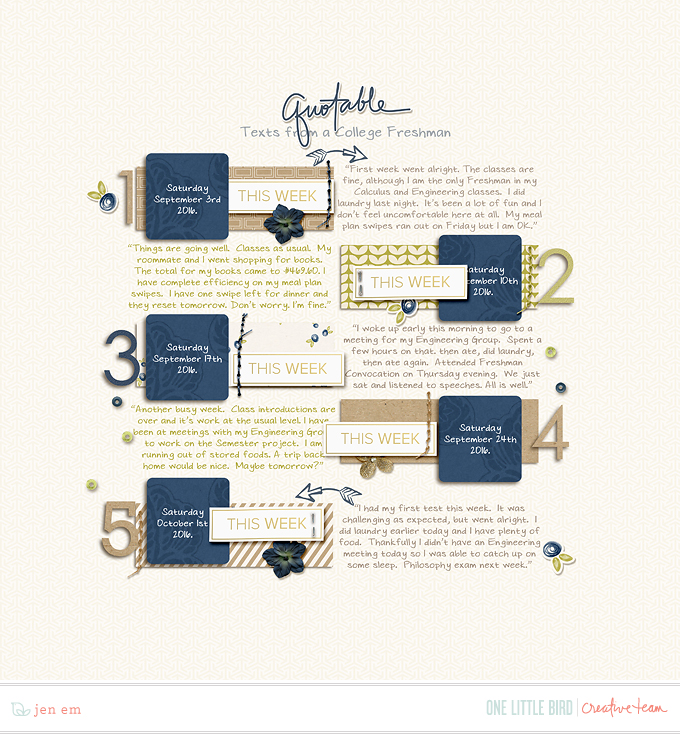 Jen does the BEST photo-less pages – and she's truly my inspiration, with photos of my son being more and more rare. She reminds me that there are still plenty of moments to record. Love this page documenting text messages from her son while he's off at college. Using: Little Talks
That's all for October, you guys! Hope you have a great weekend! You may have caught the casual mention of the 2017 creative team call earlier in this post … so if you're interested in joining us next year, stay tuned for more info on that. ♥