Like many people in the scrapping world, I find a lot of inspiration on Pinterest and by looking at other people's work. I have a board specifically for traditional scrapbook pages that I find inspirational and that I may want to scrap lift, which if you don't know, is when you find a scrapbook page that you love, and then recreate it yourself.
I came across a gorgeous page (click HERE to see original pin) featuring hexagons and it really appealed to me! So, I took inspiration from that page and then using One Little Bird products, I made it my own!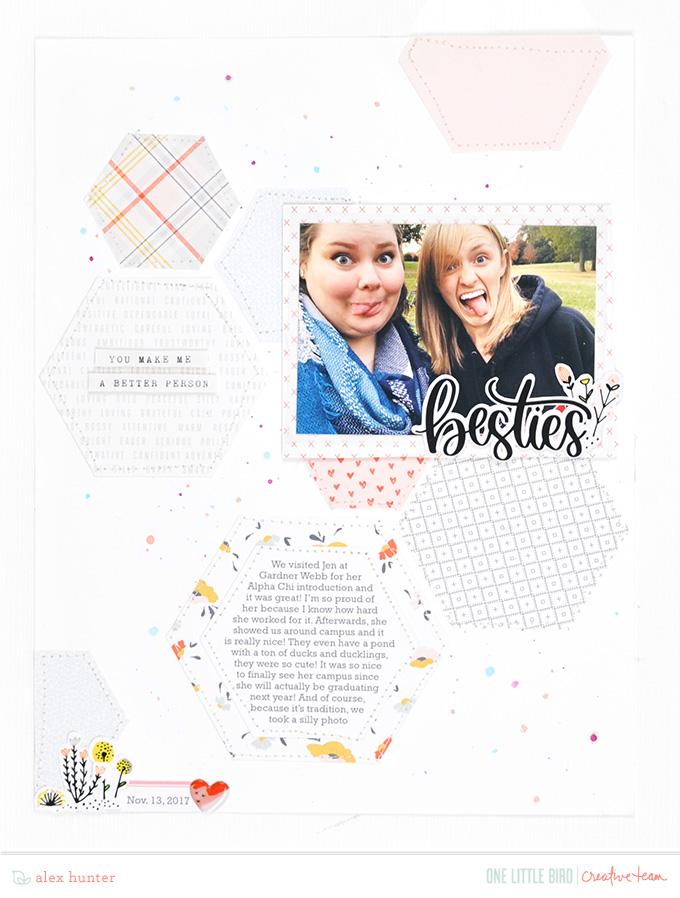 I won't lie, I've been in a bit of a scrappy funk lately but after creating this, I am definitely feeling more inspired!
To start, I figured out where I wanted the hexagons to go. I went with a similar design to the original inspiration but switched it around a little bit. I find Photoshop extremely helpful in these kinds of situations because you don't have to worry about cutting paper and it not being the size you actually want it to be and end up wasting it.
Once the sizing was figured out, I arranged the patterns the way I liked them, which did take some time but I am so happy with how it looks. There was stitching on the original spread so I decided to add some as well. Stitching is something I actually LOVE to add to pages but I never really do it. But after seeing how this turned out, I'm definitely going to put the effort in and add more stitching to my layouts!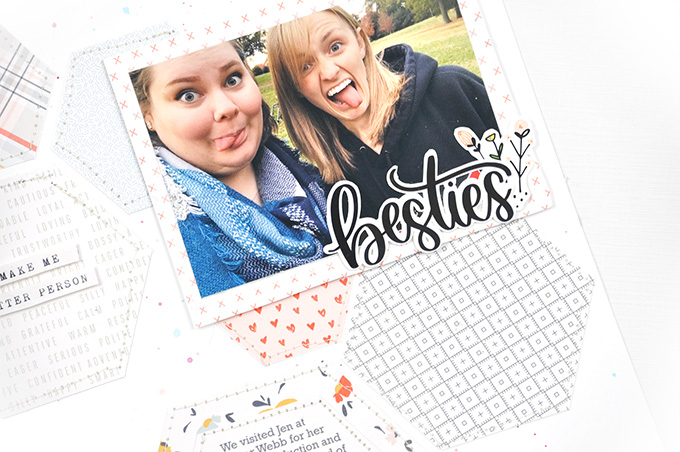 The "besties" title is actually something I lettered in the Procreate app on my iPad with my Apple Pencil and then I used the Print & Cut feature on my Silhouette to get the white border around it. I placed a floral image behind it because without it, it was looking a bit bare.
The photo is backed on a piece of vellum and then on a project life card that is from my stash which I just trimmed down. I thought the colors went really well with the rest of the papers on the page and it wasn't too busy so it didn't distract from the hexagons.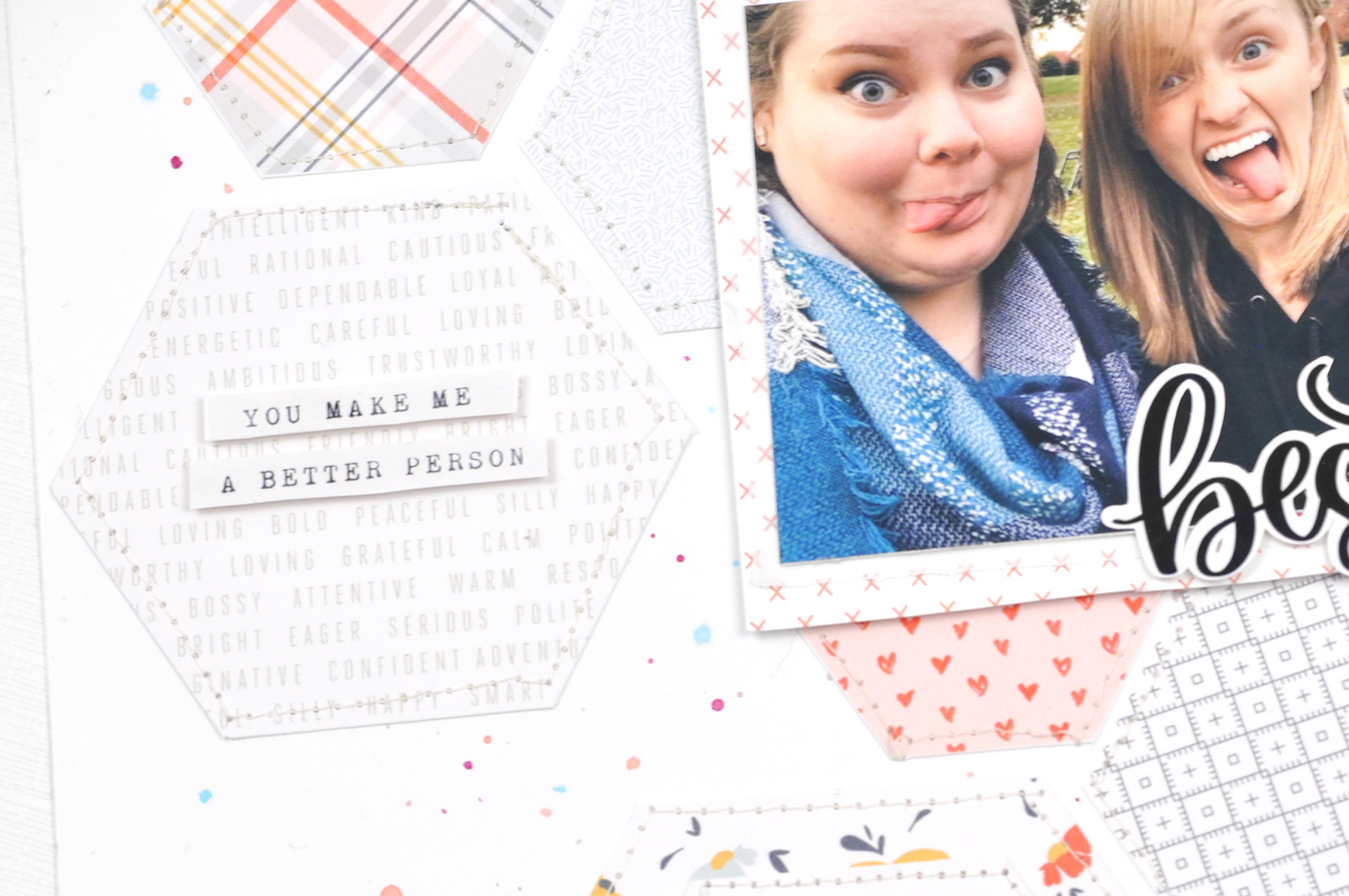 This hexagon is my favorite, is that strange? I love this paper from Character Study because it has a lot of great traits that my friend Jen has, and then this "you make me a better person" element was just perfect, because she really does make me a better person. <3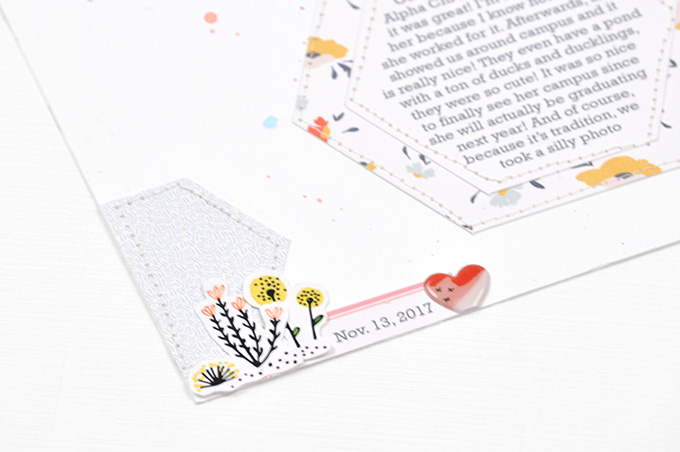 At the bottom corner, I made a little cluster with more of those floral elements as well as a tag with the date this story was from and a puffy heart which was from my stash. Any puffy embellishment is pretty much my favorite and I've been adding them to everything lately so I couldn't resist!
When I was putting this together, it felt a little bit too white, so I decided to add some paint splatters! I don't have a lot of actual paint mists or anything so I used my liquid watercolors. Usually I use these for watercolor lettering, but they worked well for this purpose too! I tried to pick colors that kind of matched with the papers on the spread and I splattered them in a diagonal line.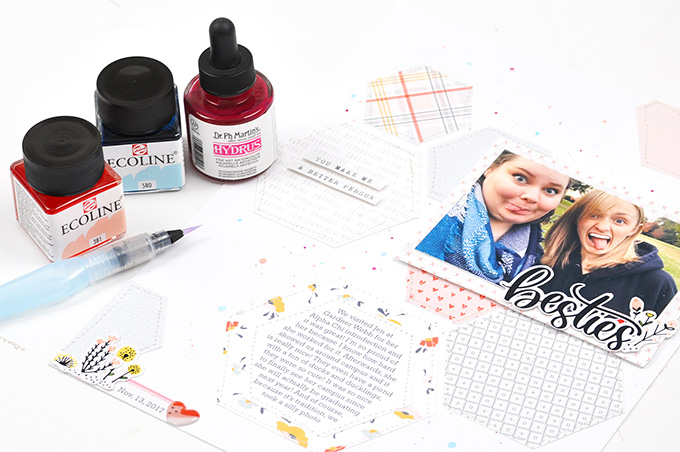 That's all for today! I am so pleased with how this turned out! So just remember, if you are feeling uninspired, just head on over to Pinterest, I'm sure you will be able to find something to get those creative juices flowing!
Supplies used: All Things Considered, This Year Papers, Roam Papers, Character Study
About Alex
Hello, I am a 20 year old Scottish girl living in North Carolina. I scrapbook to remember the most important things in my life including my friends, family and my black lab, Clara. I also love lettering, card making and pretty stationary.
Save