Like all pet moms, I take a lot of photos of my pets but, maybe not like most, I'm not great about scrapbooking them. But, after one of my cats passed away last year, it's been a goal to get those photos documented and in my albums. I want to scrapbook photos of my pets while they are still here which is something I didn't realize the importance of until Gus passed away. I want the memories to be happy ones when I'm scrapbooking them, not a reminder that they aren't here anymore. So, that's why I'm trying to do more pet pages, especially photos of Mac since he is 16 and has been sick for quite a while.
By this photo, I don't think you would ever actually guess that he is 16 and sick, he looks like a kitten to me!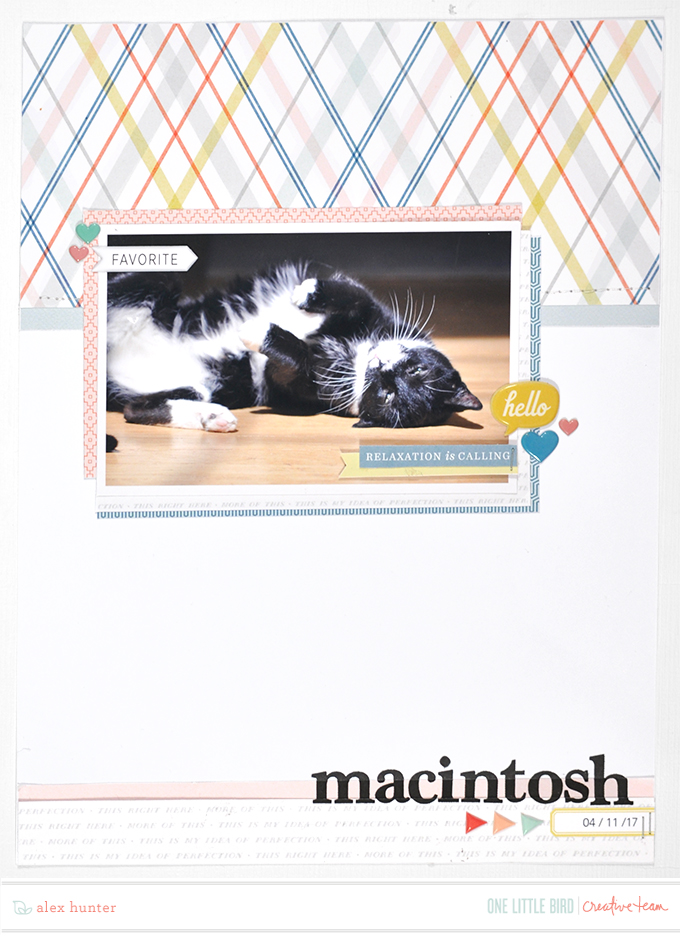 After figuring out what I'd be using for the layout in Photoshop, I printed everything out and also grabbed a Kelly Purkey stamp set that I've been dying to use!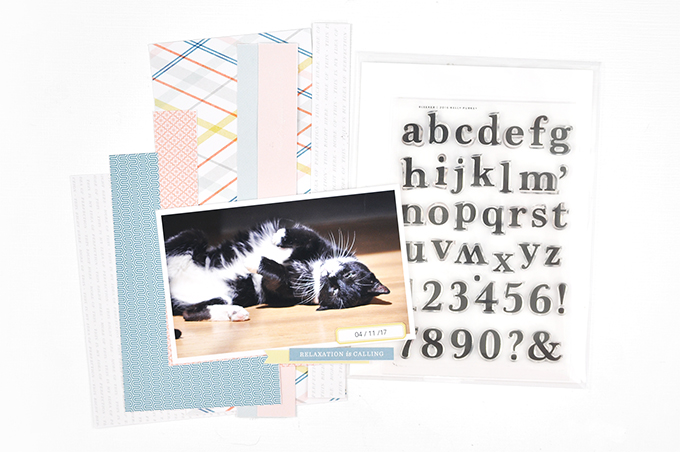 To begin with, I stitched the top two papers to the background paper because as you now know, I'm obsessed with stitching. It is very simple but adds great texture to the page.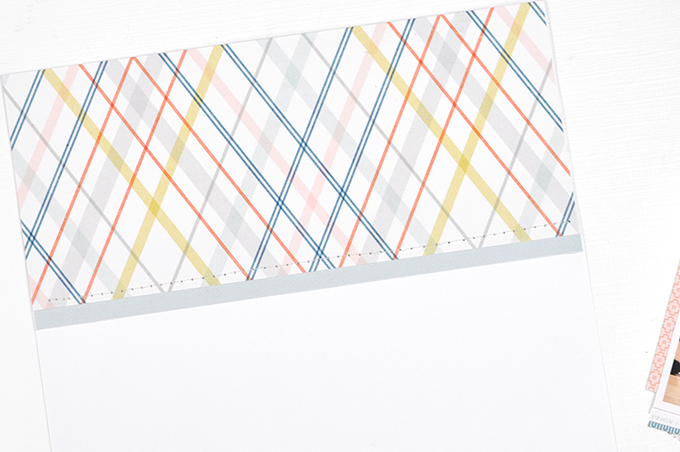 Once I did that, I worked on the actual photo. I the patterned paper layers behind the photo and I also added the embellishments on top. I thought the "relaxation is calling" tag was perfect because Mac was sunbathing in the hallway, which was one of his favorite things to do. I'd had Mac since I was 4 years old and this is something I always remember him doing.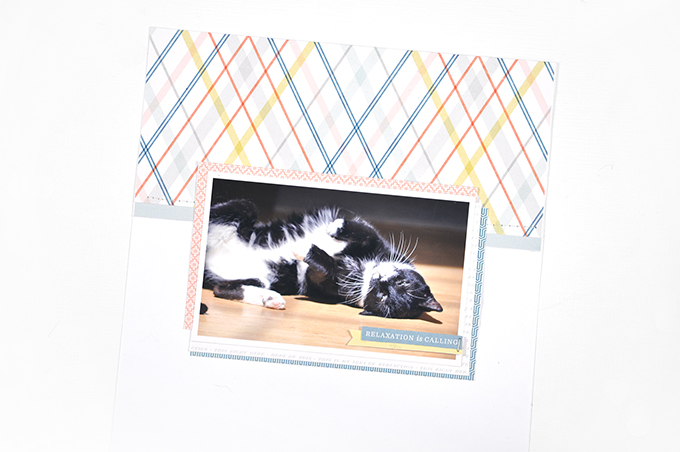 Now for the bottom of the page, I layered two pieces of paper and then worked on stamping "macintosh" which is what we sometimes call Mac. This was difficult because I had to stamp one layer at a time. I used something like the MISTI (a We Are Memory Keepers Letterpress plate) to stamp each layer but make sure they are all aligned – and while it was a bit tough, it was so worth it! I LOVE how it turned out.
After I did that, I attached the date label with my mini stapler.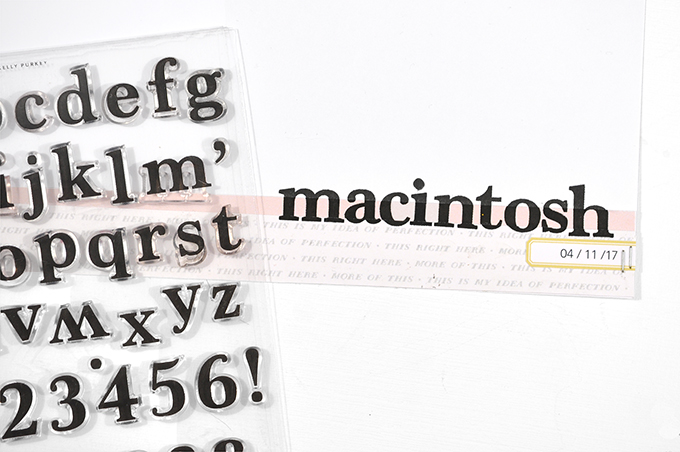 I decided to add a few embellishments from my stash. I had a look through my puffy stickers and added quite a few.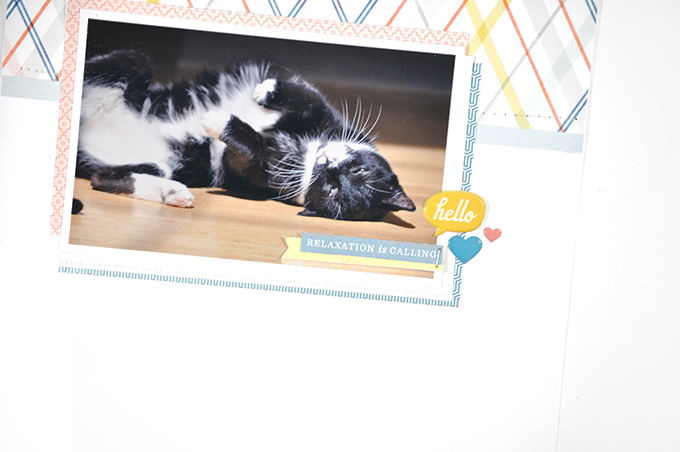 I love this "favorite" puffy sticker by Felicity Jane! It didn't work by itself so I added a couple of small hearts and then it was done.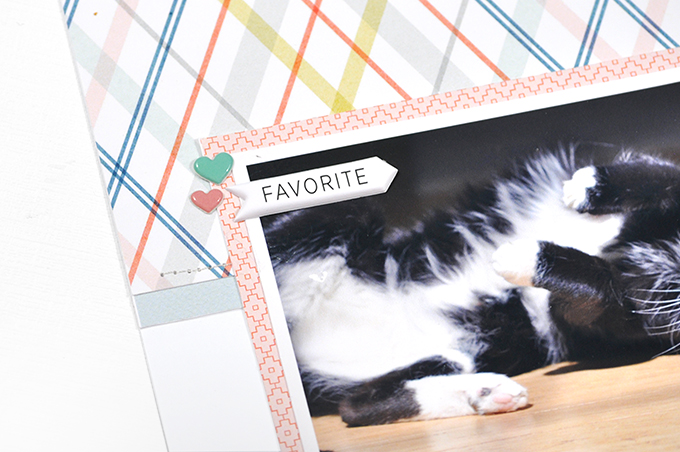 So that's it for today, I hope you like how this turned out, I know I do! I'll talk to you next month!
Supplies: Elysian Paper, Elysian Elements, Chapters Papers,
About Alex
Hello, I am a 20 year old Scottish girl living in North Carolina. I scrapbook to remember the most important things in my life including my friends, family and my black lab, Clara. I also love lettering, card making and pretty stationary.