Hello friends!  Candace back with you today! I am excited after taking a few months off to make other fun projects to be back sharing a pocket page spread.  My heart really is in documenting the weekly events and memories of our family.
For my spread this week I drew inspiration from a single card in the recent release, Architecture Lab.  This one card drove the overall design and color scheme of my spread. Here is a quick look at the whole spread, can you guess which card it is?!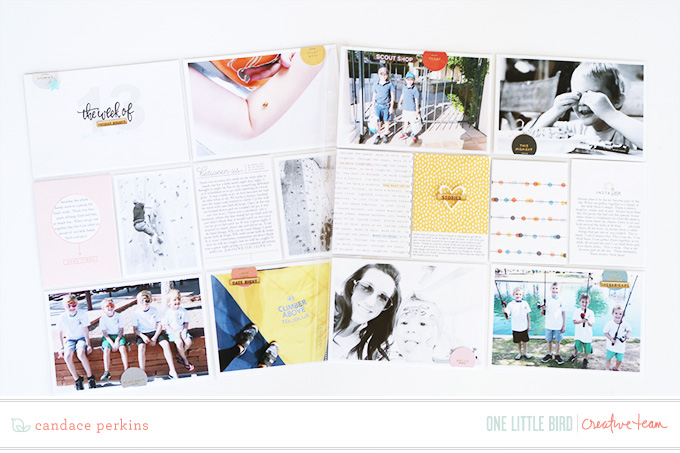 If you guessed the adorable polka-dot card, you are right!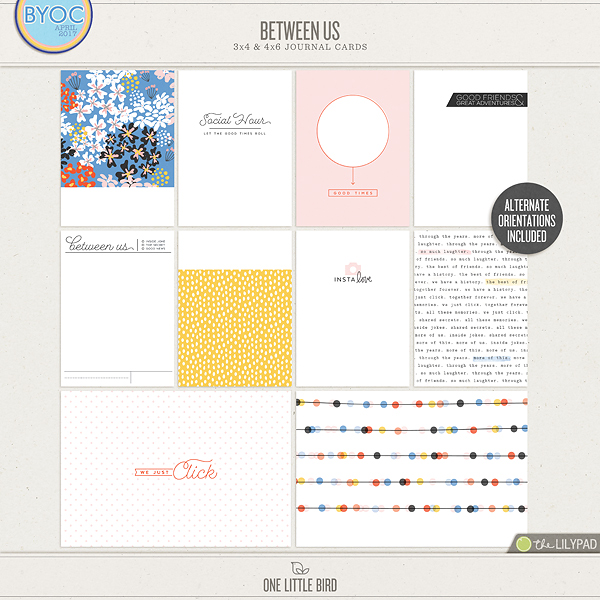 I just adore this card with the all the dots in colors from the collection lined up on little strings!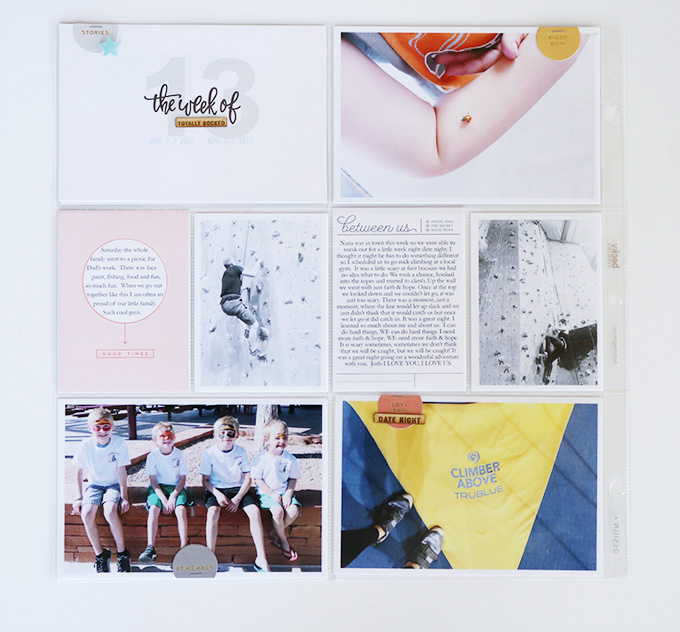 I started by opening up all the cards in Photoshop and adding my journaling. I had pictures in all the 4×6 slots so I knew I needed to cut down the dot card to 3×4 to fit into a middle pocket. I made sure to balance my colors across the spread and made sure that the photos and cards all had similar colors from the collection.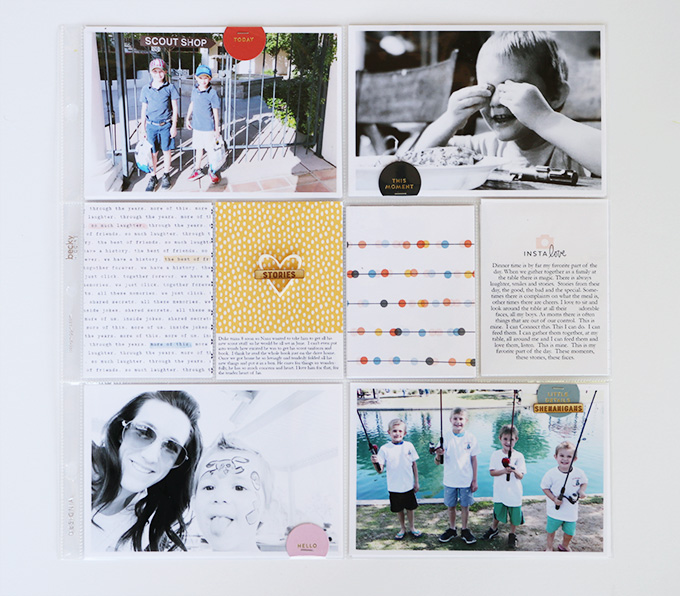 Next, for embellishing I searched through my stash for all my circles, and wood veneers.  To mimic the idea of circles on a line across the spread I lined up the circle embellishments along the top and bottom of all the 4×6 cards.  To add a little more detail I stapled the circles down to the photos.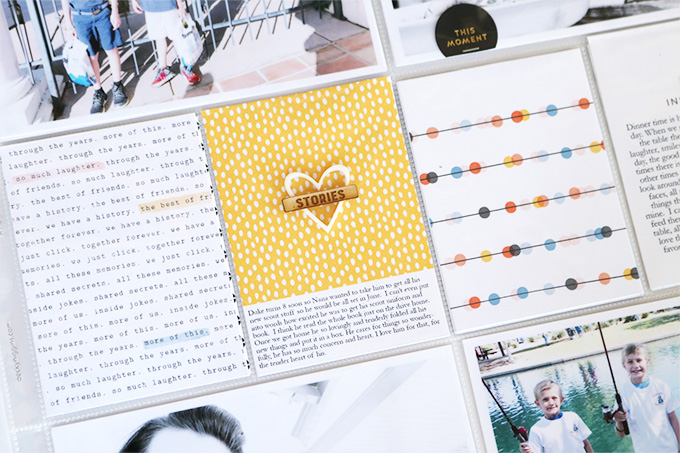 After finishing with the circles I needed just a little more embellishing to complete the spread but I didn't want to introduce any new colors so I added wood veneers.  I chose 4 spots across the spread to add the wood to keep the spread balanced and keep the eye moving across the spread looking for the other wood accents.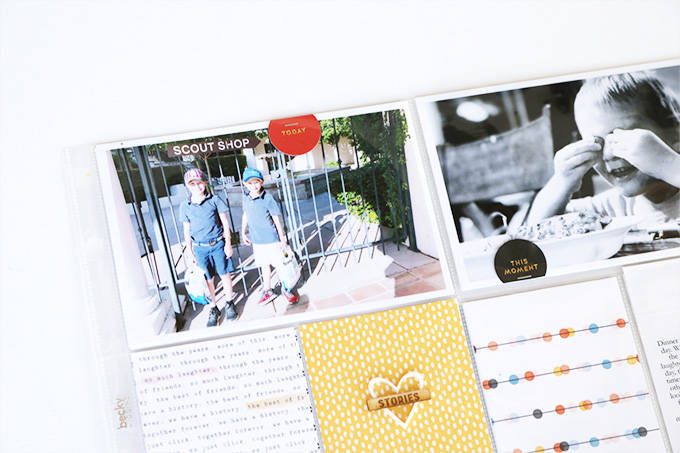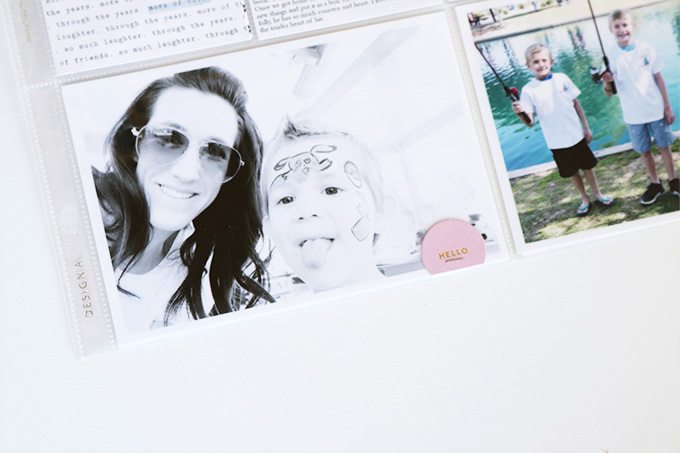 There it is! I LOVE all the colors in this weeks spread!  I love the repeated elements across the spread that keeps the eye moving.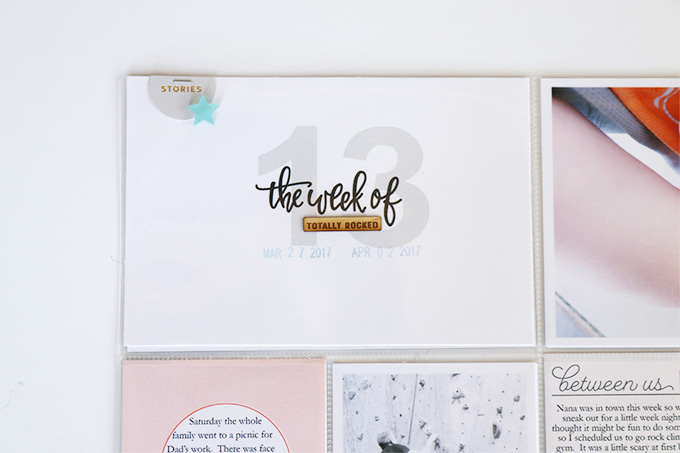 On your next spread try using a card or embellishment to drive the colors and design of your spread & have fun! Thanks for stopping by for a little pocket page inspiration today!
Candace
Products Used: Between Us Journaling Cards
About Candace
This is me. I am a wife, a mother, a sister, a daughter and a friend. My days are filled with cleaning dishes, driving kids to practice, kissing boo boos, singing nursery songs, calling a friend, folding mounds of laundry, cleaning the dishes AGAIN, washing tushies and toes, tucking little ones in bed, and then doing it all again. But in this crazy, busy and the wonderful life there is everyday perfection. Moments where time seems to stop, you take a picture in your mind, and promise yourself you will never forget. Everyday perfection. It is my hope that I can inspire others to notice those moments of everyday perfection, capture them and cherish them.
Save