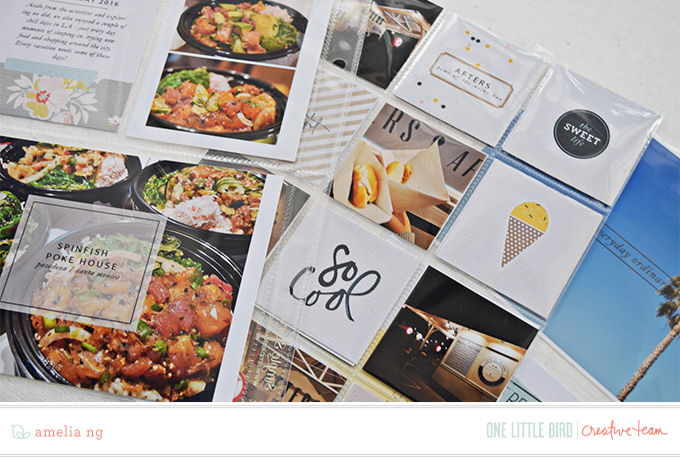 Hi everyone! Welcome back to the One Little Bird blog this week.
For my spread this month, I chose to use three different page protector designs for my photos.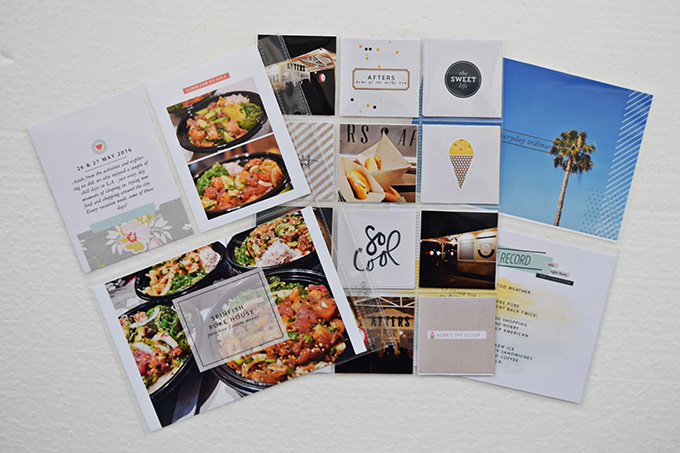 While using one page protector design helps to keep things uncomplicated, using different designs provides variety and interest. But it can also be tricky to put together at times.
So here are my tips for mixing pocket page protector designs: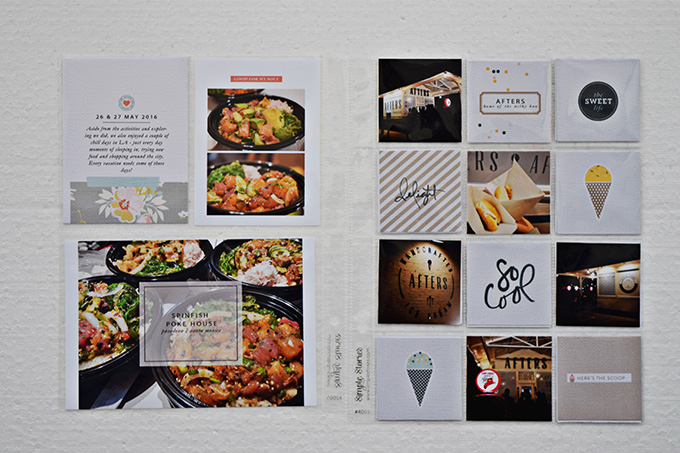 #1: Group your photos according to theme.
Whether it's by day, time or something else, it helps to choose the photos you want to use, then group them based on theme to see which type of page protectors will best fit the photos you want to use.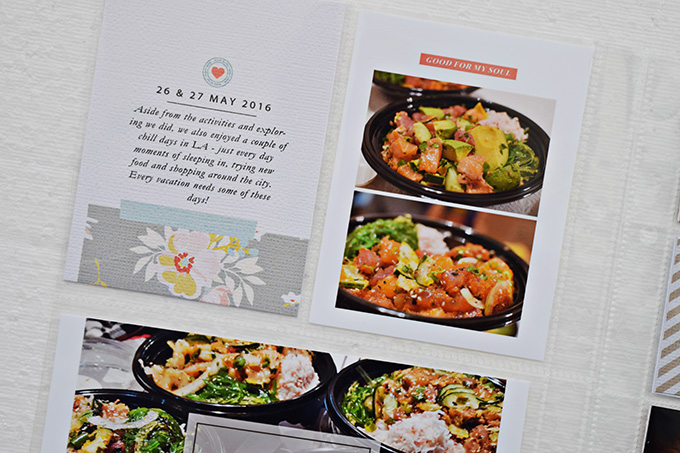 For this spread, I had four different themes – poke bowls, ice cream, other food around LA, and a final wrap-up page for that day.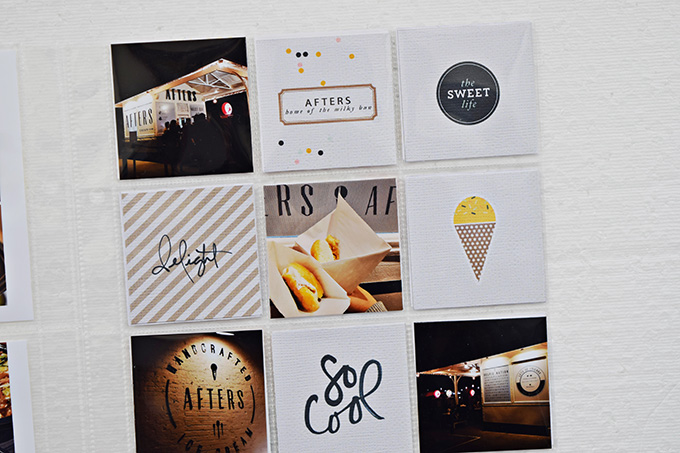 #2: Look at the big picture.
Pages with 2×2 squares can be tricky because there are so many pockets to fill. I like to treat the page as a puzzle and place the photos first, before adding patterned papers and elements to finish it off.
#3: Use neutral colors to keep things consistent.
For the page with squares, I chose a neutral background from the Scoop kit to provide consistency from all the different colors in the photos. Then I added elements from Scoop since this page was all about the ice cream!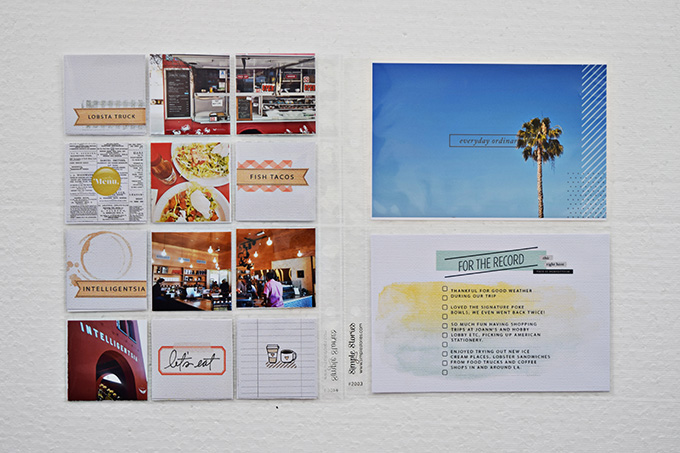 For the other side with squares, I used the same solid neutral background and added elements from Nosh and High Street Stories.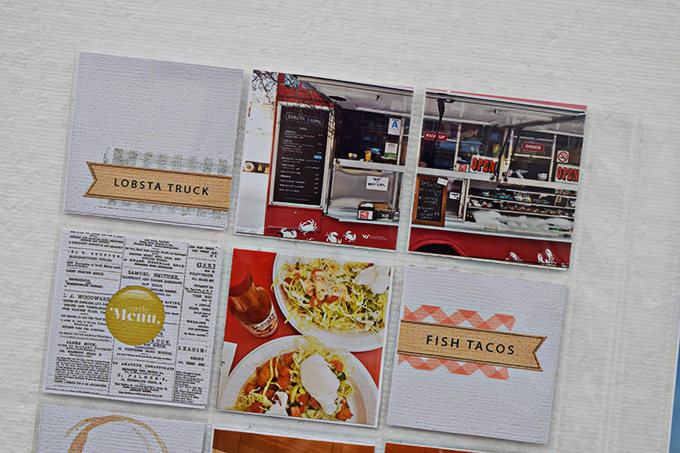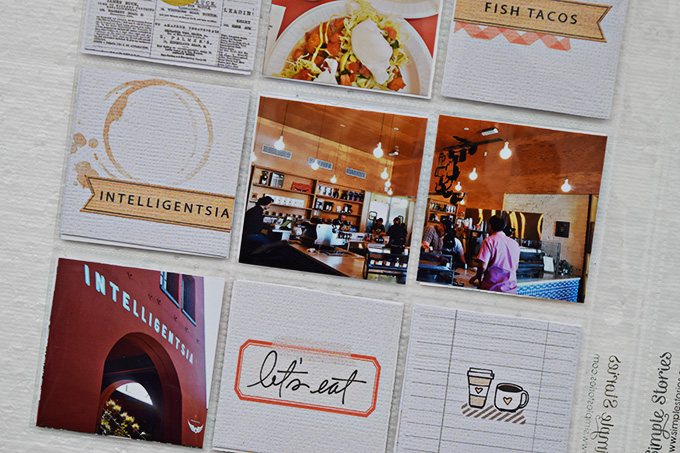 #4: Use digital elements and papers to complement your photos.
Since my documenting process typically starts with my photos, I dug into my stash of One Little Bird kits to finish this spread of every day, ordinary moments from our time overseas.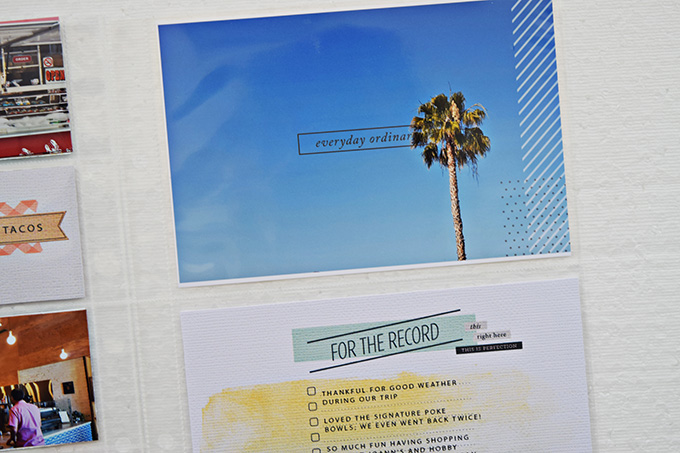 I added a journaling card and an element from Elysian to tie in the first two pages. At the end, I used the journaling card from Scoop and a layered photo template from Agenda to finish.
I hope this inspires you to try using different pocket page designs in your documenting.
Until next time!
Amelia
Supplies used:
Agenda
High Street Stories elements
Elysian kit and journaling cards
Scoop elements and journaling cards
Nosh elements
About Amelia
I'm a Singapore city girl who loves making memories and documenting the every day adventures. Some of my favorite things include laughing, riding roller coasters, crafty stuff, lists, and being inspired. If I could, I would spend all day going on adventures and being creative.