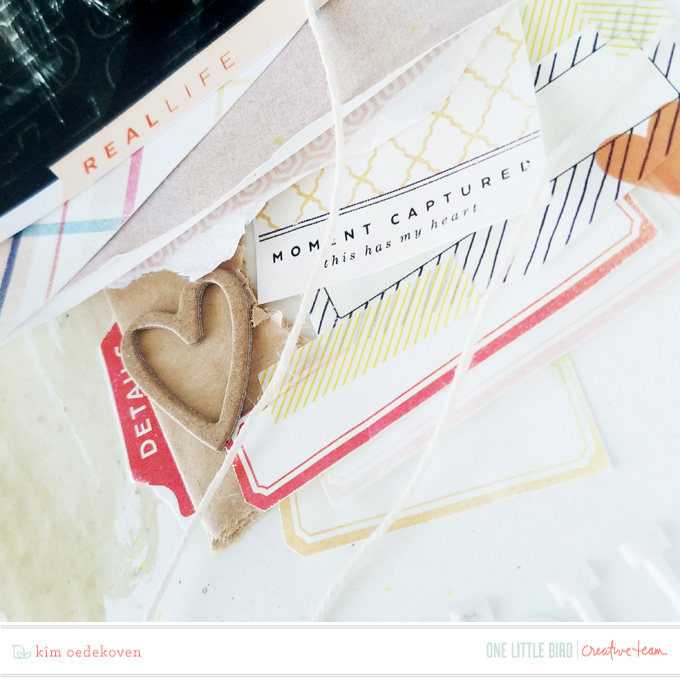 I'm a firm believer in emotional scrapping especially when things are not quite unicorns and rainbows. Since I'm not a writer or heavy jounaler, I turn to little bits of paper for my personal therapy.  But what about looking at it years later and remembering what happened that made me so angry? Will I look at this piece of paper and hate all over again? Well, in my experience, time has a way of dulling the emotions or thoughts that directly participate the outburst of crafting. Also, it's not so much the remembering how I felt when I look back on it, it's how I think I've grown from that situation that made me mad. Anyway…lets get to this page.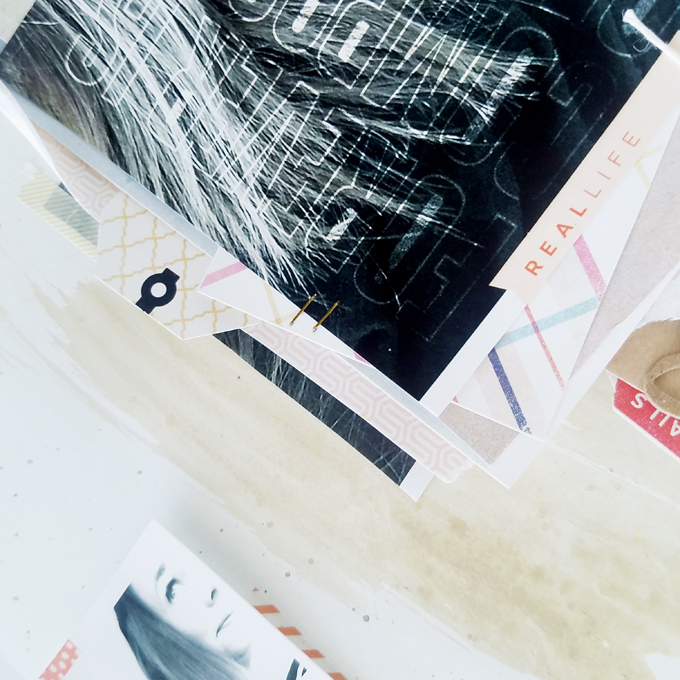 I started off with 4 pictures, one of which I added 2 word digital stamps from the 'Live a Little' Collection.  The other 3 were nestled in a row using a digital paper behind them for accent.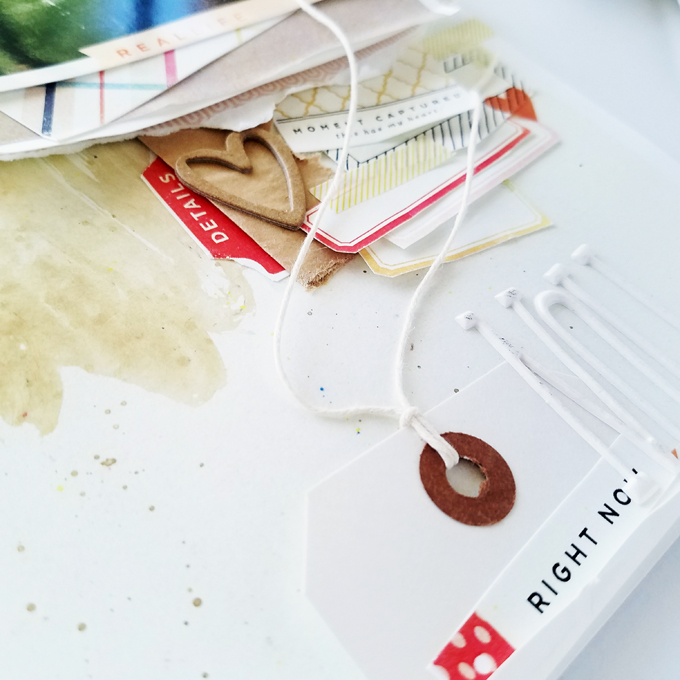 Some watercolor paint in the color 'frustrated' brown was thrown onto my paper before I did any placing of the papers.  I did print out 3 additional pieces of paper besides the background paper, while it was drying, to help with the layering process.  Two of them were full sheets of patterned paper and the other was a collection of elements from the collection.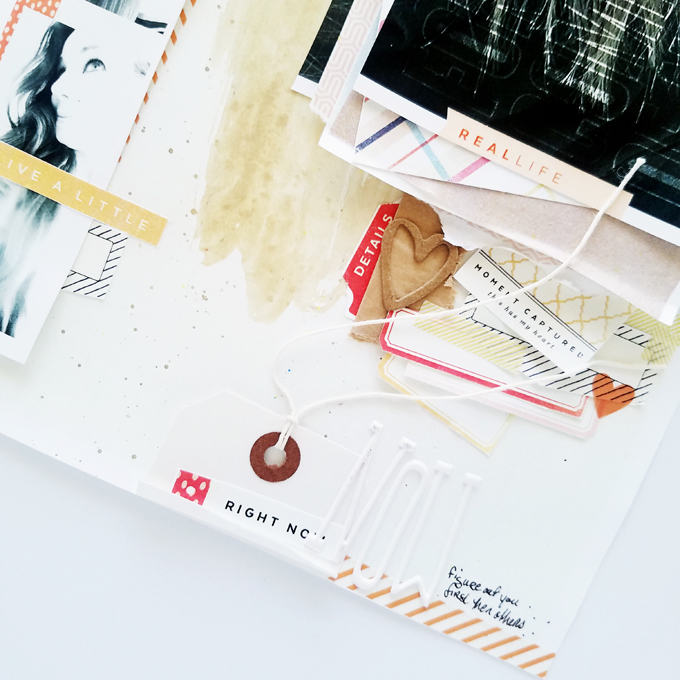 Then I began to layer.  Trying to purposely angle the paper ('cause I was mad at the world) to make it look pretty random, although it was not.  I did add a white tag at the bottom of the page and turned up the edge to nestle in another one of the printed digital elements, then added a few puffy alphas on the side to ground the piece.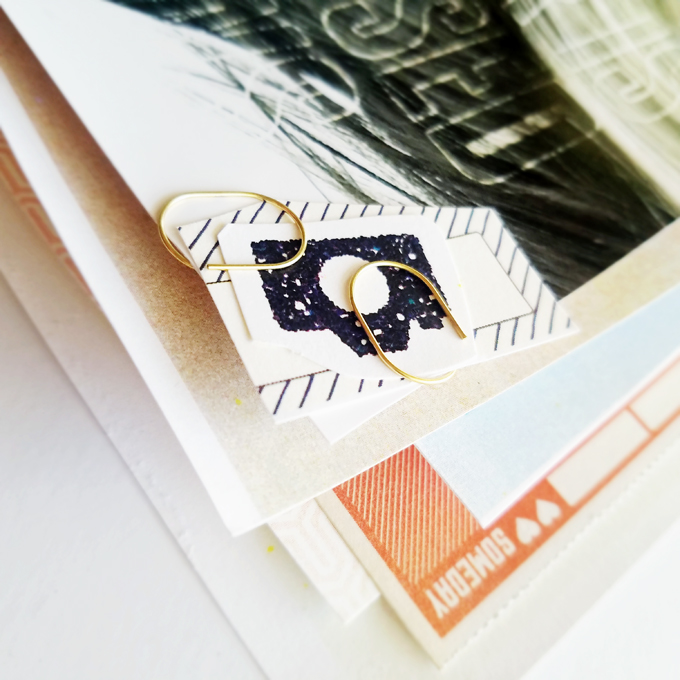 I used some staples and these 2 mini clips for hardware just to add some more layering elements. And like in today's layout, I sometimes use the photo trimmings within the layout.  The colors and textures tend to match the focal point picture even as cast offs. With the addition of a few stickers and washi strips that is just about how this all came together.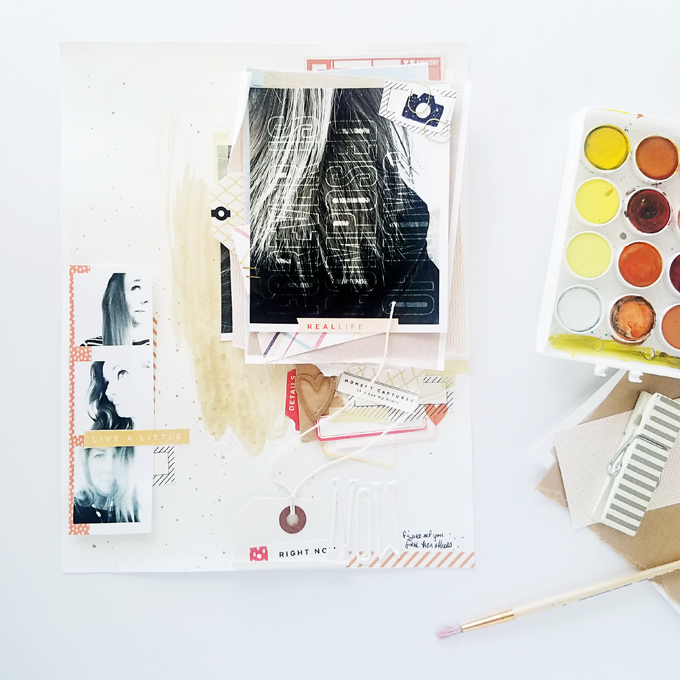 Hope you enjoyed my letter size layout today. Try scrapping like this sometimes. It tends to take the edge off (at least a little :) #grrrr  Thanks a lot for stopping!
About Kim
Kim is a 40 (Akkk!) year old mother to 4 sporty, smelly and sweet boys ranging in the ages of 4 to 16 and lucky enough to be married to my favorite person in the world who lets her be a stay at home mom. When not doing laundry, this ex-fiber arts teacher loves memory keeping by scrapbook and pocket pages and to creatively plan to make sure she doesn't routinely forget someone at some sports practice – or any other school function.
Save
Save
Save
Save
Save
Save