This month has been very busy for me! Within a couple of weeks, my mom and I traveled to Winston-Salem 3 times, 2 of which were overnight. It is only an hour an a half away, so the driving wasn't bad but it was definitely odd being away so much during that time.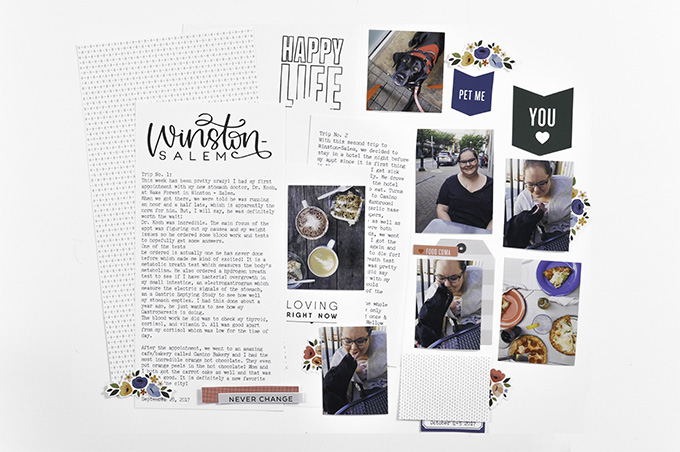 All of these trips were actually medical related but we made the best of each trip and got some fun photos along the way! At first I wasn't sure how to document the trip but then thought a Traveler's Notebook style would be best. But, instead of using an actual TN though, I will be using a binder/album which will be for my medical photos and stories so they aren't in a notebook style.
For the first page, I used my iPad and Apple pencil to create the "Winston-Salem" title and added the text in Photoshop. Once printed, I used a neutral patterned paper for the background and stitched the journaling piece on top to add some texture. I also added some floral pieces which I absolutely love! The colors in the florals kind of set the color scheme for the whole project.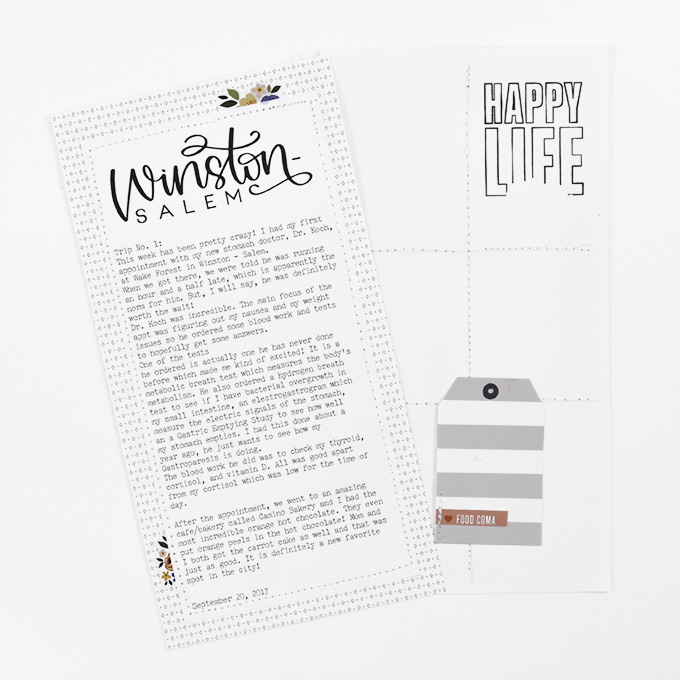 In between the two large pages, I added an small page for me to add a photo which went with the story of our first trip and on the back of it, there is journaling to go along with the next page. The second large page documents dinner during our second trip which was really lovely! I kept things simple but added a few embellishments, as well as stitching. I got a new sewing machine so I was sewing basically anything I could!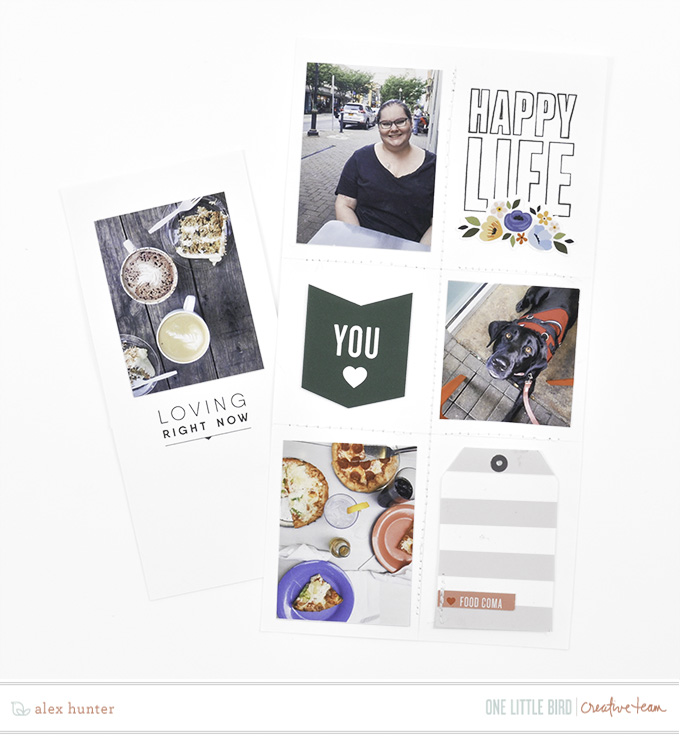 The last page is documenting the last trip up and these photos were of me and Clara, my service dog, while at lunch after one of the tests I had done. They were so cute and I'm so glad my mom captured them for me! I did a simple grid with a patterned paper and piece from an element pack to complete it. This page was kept very simple and while I actually had more planned for it, I really like how it turned out!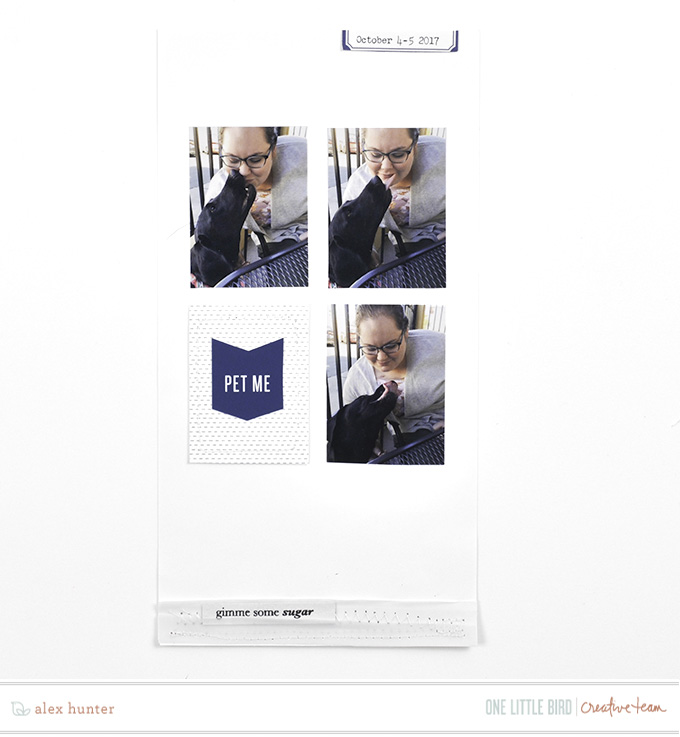 Here you can see a little bit of the floral piece peeking through as well as a better look at the stitching. I didn't worry too much about getting the stitching perfectly straight, in fact, I think it looks quite nice when it has a little bit of movement to it.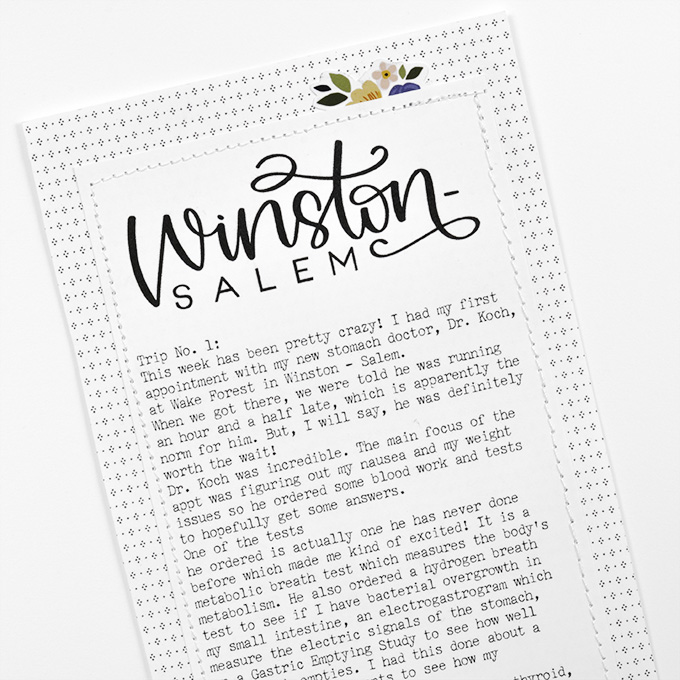 To finish off the last page, I got some vellum and used my sewing machine and a couple of different stitches to sew across the bottom of the page. This gave the page wonderful texture and I also had a place to add in this stamped phrase. When looking through my stamps, I came across this and knew I had to use it!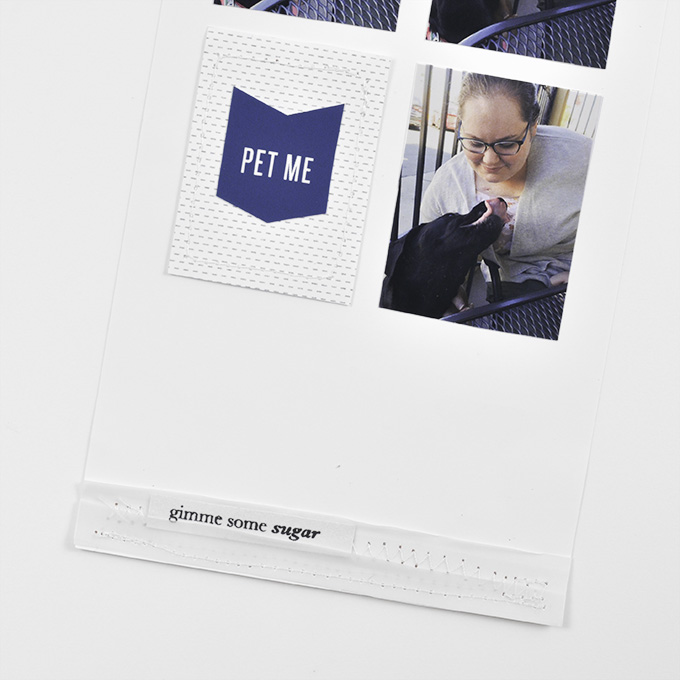 That's it for this month. I am really happy with the way they turned out, I hope you like them as well!
Supplies: Life In Pieces, Between Us, All Things Considered, Nosh, Heartbeat At My Feet, Better Together
About Alex
Hello, I am a 19 year old Scottish girl living in North Carolina. I scrapbook to remember the most important things in my life including my friends, family and my black lab, Clara. I also love lettering, card making and pretty stationary.